BOOK BITES   .   .   .
PHOTO NEWS  .   .   .
Martin Luther King, Jr. Committee Honors Photographer Rod Rolle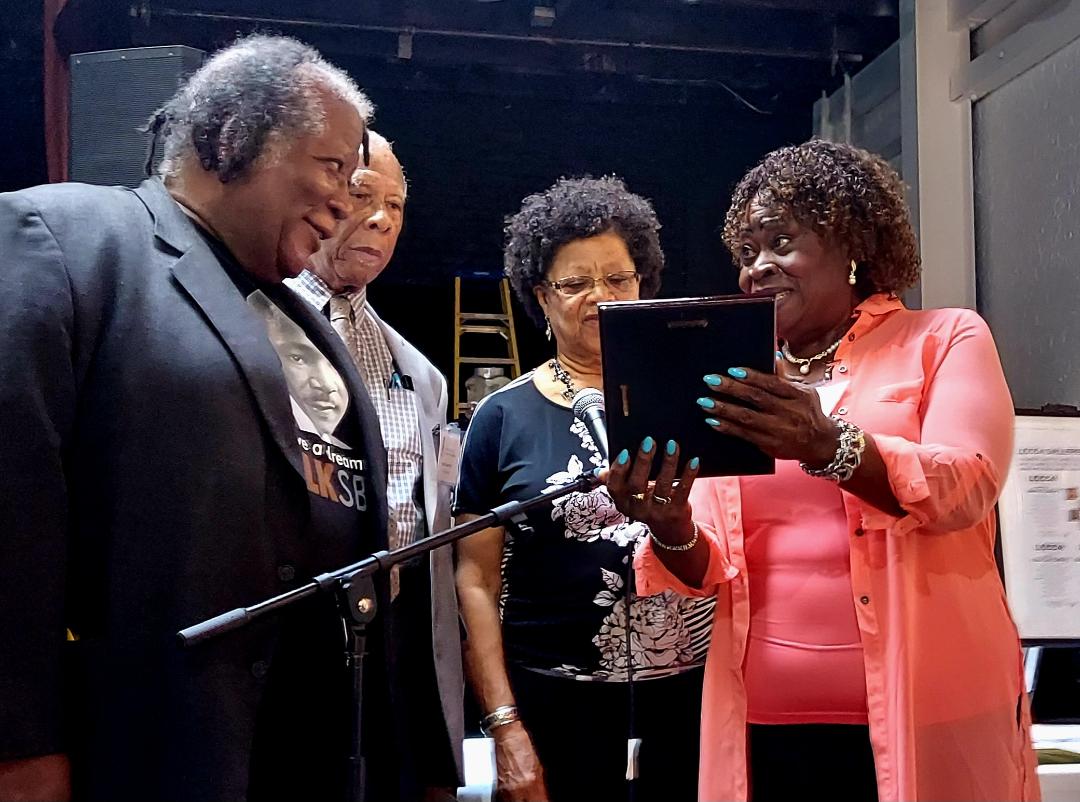 Rod Rolle accepts his award from MLKSB Board Members Issac Garrett, E.Onja Brown, and Betsy Shelby
By Bonnie Carroll
A huge crowd of (MLKSB) members and long-time friends packed the Soul Bites Café on State Street to celebrate the award presentation and recognition of Rod Roll, MLKSB's official photographer, who has been with the organization since its inception in 2007, has captured the historical images of MLKSB's supporters over the past 16 years at the annual MLK Day commemoration and created a memorable pictorial history of their annual event.  
Board President E. Onja Brown welcomed guests and gave a lovely tribute to Roll before she, Isaac Garrett and Betsy Shelby presented the beloved local photographer with his award. "It's been an honor to have experienced Rod's ability to capture shots that are not only engaging but highlight a moment in time," said MLKSB Board President, E. Onja Brown. "He is a treasured local renaissance man who in addition to his work as a professional photojournalist is also a well-known jazz drummer and singer, having played with the Stiff Pickle Orchestra in town for three decades."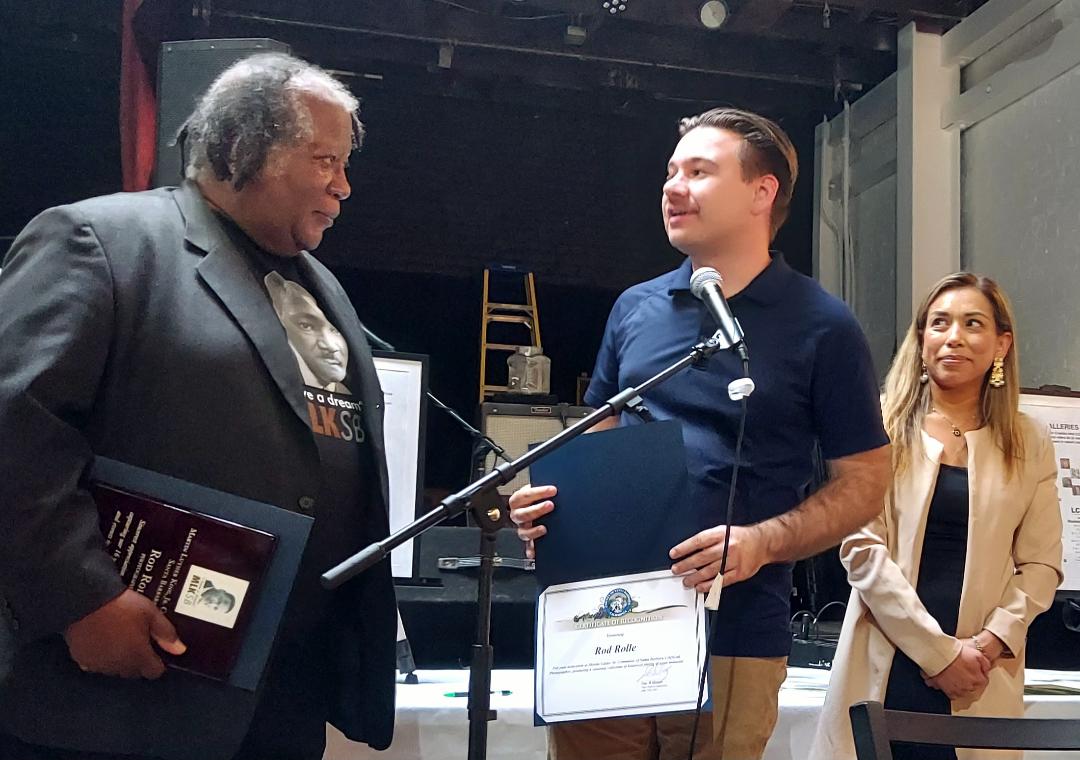 Rod Rolle, Spencer Brandt 1st District Supervisor Das Williams Representative and Diana Villanueva Deputy District Director/District Scheduler Congressman Salud Carbajal, CA-24
Representatives Diana Villanueva, Deputy District Director/District Scheduler Congressman Salud Carbajal, and Spencer Brandt, 1st District Supervisor Das Williams presented proclamations and congratulations to photographer Rolle for his outstanding work with MLKSB and the community of Santa Barbara. City of Santa Barbara councilmember Oscar Gutierrez was also in attendance to congratulate Rolle.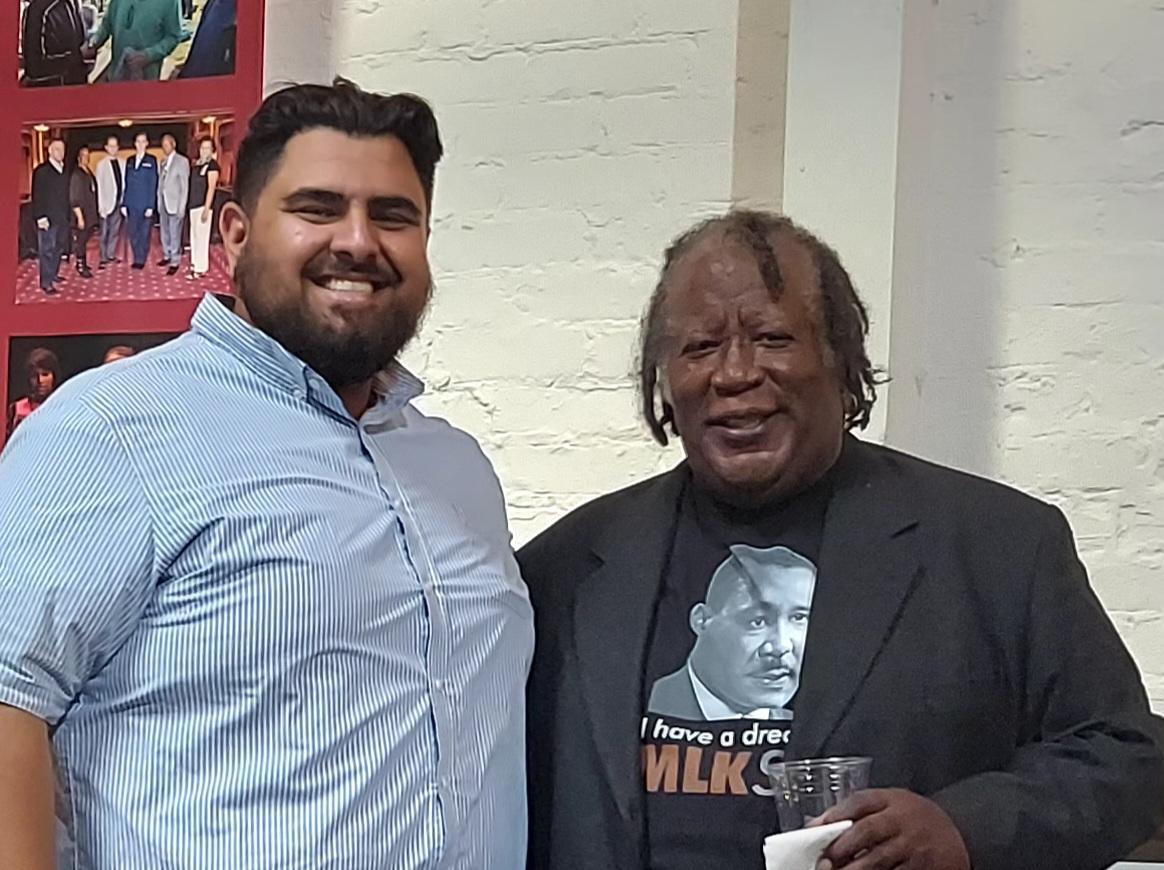 City of Santa Barbara Councilman Oscar Gutierrez congratulates award recipient Rod Rolle
A Santa Barbara-based freelance photographer, Rolle began working with the MLKSB to document its service to the community, and his coverage included MKL Jr. Day celebrations 2008, City of Santa Barbara MLK, Jr. Resolution 2013; MLKSB Thank You Event 2015; UCSB Eternal Flame 2016; Movies That Matter With Hal Conklin 2017; Ring Shout 2017;  Dr. Martin Luther King, Jr. 50th Anniversary 2018;  Congregation B'Nai B'rith 2019;  Poor People's Campaign 2022; and Berkshire Hathaway Donates 2023.
Rolle began taking pictures under the mentorship of New York photographer Frank Silva, and his first published photo was in the New York Daily News (1975). His early photographs appeared in several publications including the New York Amsterdam News, Charlotte Observer and News. His work often captured the occasions – some special, some everyday – that told the story of that moment.
From Queens, New York, Rolle came to Santa Barbara to attend The Brooks Institute of Photography in 1982. At Brooks, he met other Black photographers who all had similar experiences documenting their black communities. The group organized their first exhibition, Black Styles, Black Spaces, then joined with Shirley Kennedy to have their first MLK Jr. photo exhibit at Santa Barbara's Eastside Library in 1986.
The group also displayed two more exhibits, one called A Day in The Life Of Santa Barbara's Invisible Culture, in which 13 Black photographers dispersed on one day around town to document Santa Barbara's Black community. Images included Brother Brown's Barbershop, The Golden Bird Restaurant, the Dennis Palmer Elks Lodge, and everyday life in the black community.
In 1988-89, Rolle made frequent trips to Guadalupe over a period of one year to chronicle the mural and community in tandem with artist Judy Baca's Guadalupe Mural Project. The duo was commissioned by the Santa Barbara County Arts Commission through the county's Percent for Arts Program.
Rolle gathered the entire community of Guadalupe together in the town's Main Street for a "self-portrait," that was taken on April 29, 1989 "The Big Picture" and remains an enduring vision of this community that was later exhibited in "World Wall": A Vision of the Future Without Fear" at the Smithsonian Institution: Experimental Gallery in Washington, D.C. The Baca Guadalupe Mural remains on view at the Guadalupe City Hall and was displayed on the wall at the Santa Barbara County Building on Anacapa Street following a showcase and reception.
Since,1989, Rolle has distinguished himself in the twin fields of documentary photography and photojournalism. As a stringer for Gamma Liaison Picture Agency and Getty Images, he documented the opening of the "Biosphere" in the Arizona Desert; Vatican Advance Technology Telescope; Vandenberg AFB Space Launch Complex 6 (Slic 6); The Grammy's; California wildfires, Northridge and Paso Robles earthquakes; Alaska Airlines Crash; La Conchita Mudslides; O.J. Simpson trials; and Los Angeles Riots. Rolle's photograph of Michael Jackson standing on top of an SUV outside the Santa Maria Courthouse won him a spot in Getty Images' Pictures of the Year Collection (2004).
Rolle is well known among photographers who covered the (SBIFF) Santa Barbara International Film Festival since the early days of the festival. His unique talent, professionalism and kindness have made him a welcome staple on the red carpet. Those of us who have been lucky enough to work alongside him remember many spectacular celebrity moments captured by Rod, including some amazing photo moments with SBIFF award-winner and local resident Oprah Winfrey.
Along with most of the Santa Barbara Community I've been a huge fan of the" Stiff Pickle Orchestra" Rod and partner Tom created, and their performances always drew a fun crowd, and put happy smiles on the faces of everyone in the audience. Proud to be among the fans and friends who attended this event to witness the special night created by MLKSB honoring Rod Rolle, and to have the opportunity to photograph him celebrating the fruits of his own labor, dedication and hard work. Bravo!!
The Martin Luther King, Jr. Committee of Santa Barbara is: "to foster positive relationships between the many diverse groups in the Santa Barbara Community and the surrounding areas; to sponsor programs and events which exemplify the teaching of Dr. King; and to observe, and celebrate the Martin Luther king, Jr. holiday." All MLKSB events are free, and all are welcome. For event information 805-259-5782 or visit www.mlksb.com.
---