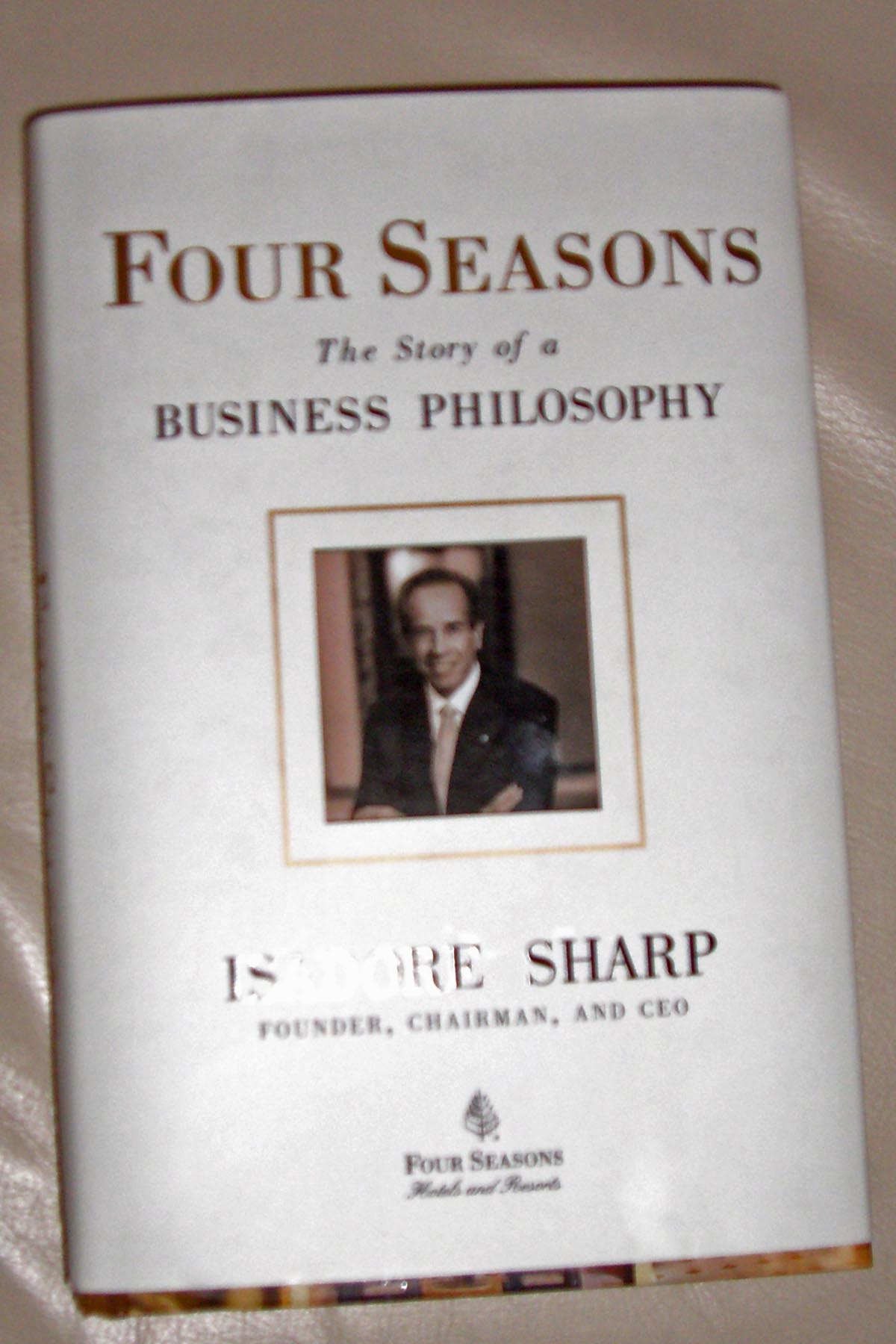 Four Seasons The Story of a BUSINESS PHILOSOPHY by ISADORE SHARP, Founder, Chairman, and CEO Four Seasons Hotels and Resorts
by Bonnie Carroll
I was fairly confident before opening this book that I would adore it, based on the high standards of service and impeccable amenities offered at every Four Seasons Hotel that I have visited in the past. In a strange way I have felt for such a long time that I knew Isadore Sharp; that he was my host, and everything I experienced at any of his properties was personally selected by him for me and my family.
On reading this lovely story, especially the love story between Isadore and his Rosalie, and their journey together to raise a loving family, I was delighted to know them. Most women with successful husbands in this century can relate to being left on their own to raise the family, while their man went out to become a star. However, the Sharp's are special in that their marriage survived so many personal ups and downs, and they still have an admirable bond that money cannot buy.
I enjoy the style, intelligence, and great humility with which Sharp addresses his accomplishments; especially his generosity in giving kudos to his associates, his wife and virtually everyone who touched his life enough to be included in his memories. From the first Four Seasons Hotel in Toronto to date his accomplishments are extraordinary. Sharp's 'just do it' approach, and his ability to envision the who, what, when, where and how of putting together all the stylish puzzle pieces that make up the Four Seasons Hotels and Resorts is mind boggling.
I live in Santa Barbara, and during the past several years I have heard unkind stories about Ty Warner, the owner of the Biltmore Four Seasons Hotel and Resort. The disclosure of Mr. Warner's generous assistance to raise funds for Isadore and Rosalie's dying son in this book literally brought me to tears. I hope all those in this community who rushed to judgment will be humbled to know who Ty Warner really is.
As a writer it has been such a pleasure to visit so many of these elegant properties and tell others of the secret and unique little nuances that makes each one individually spectacular. They are all so different, and yet similarly divine properties. My favorites are Los Angeles, Santa Barbara, London and I adore the George V in Paris.
It has been obvious to me for years that the management teams in these hotels are a vitally important factor in Four Seasons corporate family, and from the top down each person is a valuable contributor of this family. I have actually seen extreme changes made to meet the personal needs of managers to guarantee  a productive atmosphere for them, and their team to grow. Not many companies care, but Four Seasons does.
So, I recommend this wonderful and inspiring success story to all. Isadore Sharp never gave up, he included the talent of many people to help him, he never compromised his integrity and surely will go down as a master in his field. Enjoy and learn from the talent and generosity of spirit of this amazing man, his family and associates. $29.95 at fine bookstores everywhere.
---