FREE CULINARY GUIDE SPOTLIGHTS REGIONAL FLAVORS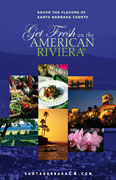 From lavender farms to spot prawns, olive oil estates and organic greens, Santa Barbara kicks off a taste tour of the region with new get fresh on the American Riviera: Savor the flavors of Santa Barbara culinary guide
- Hot Ticket for Foodies with a Passion for Regional Products/Cuisine -
A hub for the haute gourmet, Santa Barbara County delivers a delicious slice of its agricultural and culinary roots via the new Get Fresh on the American Riviera®: Savor the Flavors of Santa Barbara guide. From traditional Santa Maria-style barbecue to the region's namesake spot prawns, Santa Barbara has evolved into a Mecca for foodies on the fast track, offering a progressive spin on the concept of culinary tourism. Produced by the Santa Barbara Conference & Visitors Bureau and Film Commission, the 32-page guide is free for the asking by calling 800/676-1266 or visiting www.santabarbaraCA.com.
---
THE VILLA D'ESTE COOK BOOK
Jean Govoni Salvadore – Recipes by Luciano Parolari – Photographs by Giorgio Pizzi
Jean Govoni Salvadore was from families who had origins in the region of Emilia. In this book she described them as strong, hardworking, warm blooded, hearty eaters and, above all, having a zest for life and love. Having been privileged to spend several hours over lunch with Jean, her description of family would indicate that this apple did not fall far from the tree. Jean is herself the embodiment of all these wonderful descriptive adjectives. I was forever impressed with her intelligence, kindness, generosity of spirit, and joie d' vie.
Having lived in London, Paris and Rome she developed a genuine interest in the cuisine of the country in which she lived, and when she moved to Villa d'Este, thirty-some years ago, cooking classes were popular there. The classes were filled with groups from the United States and Australia. It was then that she decided to work with Executive Chef Luciano Parolari and renowned photographer Giorgio Pizzi to create a cookbook. Salvadore had been encouraged for decades by friends like James Beard, the Kriendlers of the '21' Club, and a litany of famous and talented supporters. Her gratitude appears in accolades of thanks for their contributions and support in the introduction of the book, But, she also thanks her silent partner Annamaria Duvia, who according to Salvadore "deciphered all of my scribbles and scrawls. Without her, this book never would have seen the light." I also was fortunate to meet Annamaria during my visit to Villa d'Este, and appreciate more than I can say their gift of this exquisite book on the food history of this magnificent and renowned Italian retreat.
The history contained in the book is nothing short of fascinating, because for over 132 years the most passionate, political, posh and elite members of high society have walked this unforgettable property, and eaten the finest Italian faire, in an enchanted atmosphere, where priceless art and sculpture abound.
Treasured recipes run the gamut from irrestible canapés to veal saltimbocca salad, followed by a bevy of breathtaking risotto, polenta and pasta dishes, along with beef carpaccio, beef, lamb, chicken and fish entrees that will delight you, and absolutely the most delicious and beautifully presented desserts on this planet.
If you now have the impression that I adore this modern Camelot, you're correct. I do not ever remember in any of my travels having my mind, body and soul so captivated by a place. I dream about Villa d'Este, and hope to return soon. My compliments to Jean and AnnaMarie, to the talented and charming Chef Luciano, who gave me a personal tour through his kitchen, and to Giorgio Pizzi, for the beauty with which he captured the essence of Villa d'Este.
---
THE COMPLETE IDIOT'S GUIDE TO NASA
by Veteran Astronaut Thomas D. Jones, Ph.D., and Michael Benson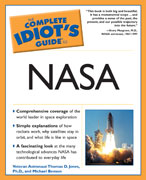 This paperback proves that you don't have to shoot for the moon to understand how NASA operates. It is filled with space history, biographical information on astronauts, a broad coverage of the Apollo program, and an overview of how the Space Shuttle Columbia revolutionized space travel. If you never knew how a space mission develops from planning to lift-off, but always wanted answers, you will love this book. For information visit www.idiotsguides.com.