BOOK BITES  .   .   .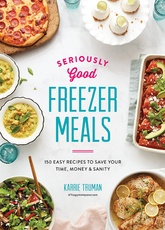 In Seriously Good Freezer Meals, Karrie shares 150 recipes photos that will change the way you think about freezer cooking. You'll find all the tools you need to become a freezer-meal genius: information on shopping, cooking, freezing, thawing and everything in between. It includes meal plan programs to guide anyone in cooking 7 to 50 meals in a day. No more excuses: it's time to start cooking delicious meals that will have you feeling anything but left out in the cold!
I love this book and have done several of the recipes. For a one person househould this is a serious solution to cooking and saving indivudual meals. Love it! BC
Recipes For
Frosted Cinnamon Roll Granola
Hazelnut Chicken Wild Rice Soup
Baked Shrimp Scampi
Drunken Sweet Potatoes
Island Coconut Angel Cake
About the Author
Karrie Truman is the creator of Happy Money Saver (www.happymoneysaver.com), a blog devoted to making delicious freezer meals and helping people learn ways to live life to the fullest while on a budget, which garners about 800,000 visitors per month. Karrie lives with her husband, and four children on five acres in Eastern Washington.
---