BOOK BITES APRIL 2011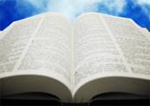 BOOKBITES NEWS  April 2011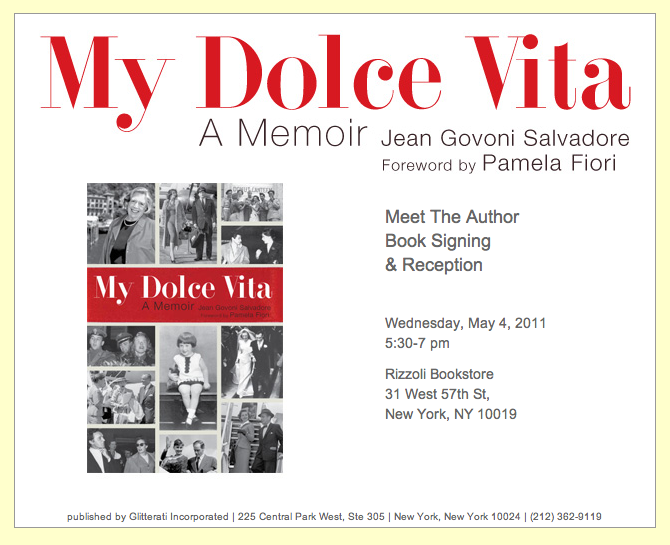 JEAN GOVONI SALVADORE LAUNCHES A NEW BOOK
MAY 4, 2011 - RIZOLLI BOOKSTORE, NEW YORK
PUBLIC RELATIONS DIRECTOR FOR VILLA D'ESTE IN LAKE COMO
AND HOWARD HUGHES/TWA SHARES HER BEAUTIFUL LIFE!!
BOOK FESTIVALS
HAWAII
Hawaii Book & Music Festival
Location: Honolulu
Date: May 22-23, 2010
Authors and musicians highlight the festival that celebrates Hawaiian culture. The different stages—Mauka Authors, Makai Authors, Main Stage, Mission Memorial Auditorium, Hawaii Council for the Humanities, Hawaiian Culture, Sustainability, Talk Story Stage, Keiki Stage, and Keiki Authors & Illustrators—offer continuous entertainment. In addition, numerous activities and a beer & wine garden provide more possibilities. Each evening a free sunset concerts marks the end of the day.
PEN World Voices Festival
Location: New York City
Date: April 26-May 2, 2010
One hundred and sixty established and emerging writers from forty countries will converge in New York City to engage in conversations, panels, performances, and readings around a single theme over the course of six days. Special events include Opening Night, the Arthur Miller Freedom to Write lecture, and the PEN Cabaret. 
LOS ANGELES TIMES BOOK FESTIVAL
The annual Los Angeles Times Festival of Books will be held:
Saturday April 30, 2011 from 10am – 6pm
Sunday, May 1, 2011 from 10am – 5pm at:
University of Southern California
Click here for map.
To locate USC on Yahoo! Maps or similar mapping software, you may use the intersection of Exposition Blvd and S Figueroa St, Los Angeles, CA 90089.
Los Angeles Times Festival of Books' 2011 Change of Address.
---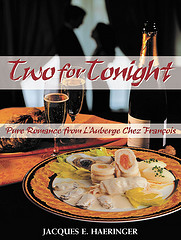 This Mother's Day Serve Her Breakfast in Bed with Scrumptious Recipes From Two for Tonight
This Mother's Day create a delicious wake up call for mom with breakfast in bed. Chef Jacques Haeringer, author of TWO FOR TONIGHT, a collection of romantic meals for two, believes love begins in the kitchen.  "Life's memorable moments are not complete without a festive meal.  At home, preparing a meal for someone special is an act of love, much more significant than buying flowers or candy.  We are most susceptible to love after we have enjoyed a good meal," Chef Jacques explains.
Romance is a tradition for Chef Jacques and his restaurant, the legendary L'Auberge Chez Francois, in Great Falls, Virginia.  Long known for not only great food, but their unique setting, Jacques and his family have been serving up romance to their customers for almost 60 years.  "Our customers love to come to the restaurant for the special occasions in their lives, whether it's an engagement party, wedding, birthday or for Mother's Day.  We supply the food, ambience, and service; they bring their own romantic magic."
Bring some romance to your house this year and surprise mom with a romantic breakfast in bed. These unique, yet easy recipes bring a bit of the Alsatian countryside to your kitchen. The recipes can be prepared in advance to minimize time in the kitchen.
                 Pipérade - Serves 2
This dish is a Basque specialty consisting of a rich stew of tomatoes and peppers, seasoned with onion and garlic, cooked in olive oil or goose fat, then mixed with beaten eggs and lightly scrambled.
2 tablespoons olive oil or rendered duck fat
1/3 cup finely chopped onions
1 large ripe tomato e/2 cup)
1 bell pepper, cored, seeded, and small diced, e/2 cup)
1/2teaspoon finely chopped garlic
Pinch of fresh chopped thyme or Herbs de Provence
Sea salt
Pinch of cayenne pepper or Piment D'Espelette
3 large eggs
2 slices of Jambon de Bayonne (thinly sliced)or country ham
Bring 1 quart of water to a boil and add the tomato for 10 to 20 seconds.  Lift the tomato out of the water with a slotted spoon and drop into a bowl  of cold water. Cool the tomato a few moments and remove from the water.

Peel off the skin and cut out the stem. Slice the tomato in half and place in a large-holed colander set over a bowl. Press the tomato halves to force out the juice and seeds. Coarsely chop the tomato pulp and set aside.
Heat the olive oil in a large casserole over medium heat. Add the chopped  onions, tomato, diced pepper, garlic, tomato paste, and thyme; simmer for approximately 15 minutes until the vegetables are tender and the sauce has thickened. Season with salt, pepper, and cayenne.
While the sauce cooks, sauté the ham slices in oil or rendered fat.
Beat the eggs with a wire whisk. Slowly pour the beaten eggs into the hot sauce, stirring constantly with a large kitchen spoon. Cook until the eggs are just set and creamy.
Place a slice of ham on a warm plate and top with the mixture. Serve at once with slices of toasted country bread.
Variation: Piperade may also be served with ham on the side.
Piment D'Espelette are peppers from the Basque country. They are sometimes found dried and ground in specialty food stores.
Fruit Crumble
Serves 2
The only blue fruit, blueberries, contains a host of minerals such as iron and magnesium and is rich in Vitamins A and C. A crumble is a British dessert in which raw fruits are topped with a crumbly pastry mixture and baked.
THE FRUIT:
8 ounces mixed berries: raspberries, strawberries, blackberries, blueberries
THE TOPPING:
 2 tablespoons unsalted butter
3 tablespoons all-purpose flour
3 tablespoons almond or hazelnut flour
2 tablespoons evaporated cane juice
To Prepare the Fruit:
 Remove any stems, clean the fruit, and place in the bottom of a shallow oven proof dish 6-8 inches in diameter. Depending on the ripeness of the fruit, drizzle 1-2 tablespoons of honey over the fruit.
To Prepare the Topping:
 Cut the butter into small dice and allow to soften slightly. Place the flour, almond flour, and evaporated cane juice in a mixing bowl. Add the butter using the tips of your fingers. Mix to obtain a coarse meal.
To Assemble:
Cover the fruit with the coarse meal and place in a preheated 375 degree oven; bake until the crumble browns, approximately 12 minutes.
Serve warm with crème fraîche.
Copyright Chef Jacques Haeringer from Two for Tonight,
Bartleby Press; $26.95; ISBN: 0-910155-43-7
BLACKBIRD BAKERY GLUTEN FREE!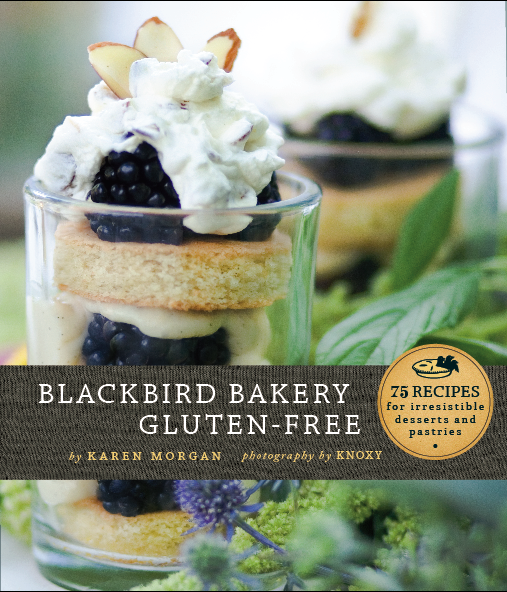 A gluten free pioneer and now expert, Karen Morgan has devoted the last eight years to searching for the key to unlocking the necessary secrets to creating gourmet gluten free desserts.
Blackbird Bakery Gluten Free is a culmination of this exciting journey, whisking you through 75 artfully photographed recipes so delicious, you too will understand why Blackbird Bakery has the reputation for producing epicurean desserts so divine, "you forget you're eating gluten free." Boasting recipes for everything from Southern Buttermilk Biscuits to Tart Tartin, Profiteroles and Tiramisu, pick up your copy today and see how effortlessly Karen has made the seemingly unattainable, real once again.
---