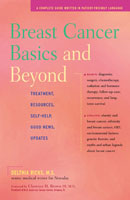 BREAST CANCER AND BEYOND
Treatments, Resources, Self-Help, Good News, Updates
by Delthia Ricks, M.S.

This is a fantastic down to earth and sensable book to dispell all the boloney regarding breast cancer, filled with hope and positive information on newest therapies and those in development. The major focus appears to be removing the accusatory attitude that women are responsible for their illness. See email: publicity@hunterhouse.com.