BOOK BITES   .    .    .
PHOTOGRAPHY HIGHLIGHTS:
EXIHIBITION SPOTLIGHTS WORK OF LOCAL PHOTOGRAPHER ROD ROLLE
Santa Barbara Guadalupe Documentary Photos Showcase Guadalupe California 1988-89
By Bonnie Carroll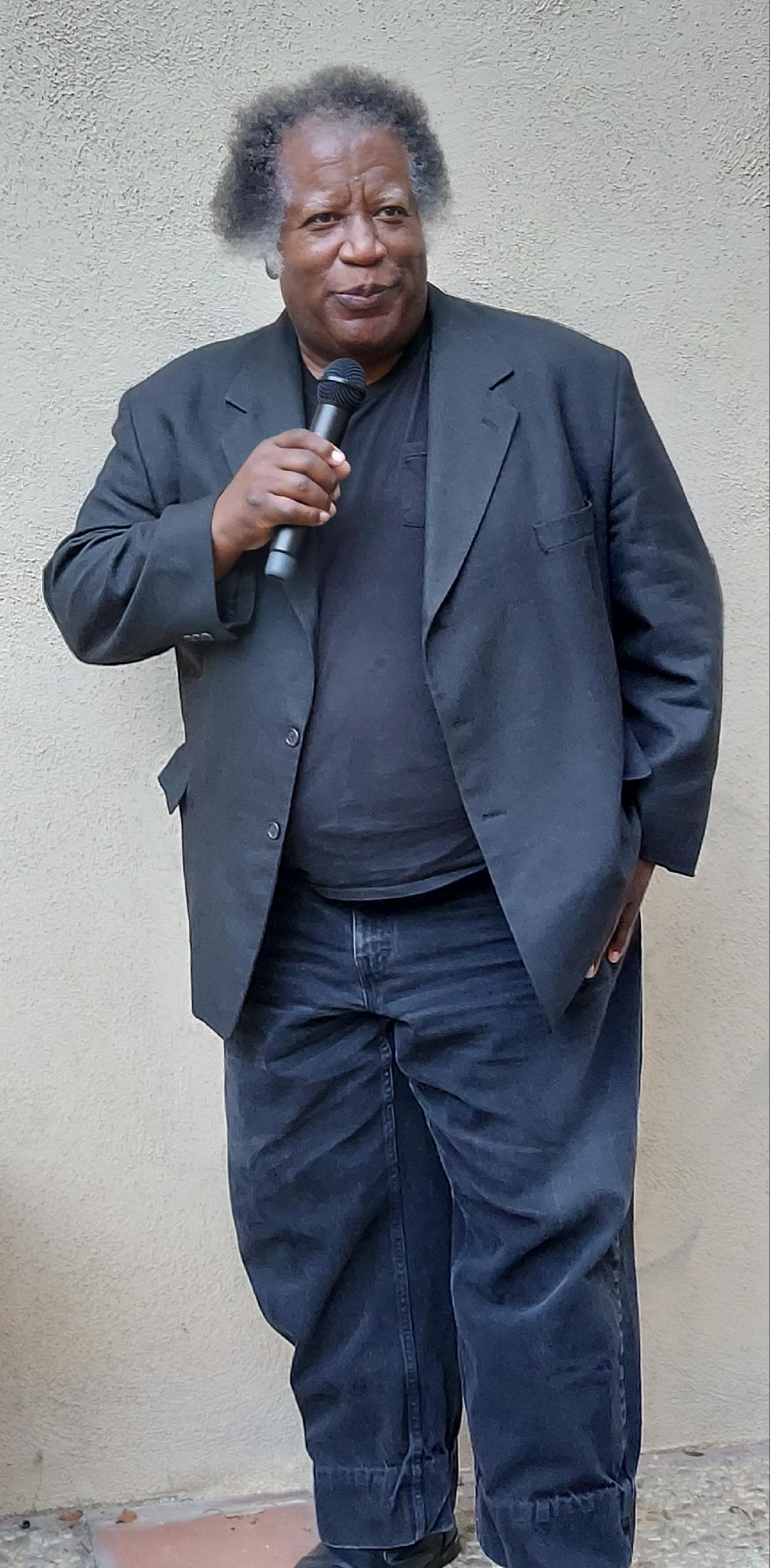 Rod Rolle Says Thank You at Exhibition Reception
It was an evening of local pride to view Rod Rolle's documentary photography project highlighting the city of Guadalupe, Spirit of a Community, on October 15 during a reception at the County Engineering Building Garden Atrium, 123 E. Anapamu Street in Santa Barbara.
Rolle Exhibition Opening in Santa Barbara
Rolle created the works during his tenure as the documentary photographer for artist Judy Baca's Guadalupe Mural Project, commissioned by Santa Barbara County Arts commission in 1988-89 to develop the expansive project. "The Big Picture," a town portrait Rolle created as part of the project, was ultimately displayed at the Smithsonian Museum: Experimental Gallery. According to Rolle, "Guadalupe is an undiscovered gem in Santa Barbara County."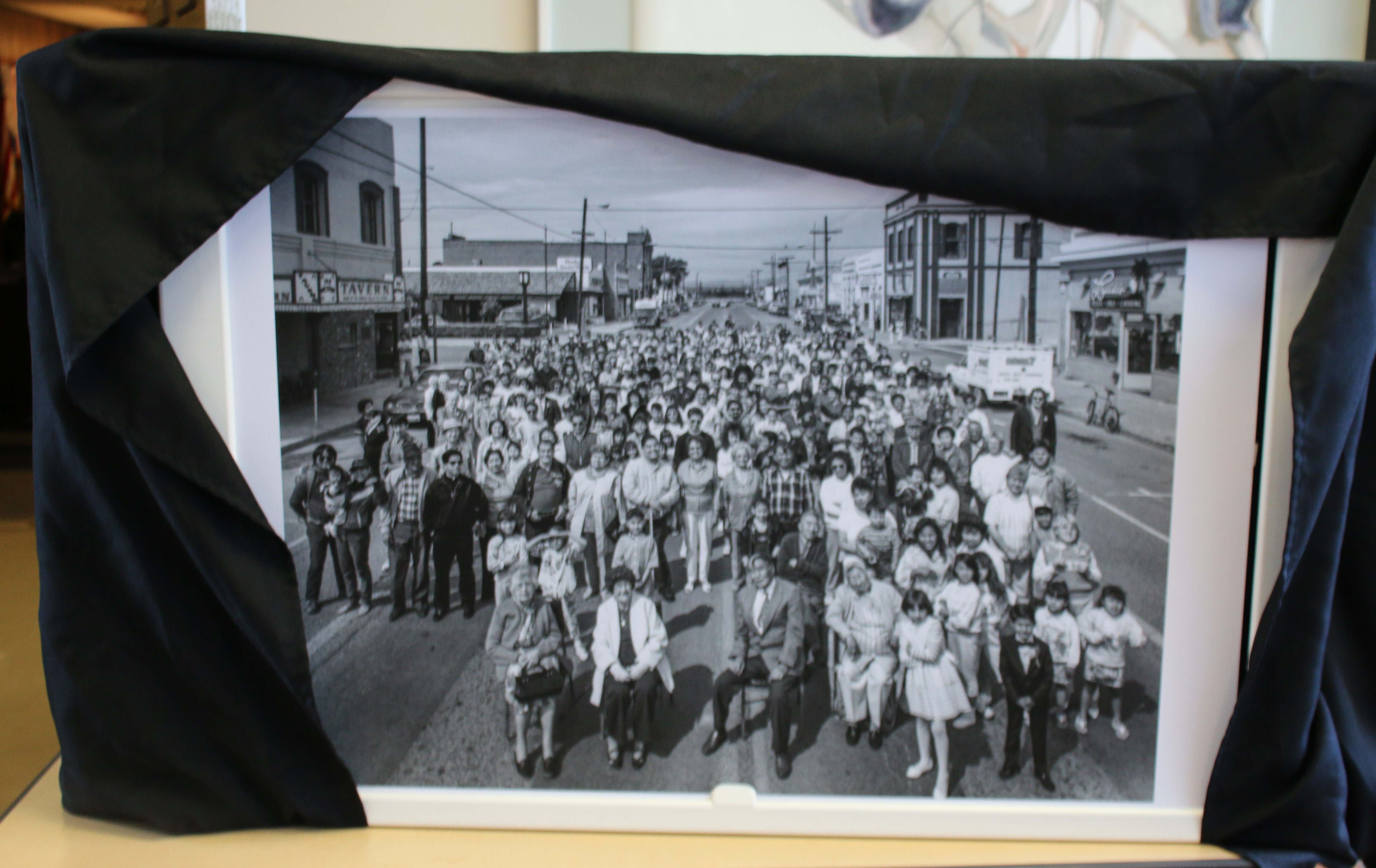 "The Big Picture" A Town Portrait by Rod Rolle 
The exhibition opening was attended by a bevy of local officials who included Mayor Murillo, County Supervisors Gregg Hart, Joan Hartman, Steve Lavagnino, countless friends, and family members, along with long-time photographer friends of Rod Rolle. 1st District County Supervisor Das Williams and his little daughters enjoyed the great Ethiopian dinner provided by Embermill Restaurant on State Street, as did everyone else.  "It was a who's who of people who admire Rod Rolle" said Mayor Cathy Murillo, who presented him with a beautiful bouquet to celebrate his opening.
Rod moved to Santa Barbara to attend Brooks Institute of Photography and photojournalism in 1982 and has distinguished himself in both fields. He joined with documenting their Black communities and they created several exhibitions and partnered with Shirley Kennedy to produce their first Martin Luther King Jr. exhibition, Tribute to Martin Luther King Jr., at the Santa Barbara Eastside Library in 1985.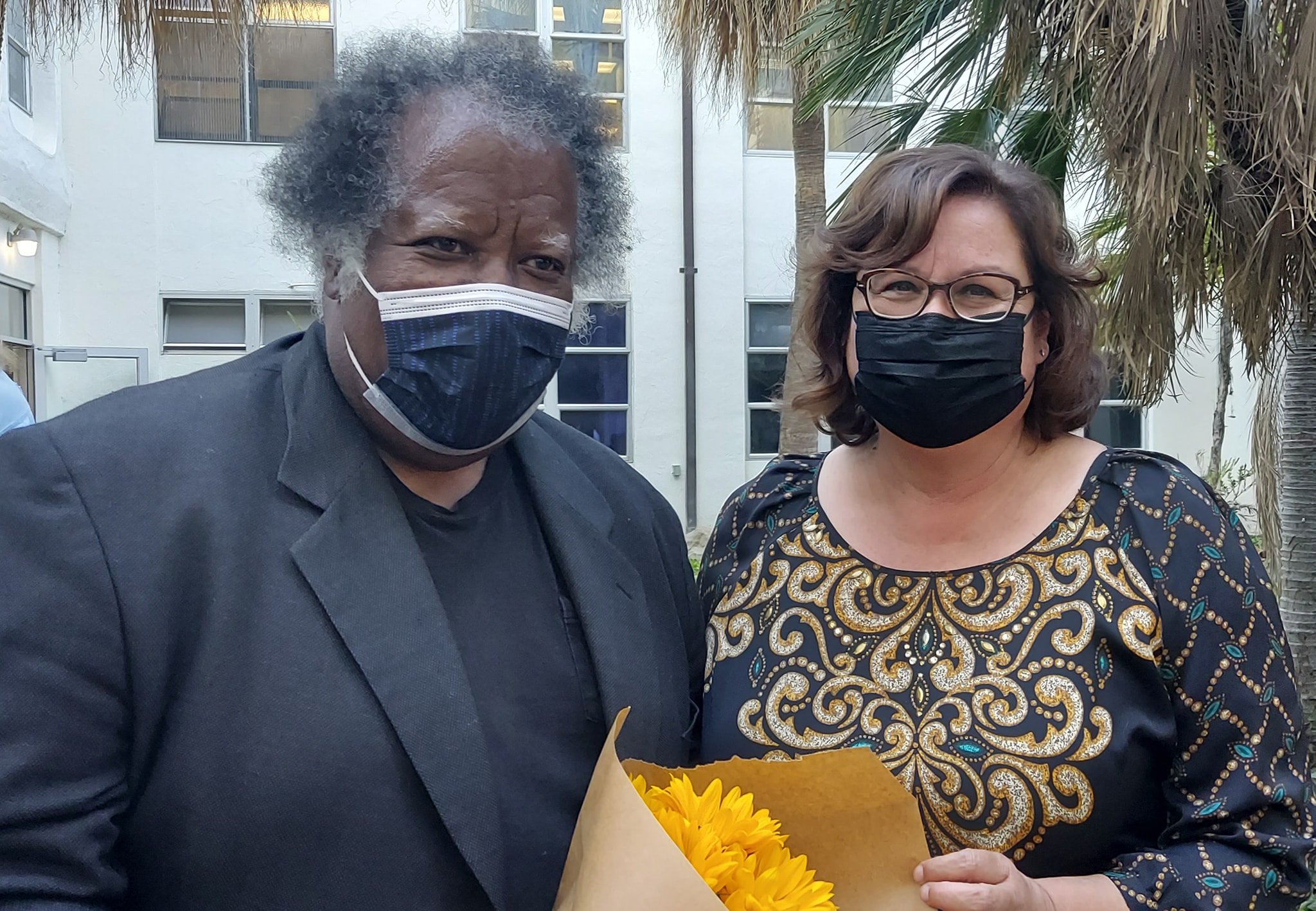 Rolle Presented Flowers by Santa Barbara Mayor Cathy Murillo
His images have been published 250 media outlets in36 countries. As a stringer for Gamma Liaison picture Agency, Getty Images and Sia USA, he has covered significant media events from the LA riots in 1992 to his award-winning photo of Michael Jackson standing atop an SUV in Santa Maria which won him a spot in Getty Images' "Picture of the Year" Collection. Each year his photos taken on the Red Carpet of the Annual Santa Barbara International Film Festival are published in outlets throughout the world.
As an accomplished performing artist, working as a drummer and vocalist he played with many Santa Barbara bands over the years including the Russ Doherty Band, Spider Murphy and the Blind Tiger Band, Crane Crawley Band, Julie Miller Band, Tombo Combo, and most recently with Tom Murray Stiff Pickle Orchestra. Rod was selected to represent Santa Barbara in Memphis, Tennessee for the International Blues Challenge. For over 25 years, he has served Santa Barbara's communities with disabilities through his tenure at Devereaux California Advanced Behavioral health and new Directions Travel. To view a collection of Rod Rolle photos or learn more please visit www.rodrolle.photoshelter.com.
Congratulations to this talented community member and to the Division of Community Services Department, which acts as the umbrella for arts and culture projects and programs with Santa Barbara County, and Santa Barbara County Office of Arts & Culture for the Guadalupe Mural Project, painter-muralist Judith F. Baca, and the photographic exhibition now available for viewing by Rod Rolle. For additional County Arts & Culture information visit www.sbac.ca.org.                                                               
___________________________________________________________________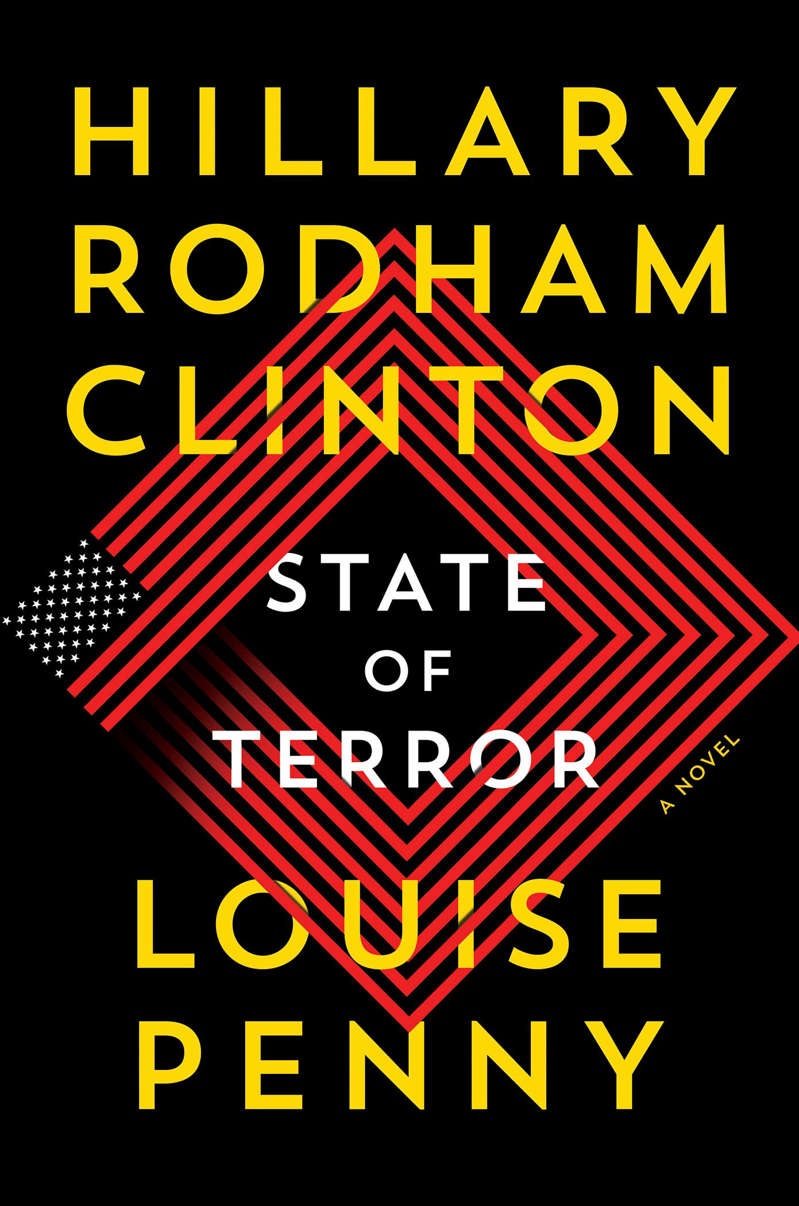 'State of Terror' tackles misogyny, Hillary Clinton's nightmare and 'Trump-like' administration
____________________________________________________________________
**NEW ILLUSTRATED EDITION OF JAMES JOYCE'S MASTERPIECE, TIMED TO THE CENTENNIAL OF ITS ORIGINAL PUBLICATION**
 
"Aside from being one of the most important Spanish painters of the last fifty years, Eduardo Arroyo has also been a devoted reader and a magnificent   writer…[Ulysses is] without a doubt his most ambitious book project."
—El País

"Ulysses will immortalize its author with the same certainty that Gargantua immortalized Rabelais, and The Brothers Karamazov immortalized Dostoyevsky....It comes nearer to being the perfect revelation of a personality than any book in existence."
—The New York Times

"To my mind one of the most significant and beautiful books of our time."
—Gilbert Seldes, in The Nation

"In the last pages of the book, Joyce soars to such rhapsodies of beauty as have probably never been equaled in English prose fiction."
—Edmund Wilson, in The New Republic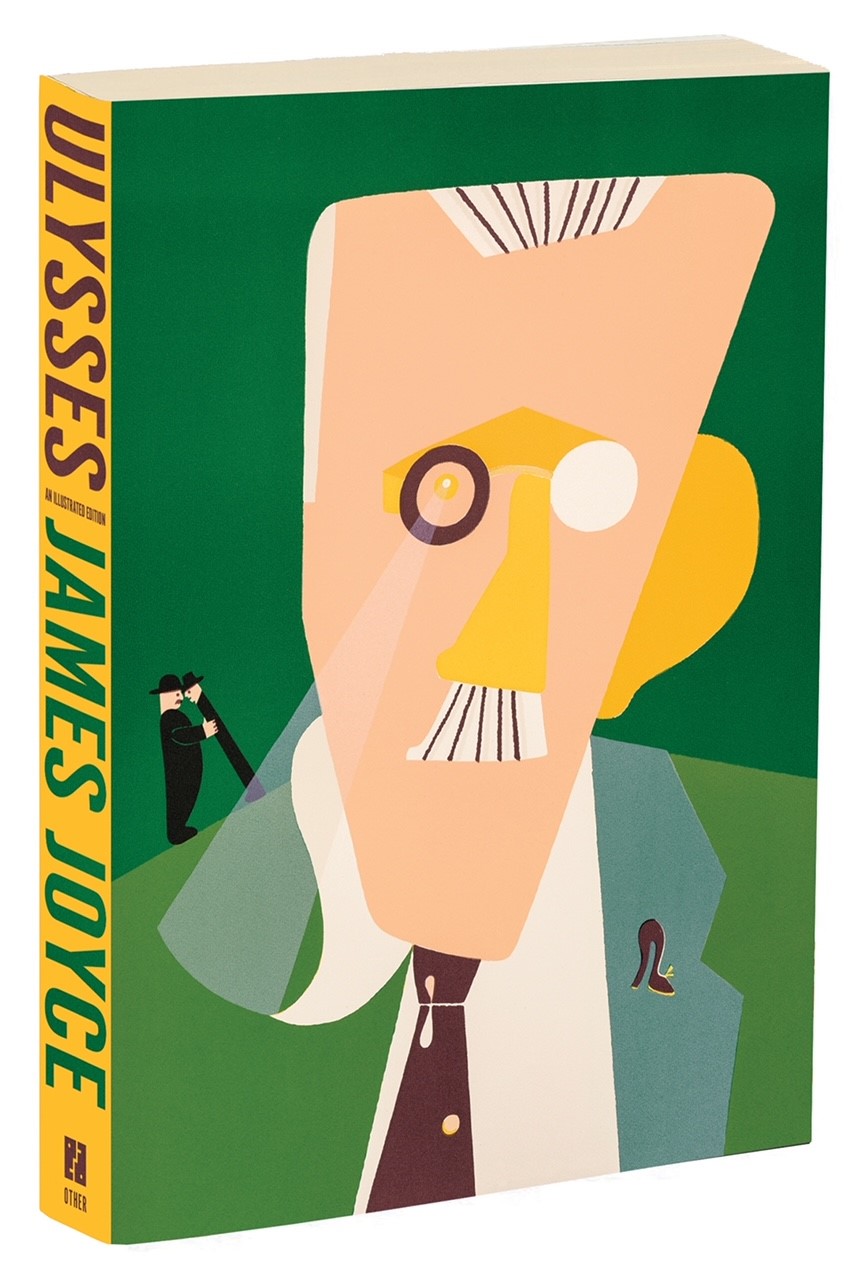 January commemorates the centennial of the first edition of Ulysses. Timed to the 100th anniversary of its publication comes a very special illustrated edition of Leopold Bloom's adventures, ULYSSES: An Illustrated Edition (Other Press Hardcover; On-Sale: January 25, 2022), woven with illustrations by the groundbreaking Spanish neo-figurative artist Eduardo Arroyo (1937–2018). Here, readers are offered a fresh reimagining of the classic work by Joyce, vividly brought to life in 300 images created by Eduardo Arroyo. The roots of this project trace back to Arroyo, regarded today as one of the greatest Spanish painters of his generation, who, inspired by the knowledge that Joyce himself relied heavily on Matisse, dreamed of illustrating Joyce's Ulysses. Although he began work on the project in the 90s until just before his death in 2018, it was never published during his lifetime. Now available for the first time in English, this unique edition of the classic novel, which Arroyo dedicated the final ten years of his life to, laces hundreds of vibrant, eclectic drawings, paintings, and collages, all working in concert, to amplify the energy of Joyce's writing.

Set over the course of a single day in Dublin, James Joyce's master work remains of significant importance for countless writers and readers. Though daunting in difficulty for its content and sheer length, painter and graphic artist Eduardo Arroyo has managed the ambitious feat of layering Ulysses with hundreds of illustrations, offering singular interpretations of the characters, places, and objects essential to the narrative (Buck Mulligan's shaving bowl; Shakespeare's Hamlet; Leopold Bloom's kitchen cupboard), rendering this famously challenging text in new light. A feast for the mind and the eyes, ULYSSES: An Illustrated Edition elevates and enhances the meaning of Joyce's words. This unique, beautifully produced tome can be enjoyed equally by readers and art lovers.

About the author: James Joyce, born in Dublin in 1882, is one of the most influential authors of the twentieth century. His most well-known publications include Dubliners, A Portrait of the Artist as a Young Man, Ulysses, and Finnegans Wake. He died in Zurich in 1941.
 
About the illustrator: Eduardo Arroyo, born in Madrid in 1937, was a painter, graphic artist, author, and set designer. In 1982 he received Spain's National Award for Plastic Arts. His paintings are showcased at the Museo de Arte Contemporáneo in Madrid. He died in 2018.
ULYSSES: An Illustrated Edition
By James Joyce • Illustrated by Eduardo Arroyo
Other Press Hardcover • ISBN: 978-1-63542-026-5
On-Sale: January 25, 2022 • Price: $75.00
BOOK BITES  .  .  .
Fall and Pandemic challenges have created a need to read situation and so many books were released in the past few months. Book stores are carrying all the political books, some old and some very current. I've had fun getting into a bevy of new cookbooks that are current and specialize in new and exciting recipes and techniques for home cooks.
Gardening books are also at a new high and I have found a few that I think are easy enough for this 'no green thumb' lady to put to use in my garden.  Hope you enjoy the recommendation below. They are available at book stores and on Amazon, but I welcome the opportunity  to support my local Chaucer's Book Store.
MY FAVORITE THIS MONTH: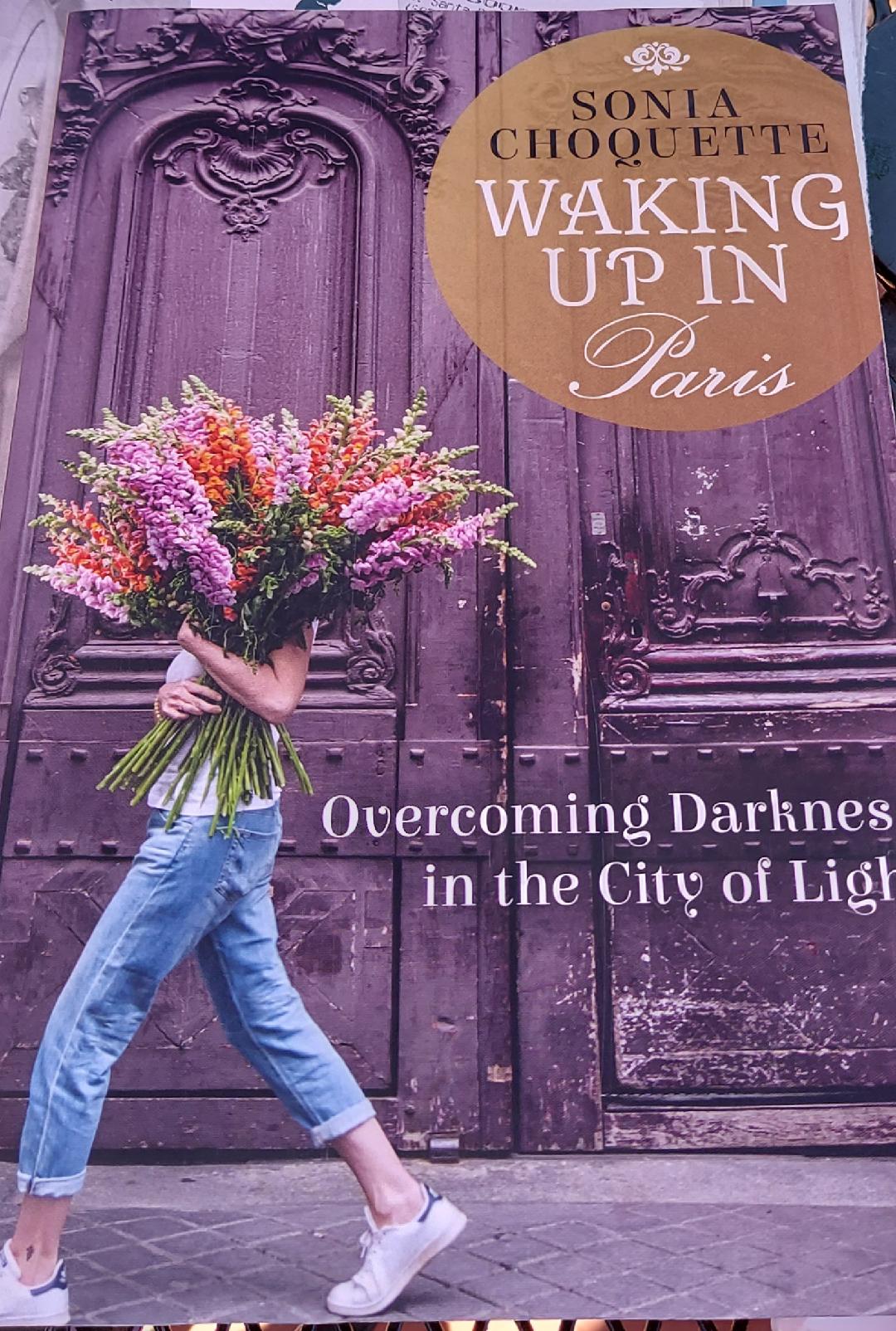 LBN Review:  Waking Up in Paris

I whole heartedly recommend this delightful and insightful book for some quick and very enjoyable reading. Perfect to take while traveling. Sonia Choquette did an amazing job taking the reader on a unique visit to Paris to get a birds eye view of what to expect if moving to the City of Lights and why change creates growth. Loved it . . . you will too!
POLITICAL READS: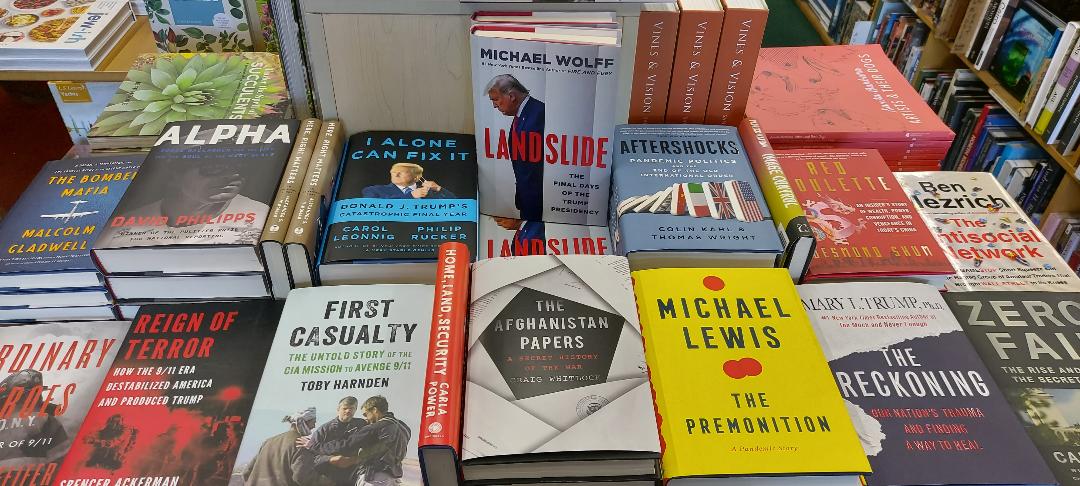 COOK BOOKS: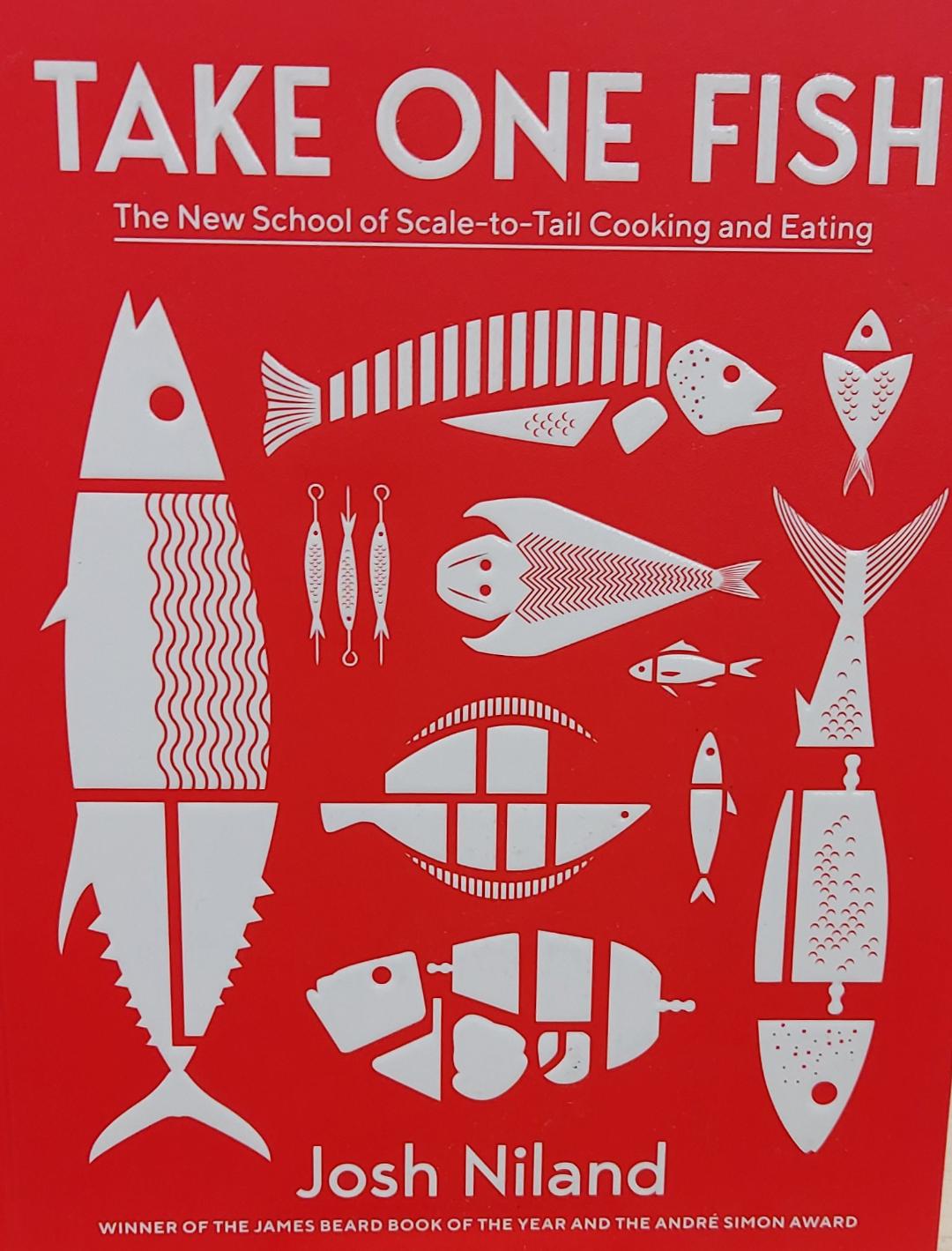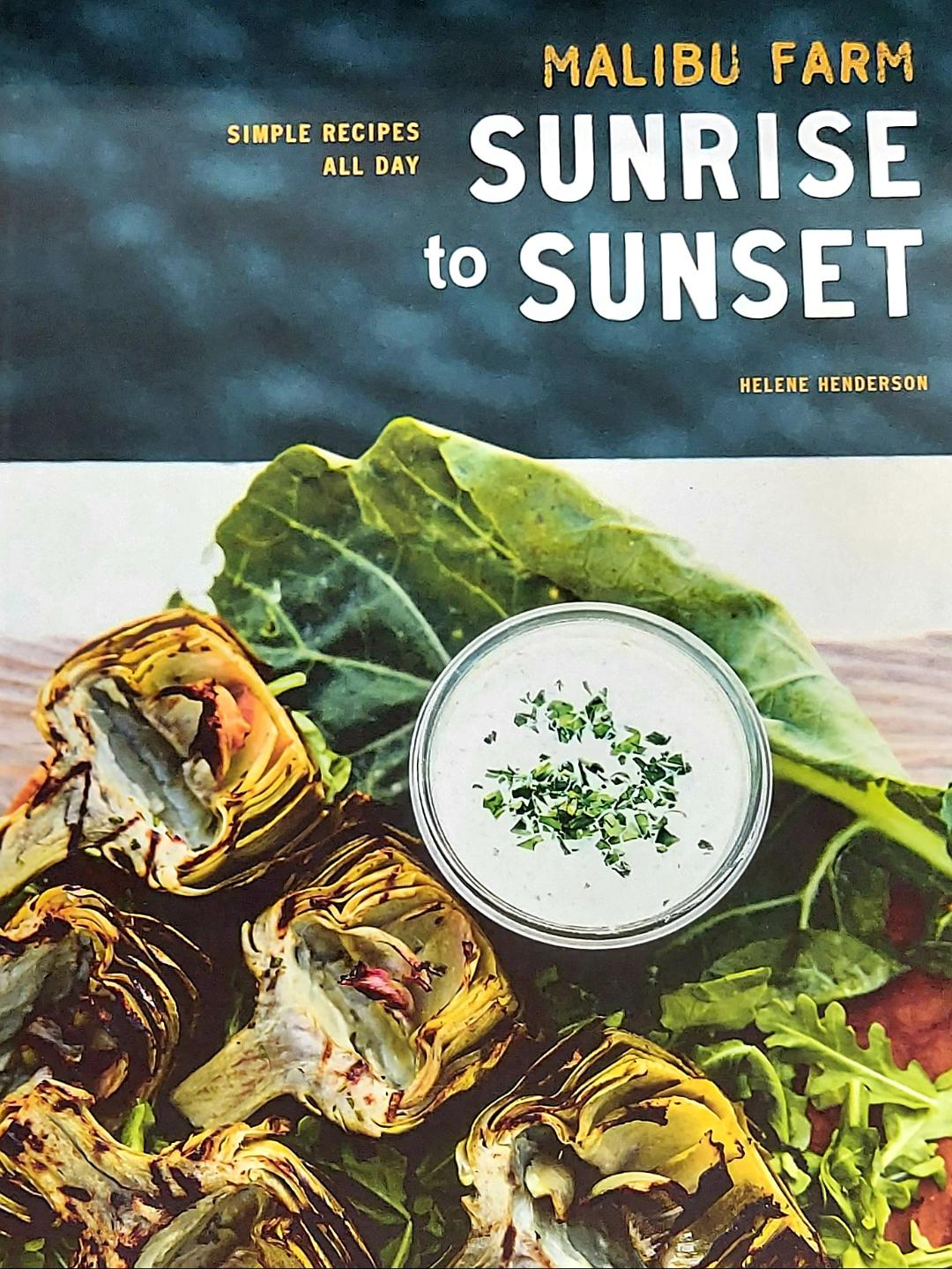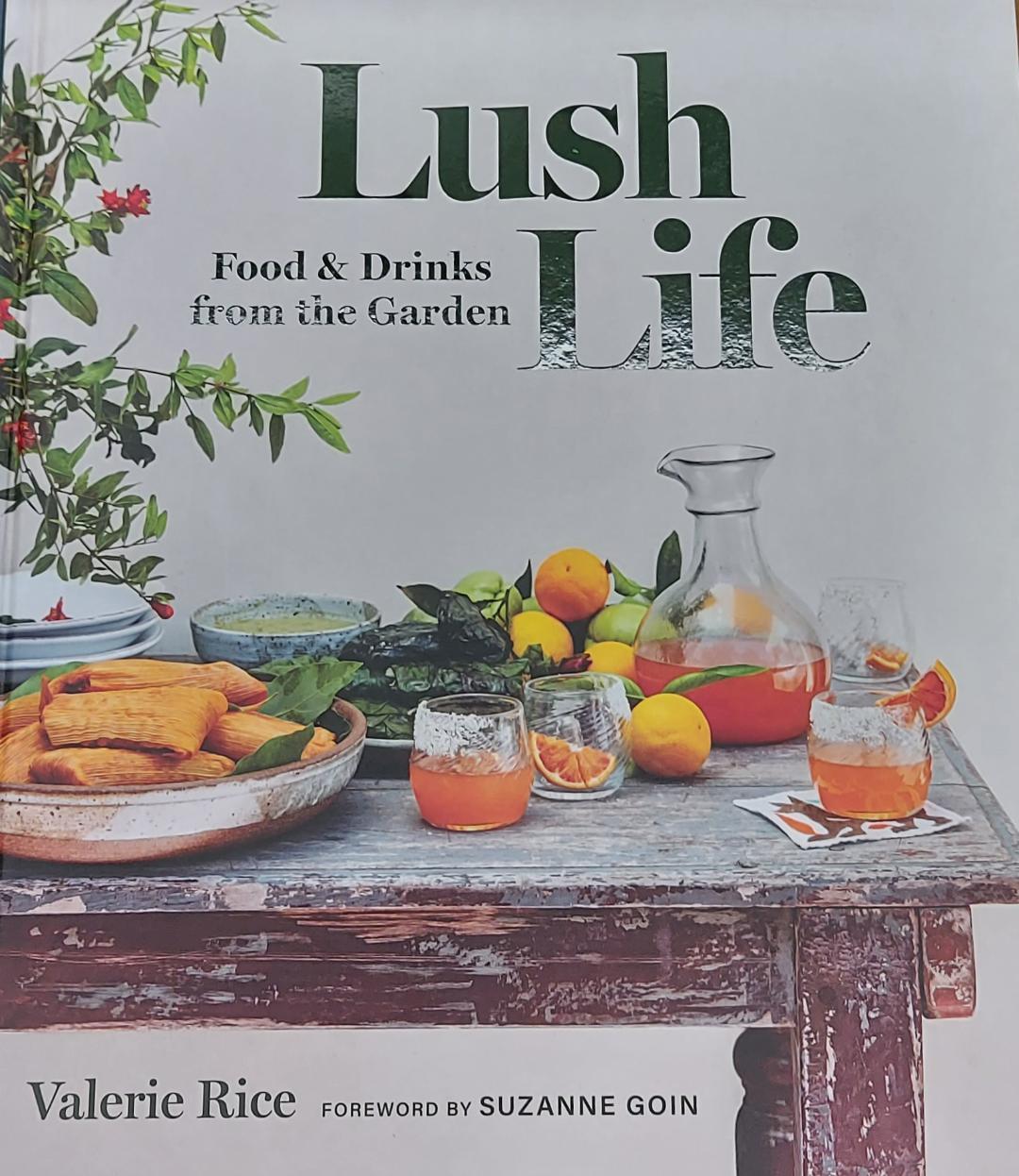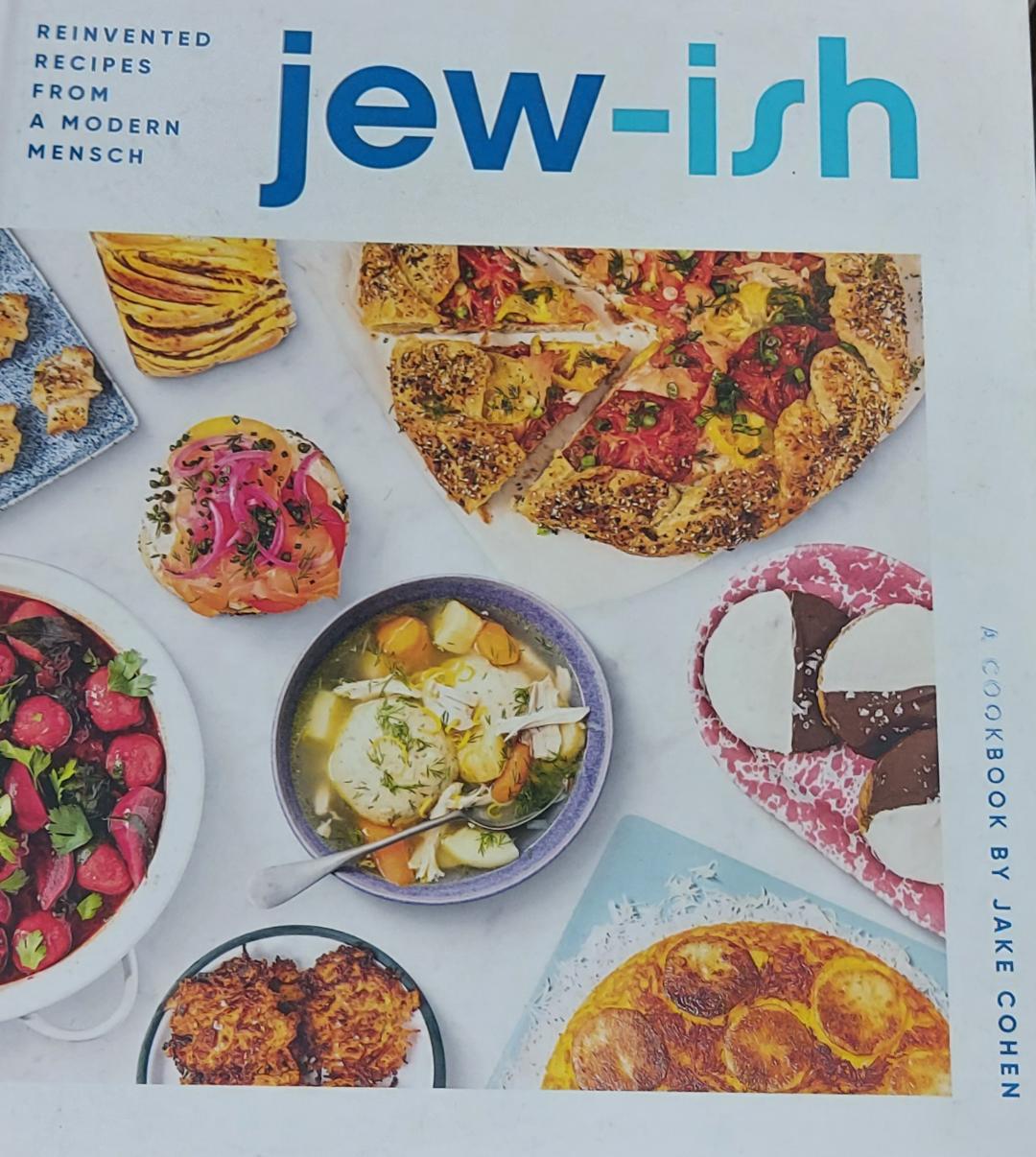 GARDEN SECRETS: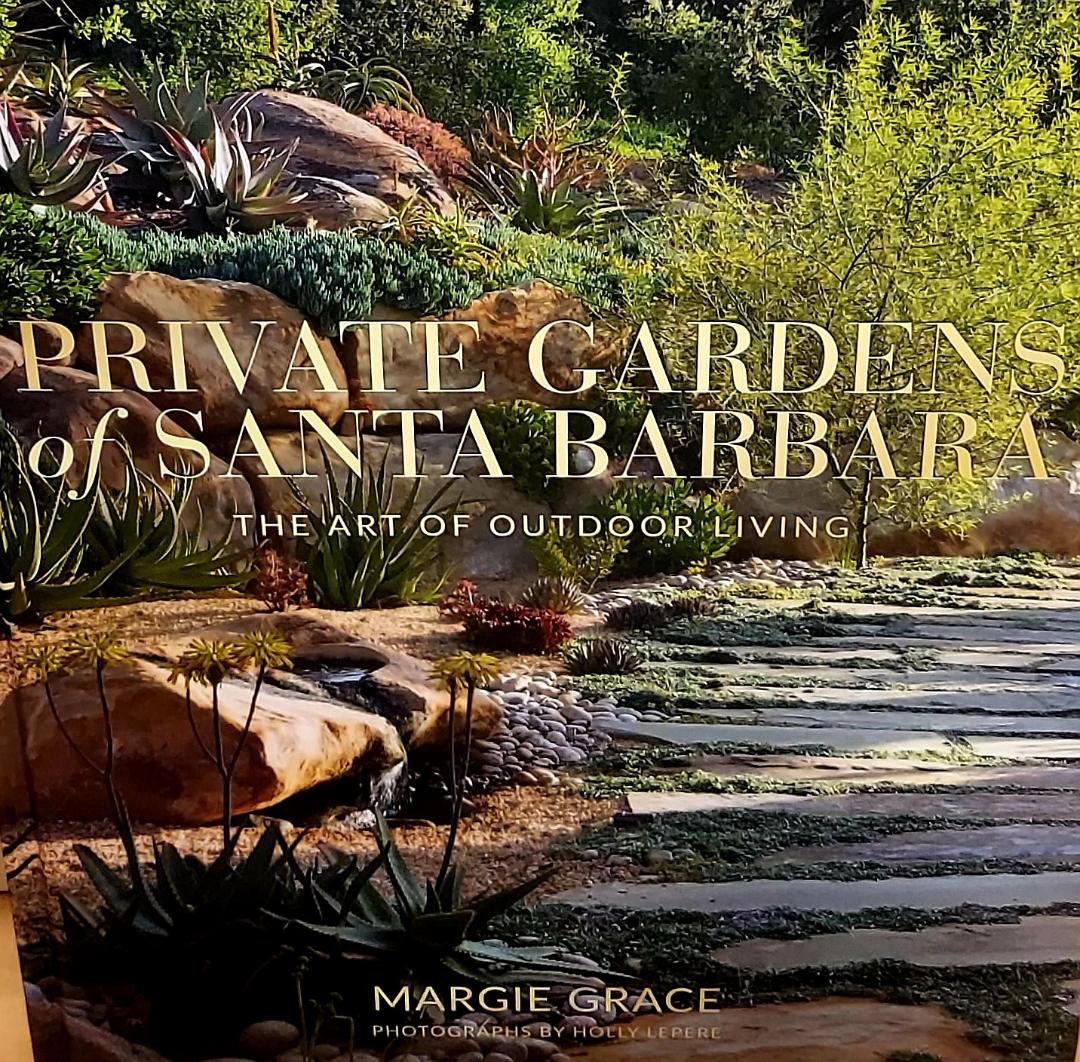 ♦ ♦ ♦
---