BOOK BITES
Good Reads
---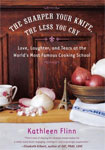 The Sharper Your Knife, the Less You Cry: Love Laughter, and Tearsw at the World's Most FAmous Cooking School
by Kathleen Flinn
"Flinn's tale of  chasing her ultimate dream makes for a really lovely book--engaging, intelligent, and surprisingly suspenseful" -- Elizabeth Gilbert, author of EAT, PRAY, LOVE.
I adored this book. I have a daughter named Kathleen who is emersed in the corporate world, and this humorous story of a young woman who was disposed from her job in corporate America, and followed her dream to pursue a career in the culinary arts in Paris at Le Cordon Bleu is inspiring. You will enjoy this total love story.     BC
---
UPCOMING BOOK EVENTS:
January- February - March 2009
South Carolina Book Festival
Columbia, South Carolina
January 7, 2009
Bologna Children's Book Fair
Bologne Italy
March 23-26, 2009
Miami International Book Fair
November 8  16, 2009
Street Fair November 13-15
Cuba Book Fair
Havana Cuba
February 12 -22, 2009
24th Jerusalem International Book Fair
February 15-20, 2009
HAPPY READING!!
---
---