BOOKBITES  .  .  .
MUSIC . . .THE ARTS

The 2015/16 season of the Budapest Philharmonic Orchestra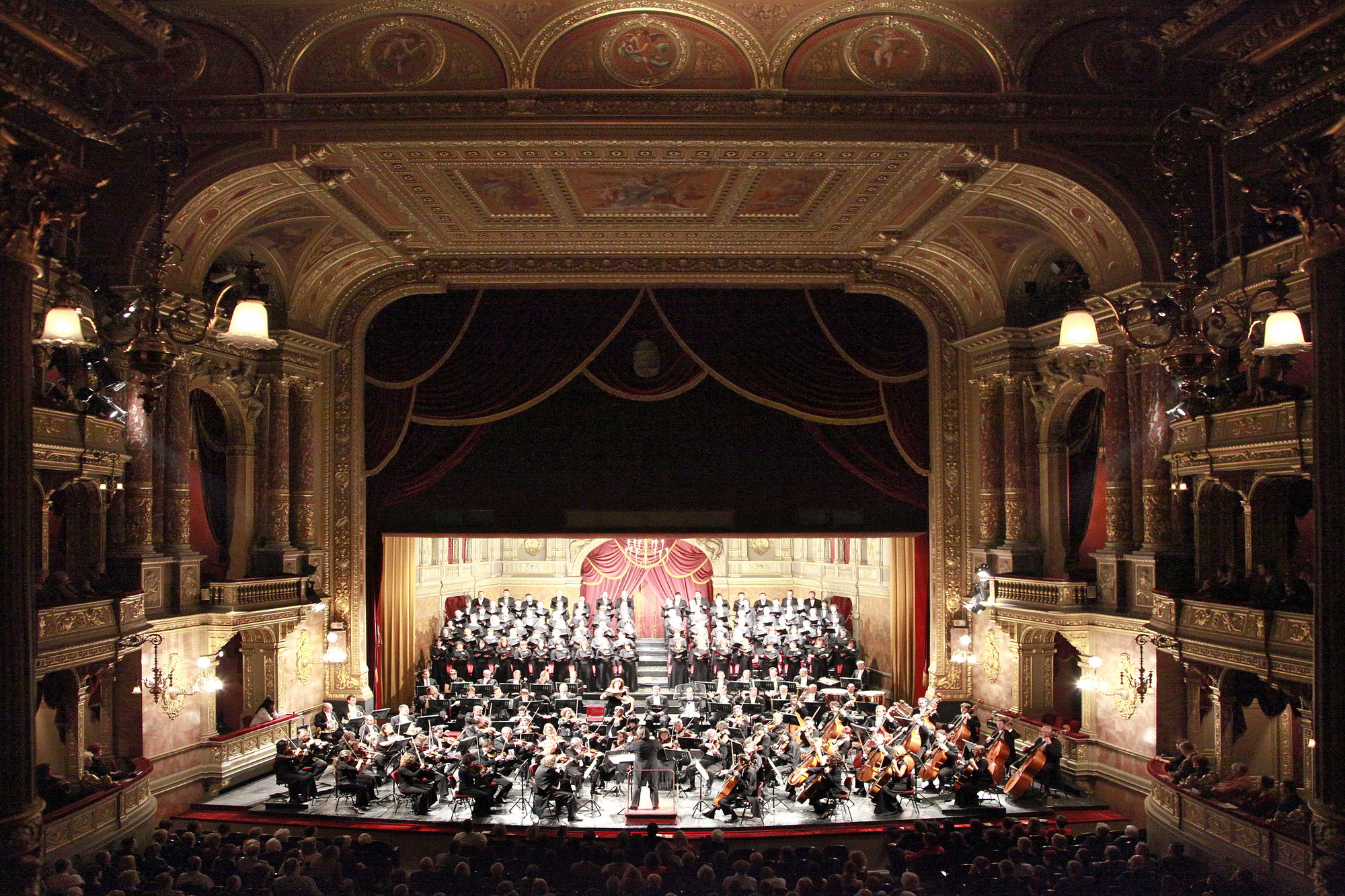 The Budapest Philharmonic Orchestra – the Orchestra of the Opera is proud to announce its 2015/16 season. With a history stretching back more than a century and a half, the Budapest Philharmonic is Hungary's oldest functioning orchestra. As in previous years, the aim of the ensemble in the new season is nothing less than to retain its rank among the top concert orchestras in Hungary, capitalising on the special and unique musical skills gained from performing opera on a daily basis.
Budapest Philharmonic Orchestra concerts:
Dvořak: Carnival Overture / Smetana: Má vlast (My Homeland)
5 October 2015 7:30 p.m. Opera House
Conductor: Pinchas Steinberg (Chairman-Conductor of the BPO)
Verdi: Requiem
2 November 2015 7:30 p.m. Opera House
Conductor: Péter Halász (Principal Music Director of the Hungarian State Opera)
Featuring Anja Kampe (soprano), Ildikó Komlósi (alto), Andrei Dunaev (tenor), Kwangchui Youn (bass) and the Hungarian State Opera Chorus (chorus director: Kálmán Strausz) 
Brahms: Piano Concerto in D minor, op. 15 / Elgar: Symphony No. 1
30 November 2015 7:30 p.m. Opera House
Conductor: Alexander Lazarev
Featuring Sofya Gulyak (piano)
Händel: Messiah
21 December 2015 7:30 p.m. Opera House
Conductor: Paul Goodwin
Featuring Malin Christensson (soprano), Gabriella Balga (alto), Tibor Szappanos (tenor), István Kovács (bass), the Hungarian State Opera Chorus (chorus director: Kálmán Strausz)
STEINBERG70
18 January 2016 7:30 p.m. Opera House
Conductor: Pinchas Steinberg
Featuring Alexander Gavrylyuk (piano)
Programme:
Glinka: Overture from Ruslan and Lyudmila
Rachmaninoff: Piano Concerto No. 3
Mussorgsky-Ravel: Pictures at an Exhibition
KURTÁG90
22 February 2016 7:30 p.m. Opera House Conductor: Lawrence Foster
Featuring Hiromi Kikuchi (violin), Ken Hakii (Viola)
Programme:
Enescu: Romanian Rhapsody No. 2
Kurtág: ...concertante... op. 42
Dvořák: Symphony No. 9 (From the New World)
Barber: First Essay for Orchestra, op. 12 / Gershwin: Piano Concerto in F major / Schumann: Symphony No. 2
14 March 2015 7:30 p.m. Opera House -Featuring: Peter Jablonski (piano)
Conductor: John Fiore
YBL202
11 April 2016 7:30 p.m. Opera House
Conductor: Pinchas Steinberg
Featuring: Beáta Várnai (clarinet)
Programme:
Mozart: Clarinet Concerto, K 622
Mahler: Symphony No. 5
Borodin: Polovtsian Dances / Gliere: Harp Concerto / Shostakovich: Symphony No. 11, "The Year 1905" op. 103
9 May 2016 7:30 p.m. Opera House
Conductor: Pinchas Steinberg
Featuring: Jana Bouskova (harp)
SHAKESPEARE400+
30 May 2016 7:30 p.m. Opera House
Conductor: Arthur Fagen
Featuring Emőke Baráth (soprano), Szilvia Vörös (alto), the Hungarian State Opera Chorus (chorus director: Kálmán Strausz)
Programme:
Dvořak: Otello Overture, op. 93
Tchaikovsky: Romeo and Juliet Fantasy Overture
Mendelssohn: A Midsummer Night's Dream – incidental music
Royal Music Hall chamber concerts at the Székely Bertalan Parlour of the Opera House:
10 October 2015 4 p.m. Dohnányi: String Quartet in D-flat major, op. 15 / Brahms: Trio in E minor, opus 40
14 November 2015 4 p.m. Concert works by Bach and Treherme, in collaboration with the British Council and the London Symphony Orchestra
12 December 2015 4 p.m. Christmas Sparklers – Debussy: Two Dances for Harp and String Orchestra / Fauré: Aprčs un ręve / Debussy: Les Chansons de Bilitis
9 January 2016 4 p.m. Haydn: String Quartet in A major, opus 9, No. 6 / Brahms: Clarinet Quintet, op. 115
13 February 2016 4 p.m. Veress: Sonatina / Moór: Suite No. 4 for Cello, op. 95 / Prokofiev: Quintet, op. 39
5 March 2016 4 p.m. Beethoven: Serenade in D major, op. 25 / Schubert: Trio Satz in B major, D. 471 / Britten: Phantasy Quartet for Oboe and String Trio, op. 2
2 April 2016 4 p.m. Lajtha: Three Nocturnes / Ravel: Introduction and Allegro
23 April 2016 4 p.m. Bach: Three-Part Inventions / Haydn: London Trio / Stravinsky: The Soldier's Tale – suite
_____________________________________________________________________
ART & STYLE .  .  .
ART INSTITUTE OF CHICAGO TO OPEN FIRST COMPREHENSIVE MUSEUM SURVEY OF
DAVID ADJAYE, INTERNATIONAL INNOVATOR IN ARCHITECTURE AND DESIGN

Making Place: The Architecture of David Adjaye Offers a Dynamic Installation to Explore
His Work's Distinct Approach, Influential Visual Language, and Global Significance
The Art Institute announces the installation of a thought provoking mid-career survey of work by critically acclaimed architect David Adjaye, opening September 19, 2015, and running until January 3, 2016, in the only North American venue for this globally focused exhibition. Making Place: The Architecture of David Adjaye explores the architect's transformation of complex ideas into approachable and innovative structures that respond to local and global systems of culture, economics, and technology. Born in Tanzania in 1966, and raised in Ghana, the Middle East, and England, Adjaye works from offices in London, New York, Berlin, and Accra. With projects worldwide, his practice defies cultural categories and geopolitical borders.
Exhibition co-curator, and Art Institute John H. Bryan Chair and Curator of Architecture and Design Zoë Ryan gives context to the exhibition's vision: "This isn't about sealing David's career with a retrospective exhibition, but rather highlighting a critical moment to consider the possibilities of where David's practice is headed. My hope is that the exhibition will promote a much richer understanding of an architect committed to creating projects of social and cultural significance and meaning."
Rather than advance a signature architectural style, Adjaye's structures address local concerns and conditions through an understanding of historical context and a flexible application of global modernism. Often set in cities struggling with diversity and difference, his public buildings provide spaces to foster connections and explore how neighborhoods evolve and how new communities emerge. Adjaye challenges conventions—drawing references from beyond the Western canon—to better contextualize his projects and reflect the diverse urban identities and multicultural experiences that shape them. These ideas are expressed in important recent projects, such as the Smithsonian National Museum of African American History and Culture (NMAAHC) in Washington, DC, a building that faces a complex history head on, bringing together references from across Africa and America in a visually and physically evocative design.
With the generous corporate sponsorship of Allstate Insurance Company, the exhibition— comprising furniture, housing, public buildings, and master plans—fills the first-floor Abbott Galleries and the second-floor Architecture and Design galleries in the Art Institute's Modern Wing with drawings, sketches, models, and building mock-ups. A specially commissioned film featuring Adjaye's collaborators, an international roster of influential art world figures, brings his projects alive and makes clear the important role that Adjaye plays in contemporary architecture today. In a special collaboration with the Art Institute, David Adjaye will also provide personal commentary on select works of African Art from the permanent collection, shared with visitors through new object labels that reflect his interests and inspirations.
Making Place: The Architecture of David Adjaye is accompanied by a richly illustrated catalogue with in-depth essays by David Adjaye, Zoë Ryan, Okwui Enwezor, Peter Allison, Andrea Phillips, and Mabel O. Wilson. Titled David Adjaye: Form, Heft, Material, and underwritten through the generosity of Nancy Carrington Crown and A. Steven Crown, the catalog is published by the Art Institute and Haus der Kunst and distributed worldwide by Yale University Press.
__________________________________________________________________________________
---