BOOK SIGNING - JANUARY 9, 2011 – 3:00-5:00 PM
Chaucer's Book Store
Suzanne Geimer & Kelly Geimer Lance
    "SOME DAY IT WILL MATTER"  by Suzanne Geimer &
       Kelly Geimer Lance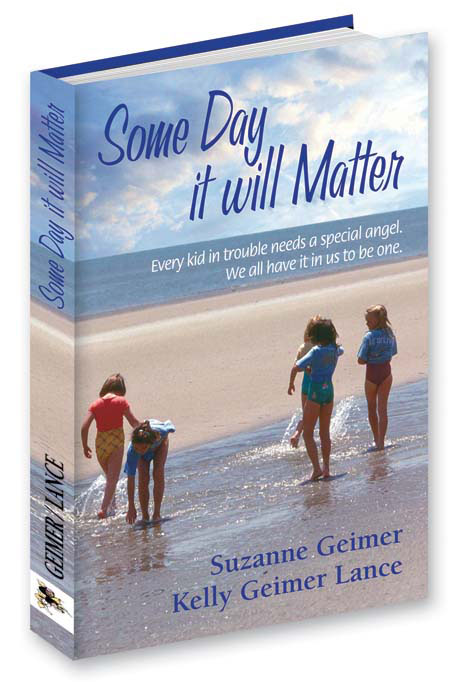 Every kid in trouble needs a special angel . . . We all have it in us to be one!   
Suzanne Geimer and her daughter Kelly Geimer-Lance, creators of the newly released book "Some Day It Will Matter" will be at Chaucer's Bookstore, 3321 State Street, on Sunday, January 9, 2011 from 3:00-5:00 pm for a book signing and meet & greet. 
The new book shares their story and is an inspiring saga of the importance communication plays in finding solutions with teens. Suzanne is the  founder and President of Special Angel, a nonprofit organization for at risk kids, created as a result of her own mother/daughter journey.
Special Angel's mission is one of helping children in distress. The talented duo travel throughout the US singing and working with kids by sharing their own story and their original music. They have produced a CD "Turn on the Radio" which features the songs they have written and performed together. Visit: www.specialangel.com.
John Walmsley, former child star on the Walton's TV show is the lead guitarist for the Special Angel Band and has performed with Suzanne and Kelly for many years.  "It is really touching to see the power of this musical journey we are taking together, and watching the kids react to Suzanne and Kelly is simply amazing" says Walmsley.
---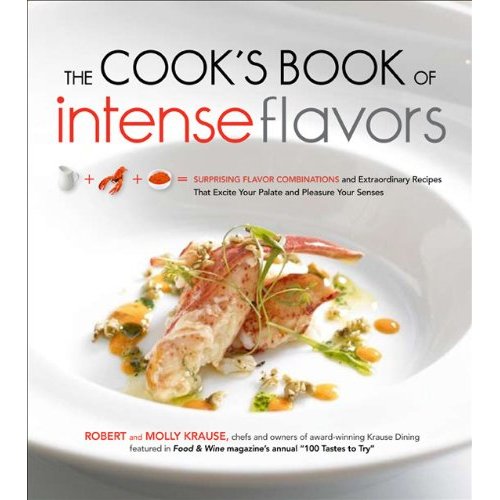 THE COOK'S BOOK OF
INTENSE FLAVORS
101 Surprising Flavor Combinations and Extraordinary Recipes That Excite Your Palate and Pleasure Your Senses
by Robert and Molly Krause
Available Now
Cooking is about creating maximum flavor. While technique is necessary for any recipe to hold its own, it is intense, rich and unexpected flavor that sets your senses and your taste buds tingling. Husband and wife cooking team
Robert and Molly Krause
, who have headed several successful restaurants, will share the insider secrets that got their restaurant, Krause Dining, on
Food and Wine
magazine's 2008 list of "100 best" recipes, restaurants and wines.
THE COOK'S BOOK OF INTENSE FLAVORS
(Fair Winds Press, October 2010, $19.99, hardback with color photos)
will give the both the beginning and the advanced home chef a look inside the kitchen of the couple who is single handedly building an international food scene in Lawrence, Kansas. This one of a kind cookbook will make readers rethink the way they approach food, including:
Learning how to cook more innovatively by adding an unexpected note such cumin to a traditional flavor combination such as cinnamon and cocoa;
Cooking more intuitively by learning which flavors work together and how to balance different flavor profiles such as sweet, sour, savory, and spicy; and
Getting more excitement from cooking as they taste how flavors shift and evolve during the cooking process.
THE COOK'S BOOK OF INTENSE FLAVORS contains 101 extraordinary combinations and accompanying recipes that show how to get the most flavor out of any ingredient--whether it's an innovative twist on a classic pairing, flavor that is over-the-top decadent, or inspiration for the fresh asparagus from the farmer's market or the balsamic vinegar in the pantry. It is an indispensable guide to every type of flavor combination from exotic and decadent to classics made exciting and modern.

Flavor combinations include:
Tomato + Cheese + Truffle
Fig + Apple + Anchovy
Orange + Saffron + Vanilla
Chocolate + Lime + Cream
Egg + Caviar + Chervil
---