ROME, AT HOME
Suzanne Dunaway, making bread, writing books, creating good will!



"ROME, at HOME, The spirit of la cucina romana in your own kitchen," written and illustrated by Suzanne Dunaway is a book to keep, cook by and simply savor. Suzanne, who lived in Rome and made some remarkable friendships, has written a book that is based on good friends; the kind who will welcome you into their homes, and share their family recipes. Suzanne is so good at this special food synergy that I recently commented to a friend that I thought there was a mistake made in Washington. This talented author , who has won the hearts of so many during her European travels would be a perfect Secretary of State for the USA. Her amazing knowledge and simple observations on the Italian food, people and the way of life in Rome has created a book to bring this spirit to your own table through a collection of delicious and original recipes found in "Rome, at Home".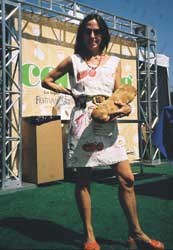 Suzanne Dunaway, Author of "Rome, at Home" on the Food Stage during an appearance at the Los Angeles Times Book Festival 2004
Dunaway, the author of "No Need to Knead: Handmade Italian Breads in 90 Minutes" was nominated for a James Beard Award, and was the founder of Buona Forchetta Handmade Breads, a renowned Los Angeles bakery that began in her kitchen, and today bakes up to 25,000 loaves a day. Many of the original book illustrations she created for her books have appeared in The New Yorker, Bon Appetit, Gourmet, and the Los Angeles Times. Suzanne lives in Los Angeles, but spends much time in Rome.

Suzanne recently held a book signing at Feltrinelli Internazionale in Rome, and was amazed by the people who came out to meet her, as well as old friends who showed up to enjoy her company. The honesty and simplicity of this beautifully illustrated book has made it popular around the world.

Bill Murray, author of "The Last Italian: Portrait of a People and City of the Soul A Walk in Rome" commented on Suzanne's book with "If you can't live like a Roman, you can now eat like one-a mouthwatering culinary delight." I know this darling lady, and also know that she has a new book in the works. Stay tuned to get the premiere details! For book sale information or schedule of promotional events go to www.rome-at-home.com Mangia Bene!