HOLLYWOOD DU JOUR
Lost Recipes of Legendary Hollywood Haunts
by Betty Goodwin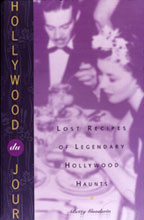 HOLLYWOOD DU JOUR: Lost Recipes of Legendary Hollywood Haunts is a book that I found so enjoyable. This amazing history of the layers of trendy restaurants that attracted celebrities and tourists from around the world not only contains a chronicle of stories about the best remembered restaurants in Hollywood, but also contains a showcase of their best recipes. It is a treasury of the culinary history of Hollywood and its stars.
The list of recipes includes Brown Derby's Cobb Salad, Tick Tock Tea Room's Sticky Orange Rolls, Cyrano's Onion Soup, Cock 'n' Bull's Welshman's Rabbit, and Moscow Mule cocktail, as well as Romanoff's Chocolate Soufflé.
The photos of Designer Jeff Darnall has combined photos and memorabilia with Goodwin's text to evoke a restaurant scene where spotting celebrities at Scandia, the Cocoanut Grove or Ma Maison was equally as important as items on the menu.
I had the pleasure of attending a dinner by Miss Goodwin several years ago at a local Beverly Hills restaurant where a replication of famous recipes from Hollywood du Jour included Cyrano's French Onion Soup, Perrino's White Fish Italienne and the Bullock's Wilshire's renowned Coconut Crème Pie. It was an amazing dinner, and lecture from Miss Goodwin that took us all on a lovely journey through the foodies history of our community.
I have attached my favorite recipe from Ma Maison Restaurant, which opened in 1973, and was the brainchild of the talented and handsome restaurateur Patrick Terrail, who was known for his gall and charm. Patrick was a friend of mine, and I so admired his brilliance and willingness to help people. Amusingly, the unknown chef in the kitchen of Ma Maison when it opened was Wolfgang Puck.
For a lovely nostalgic trip down restaurant memory lane get this fun book filled with delicious and historic recipes, along with photos of the rich and famous who enjoyed them.
Ma Maison Chicken Salad Recipe: