Books for the Month
 June 2014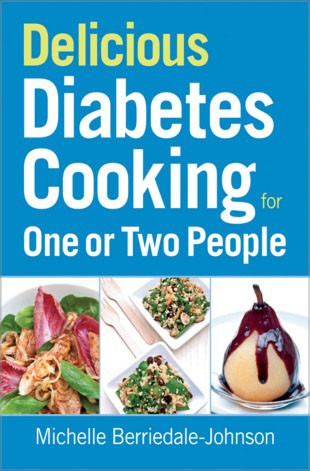 Eat well for life
Cooking for yourself and your loved one is a show of affection and, if either of you is diabetic, it can mean the difference between a good life and a great one, one with lots of feeling-fabulous days. With Delicious Diabetes Cooking for One or Two People eating for your well-being can be a pleasure, especially with fresh, flavorful dishes as varied and delicious as the wholesome ingredients that keep you feeling your best. Cauliflower & Cashew Salad, Chicken with Oranges & Artichoke Hearts, and more than 70 recipes—each with a complete nutritional analysis—will keep you happy and satisfied. Save room for dessert, too, especially if you like Chocolate Brownies and Apple & Berry Crumble! Color photo insert.
Healthy ingredients, delicious dishes:
Broccoli:  Pasta and Broccoli au Gratin 
Cinnamon: Cinnamon Pancakes
Fish: Stir-Fried Tuna with Snow Peas Onions, Artichokes, & Red Peppers
Lean meat: Slow-Cooked Pot Roast
Whole oats: Oaty Strawberry Crumble
WWW.THEGOODCOOK.COM
____________________________________________________________________________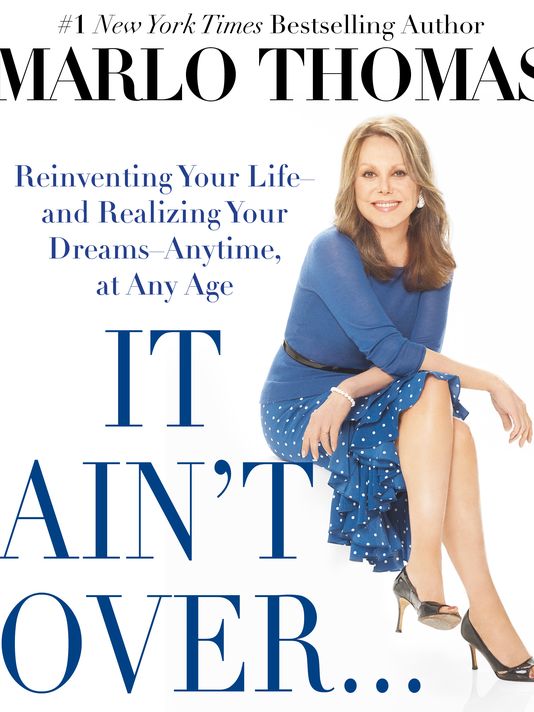 Marlo Thomas "That Girl" publishes new book "It Ain't Over … Til It's Over" 
A totally inspiring book on reinventing yourself at any age. "Women can do what ever they want!" said Thomas during an interview with Katie Couric. Thomas is an award winning actress (daughter of Danny Thomas) philanthropist, spokes person for children's charity (City of Hope), author and more.
Available on Amazon.com
____________________________________________________________________
Significant Events
Legacy of Pre-Raphaelite's Explored in Focused Exhibition Opened at Metropolitan Museum on May 20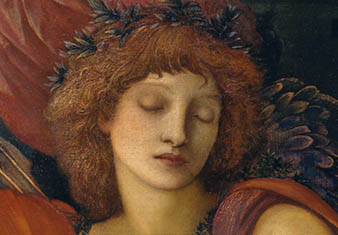 Exhibition Dates: May 20-October 26, 2014
Exhibition Location: Robert Lehman Wing, Gallery 955, Main Floor

In 1855, Edward Burne-Jones and William Morris, student friends at Oxford, decided to abandon their theological studies and become artists. They turned for guidance to Dante Gabriel Rossetti, a leader of the recently disbanded Pre-Raphaelite Brotherhood (1848–1853), a group that galvanized British painting by rejecting academic convention and sought to emulate the vividness and sincerity of art from before the time of Raphael.
The creative dialogue between Burne-Jones, Morris, and Rossetti was remarkable for its intensity, productivity, and duration, and stimulated fresh goals and styles that defined the second wave of Pre-Raphaelite art, in the key decades from the 1860s through the 1890s.

Over the past century, The Metropolitan Museum of Art has assembled a modest, yet varied and surprisingly cohesive group of objects representing the accomplishments of this extraordinary trio and their circle. The Pre-Raphaelite Legacy: British Art and Design will feature approximately 30 objects from across the Museum—including paintings, drawings, furniture, textiles, stained glass, and illustrated books—highlighting this key period, when the Pre-Raphaelite vision was adapted and transformed. Select loans from private collections will enhance the presentation.

The exhibition is made possible by the Lillian Goldman Charitable Trust.

Works by Burne-Jones will anchor the exhibition. His masterpiece The Love Song (1868–77), the Metropolitan Museum's sole major Pre-Raphaelite painting, will be displayed along with an early painted cabinet from 1861 and a late tapestry from 1898, both products of Burne-Jones's long, fruitful collaboration with Morris. These will be united for the first time, along with supporting works by artists ranging from Ford Madox Brown to Aubrey Beardsley and Julia Margaret Cameron, revealing the enduring impact of Pre-Raphaelite ideals as they were taken up by others and developed across a range of media.

The exhibition will demonstrate the shared reverence for the past and for beauty that stimulated such diverse endeavors among these artists and their circle as Rossetti's depiction of sensuous model-muses in poetic guise; Burne-Jones's evocation of the lofty themes of romance, music, and spirituality; and Morris & Company's production of decorative works inspired by medieval craft traditions.  Painting, design, and, notably, drawing—a lynchpin of the group's practice—were pursued with equal fervor as a means to restore integrity to the arts. 

Today, at a time of renewed appreciation for the Pre-Raphaelites, this exhibition—the first devoted to the subject at the Metropolitan Museum in 15 years—will offer an opportunity to consider afresh this aspect of the Museum's collections.

Exhibition Credits
The Pre-Raphaelite Legacy: Art and Design is organized by Constance McPhee, Curator in the Department of Drawings and Prints, and Alison Hokanson, Research Associate in the Department of European Paintings at the Metropolitan Museum.

Publication
The exhibition will be accompanied by an illustrated color brochure.

Related Programs
Education programs include a Sunday at the Met event on June 15 and exhibition tours.
Additional information about the exhibition and its accompanying programs is available on the Museum's website at www.metmuseum.org.
___________________________________________________________________
---