Book Bites
Good Reads For April 2008

---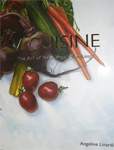 V Cuisine
The Art of New Vegan Cooking 
by Angeline Linardis
 
If you are a vegan devotee or novice you will love the easy to follow healthy recipes in Angeline's book. From drunken mushrooms, sweet potato pecan puffs to brilliant beet salad it is all good. There are also great recipes for vegan kids. www.vcuisine.com
 
---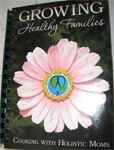 GROWING HEALTHY FAMILIES
Cooking With Holistic Moms
by Holistic Moms Network
 
This ingenious little book is the collaboration of a group of moms who are devoted to growing healthy kids from the seed up. The book features whole foods and guest chefs who embrace holistic health and green living. The nutritional philosophies and flavors  featured in the book represent veegetarian, vegan, raw food, and gluten-free, as well as ethnic and met-centered dishes. For inforamtion visit: www.holisticmom.org.
---