BOOKBITES . . . DECEMBER 2015
BOOKBITES - Holiday Books .  .  .
VEGETARIAN FAVORITES FOR THE HOLIDAYS
Simply Vegetarian Thai Cooking by Nancie McDermott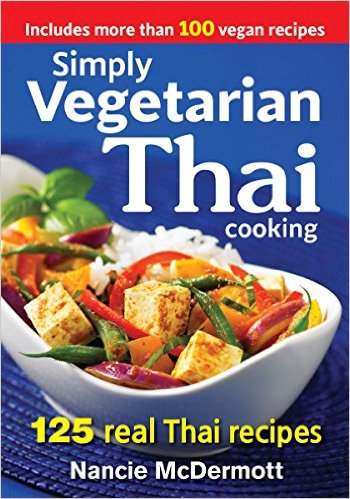 Though millions love Thai food, actual meatless recipes and dishes are often difficult to find. Nancie McDermott has developed innovative and authentic variations on traditional Thai recipes, providing health-conscious home cooks with a repertoire of vegetarian dishes that capture the vibrant tastes and scents of Thailand.
From refreshing salads and savory soups to flavorful and spicy mains and side dishes to the wonderfully refreshing Thai Iced Tea, this definitive cookbook offers 125 delectable recipes for every meal and occasion. Vegans will be pleased with the recipes since dairy products are virtually unused.$19.95 USA & CAN.
___________________________________________________________________
VEGAN Holiday Kitchen by Nava Atlas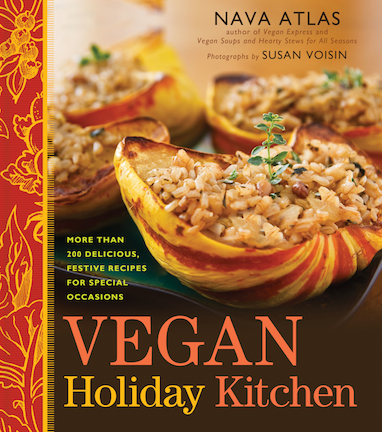 More than 200 delicious festive recipes for special occsions. Nava Atlas author of Vegan Express and Vegan Soups and Hearty Stews for All Seasons has done it again with her amazing new book just in time for the holidays. $24.95 US.
______________________________________________________

THE ARTS  .  .  .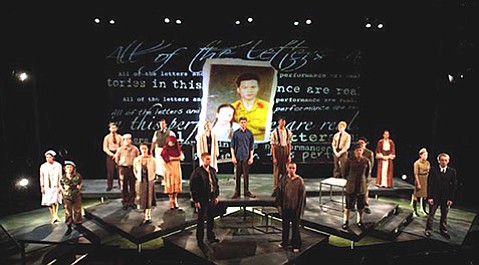 "If the Sky Were Paper" Play SB - Saw this play by Andrew Carroll in Santa Barbara at the Lobero Theatre during Veteran's Day Celebration. I wish every person in the world could see this play. It is about the connection between world piece and human understanding

____________________________________________________________________
JEWISH HOLIDAY FAVORITES . . .
The Seasonal Jewish Kitchen, by Amelia Saltzman

Here, at last, is a fresh, new way to think about Jewish food. In "The Seasonal Jewish Kitchen," Amelia Saltsman takes us far beyond deli meats and kugel to a world of diverse flavors ideal for modern meals. Inspired by the farm-to-table movement, her 150 recipes offer a refreshingly different take on traditional and contemporary Jewish cooking. Amelia traces the delicious thread of Jewish cuisine from its ancient roots to today's focus on seasonality and sustainability. Guided by the Jewish lunar calendar, she divides the book into six micro-seasons that highlight the deep connection of Jewish traditions to the year's natural cycles. Amelia draws on her own rich food history to bring you a warmly personal cookbook filled with soul-satisfying spins on beloved classics and bold new dishes. From her Iraqi grandmother's "kitchri" red lentils melted into rice with garlic slow-cooked to sweetness to four-ingredient "Golden Borscht with Buttermilk and Fresh Ginger "and vibrant "Blood Orange and Olive Oil Polenta Upside-Down Cake," Amelia's game-changing approach is sure to win over a new generation of cooks. You ll find naturally vegan dishes, Middle Eastern fare, and new ways to use Old-World ingredients buckwheat, home-cured herring, and "gribenes" in fresh, modern meals. Whether you re Jewish or not, observant or not, Ashkenazic or Sephardic, this yearlong culinary journey through the Diaspora will have you saying, This is Jewish food? Who knew?
About the Author
---
Amelia Saltsman is the daughter of a Romanian mother and an Iraqi father who met in the Israeli army and immigrated to Los Angeles, where she was born and raised. Her cooking reflects her eclectic background, with the diverse flavors and cultural touchstones that have made her first book, The Santa Monica Farmers' Market Cookbook, a beloved classic. Now, she brings her intuitive seasonal approach to The Seasonal Jewish Kitchen for a very fresh take on tradition. Amelia is regularly sought out for her expertise by publications such as Bon Appetit, Cooking Light, Los Angeles Times and Vegetarian Times.
___________________________________________________________________

Join New York Times bestselling author, Elizabeth Berg, and Cooking Vacations for The Writer's Studio in Venice, Italy, from May 23 to 27, 2016
You are invited to spend a gorgeous week in Venice with Elizabeth Berg and learn about writing and the arts in our Writer's Studio.
The week includes a full-day writing workshop with Elizabeth, a hands-on cooking class, a visit to the Rialto market, a private boat tour to the island of Murano including a Venetian glass-making tour and demonstration class, dinner at our favorite trattoria, and a food lover's cicchetti tour - the wine and small tapas style aperitivo tasting through the most famous wine bars in Venice.
Elizabeth will also accompany our group throughout the week's activities which culminate in a bacaro, wine bar, for a giro d'ombra, a wine tasting in old world Venice. Elizabeth, as you know, loves the arts and she loves to cook.Join Elizabeth Berg and Cooking Vacations as we celebrate the art of writing and the beauty of La Serenissima, Venice, in an inspirational week that will open your hearts and minds through winding waterways, blushing palazzos and a lagoon of 117 islands
.
www.writing-vacations.com/cooking-writing-the-writers-studio
---