CLASSIC TEQUILA
by Ian Wisniewski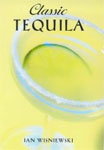 While sailing on the Sea of Cortez I found this amazing little book on my bedside table, and I wanted to share it with our readers.

Ian Wisniewski was Wine and Food Editor at House & Garden, and currently writes full-time on food, drink and travel. He is a co-author of classic Vodka and visited numerous distilleries in Mexico to research Classic Tequila.

According to Wisniewski, tequila is a true classic spirit and as integral to Mexican culture as whisky is to Scottish traditions. It is so much more than a 'killer drink' according to popular party mythology, is distilled from the heart of the blue-leaved agave, a large, succulent plant that takes nearly a decade to mature in the heat of central Mexico. As early as the third century the Aztecs are thought to have produced alcoholic drinks from agave. Many feel that the barrel-aged varieties can rival cognac or a malt whisky in complexity.

This book takes the reader on a trip; through the culture and history of a magical drink, with tasting notes and background on Jose Cuervo, Sauza and some unknowns. You will be happy to learn of the bars, shrines and destinations around the world where tequila is highly honored. Also included is cocktail lore from the Margarita to the Tequila Sunrise, along with what to eat with tequila, and recipes for preparing many dishes. The wonderful photos of labels and Mexican art are quite interesting as well. Ole!

This book can be purchased on www.Amazon.com and was published by Prion Books Limited in London.