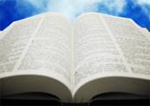 BOOKBITES SEPTEMBER 2009
---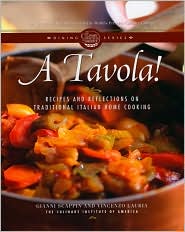 Friends and Family Come Together Around the Table with a New Cookbook from The Culinary Institute of America

 

"A tavola non si innvecchia mai" — you never age at the table.

 

Italian life revolves around the family.  And, these families unite daily at the table (a tavola) to share great food and wine.  In Italy, they say, "A tavola non si innvecchia mai" (you never age at the table). They cherish the time spent together around the table and believe that it strengthens values and healthy families. Now, The Culinary Institute of America helps home cooks everywhere bring celebrations to their table with a new collection of Italian recipes:  A TAVOLA! Recipes and Reflections on Traditional Italian Home Cooking, by Gianni Scappin and Vincenzo Lauria (Lebhar-Friedman; August 2009; Hardcover/$29.95; ISBN: 978-0-86730-928-7).

 

The heart of Italian dining can be expressed with just a few words:  simple, fresh, flavorful, and traditional.  All Italians agree on using locally harvested fruits and vegetables, seafood fresh from the ocean, finely crafted cheeses and cured meats, lively wines that taste of the sun and the earth, and oil pressed from the fruit of ancient olive groves using time-honored techniques.  According to the authors, "not everyone is as blessed when it comes to fresh food as the Italians because not everyone has access to mountain fields or garden plots," but that should not stop the people who love to cook from creating healthy and delicious meals, Italian-style.

 

A TAVOLA! is a compilation of the authors' favorite recipes from several regions of Italy and they also draw on their restaurant experience in the United States and share their fond memories of their Italian homeland.  Throughout the book, home cooks will find both treasured family recipes and "new" dishes inspired by the great food the authors have enjoyed on their travels.

 

Chapters cover everything from small dishes and soups, to pizzas and breads, polenta and rice, various types of pasta and main dishes, desserts and aperitifs. Recipes include:  

 §         Cabbage Salad with Green Apple, Walnuts, Vin Cotto, and Myrtle Vinegar (Insalata di Capuccio, Mela Verde, Noci Al Vin Cotto E Aceto Di Mirto)

§         Parmigiano-Reggiano, Spinach, and Lemon Dumplings in Broth (Passtelli Verdi in Brodo)

§         Luganica Ragù with Fresh Fennel (Ragu de Luganica con Finocchio)§         "Naughty" Polenta (Polenta Sporcacciona)

§         Large Rigatoni with Fish and Artichokes (Paccheri Con Pesce e Carciofi

§         Eggs in Purgatory (Uova in Purgatorio)

§         Mixed Fry (Fritto Misto)

§         Monkfish with Fresh Tomatoes (Coda di Rospo ai Pomodorini Pendolini Misti)

§         Lamb Fricassee Scented with Mint (Agnello in Umido Profumato alla Menta)

§         Venetian Cream Fritters (Cremetta Fritta alla Veneziana)

§         Rice Pudding with Wild Strawberries (Budino Di Riso Con Fragoline Di Bosco)

 

"As Italians, we prefer marketing every day and gathering our large families together on Sundays and holidays," say Scappin and Lauria.  "Traditions created, of course, are personal, and each family is unique.  Our hope is that with A TAVOLA! you can sample some of our favorite traditions, and perhaps make a few of your own."

 About the Authors

 Originally from Marostica, in Italy's Veneto region, Gianni Scappin holds a diploma from the Recoaro Terme Culinary Institute in Italy, and is a member of the Federation of Italian Chefs. Chef Scappin is a Certified Hospitality Educator (C.H.E.), and a lecturing instructor in culinary arts at The Culinary Institute of America, teaching in the kitchen of the Ristorante Caterina de' Medici, part of the college's Colavita Center for Italian Food and Wine. He is co-author of the cookbook Cucina & Famiglia (Morrow, 1999), and was consulting chef for the film Big Night. Chef Scappin was the owner and executive chef of Gigi Trattoria in Rhinebeck, New York, and executive chef at Le Madri, Moreno, and Castellano restaurants in New York City, as well as chef at restaurants in the Italian cities of Milan, Piedmonte, Montegrotto Terme, and Venice, and executive and corporate chef for the New York City-based Bice Group.

An assistant professor in Table Service at The Culinary Institute of America, Vincenzo Lauria is maître d' instructor in the Ristorante Caterina de' Medici. Mr. Lauria studied at the Instituto Professionale di Stato per Il Commerico Vittorio Veneto in Naples, Italy.
---
Slam! Santa Barbara Limericks: An Evening of Performance Poems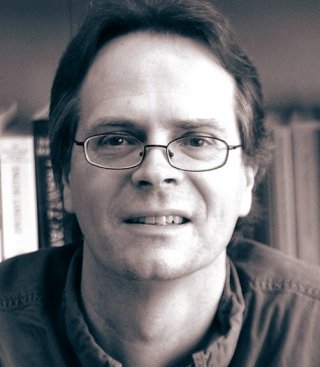 The Santa Barbara County Arts Commission in collaboration with the current exhibition, The Magical and Curious Realms of Ralph Auf der Heide, 1915-2008, at the Channing Peake Gallery in County Administration Building, Planning Hearing Room, 105 E. Anapamu Street, presents Slam! Santa Barbara Limericks, on September 3rd at 6pm. The 1st Thursday reception will begin at 5pm, admission is free; however, seating is limited.

 Coordinated by David Starkey, the Poet Laureate of Santa Barbara, this free-wheeling limerick slam will feature some of Santa Barbara's most adventurous poets: Mary Rose Betten, Chella Courington, Fran Davis, Michelle Detorie, Suzanne Frost, Perie Longo, Sojourner K. Rolle, Barry Spacks, and David Starkey. According to Starkey, "The limerick turns out to be a surprisingly daunting form.  Because of its long associations with low comedy and off-color jokes, many poets are hesitant to write limericks.  However, the work of Lisl Auf der Heide and the marvelous paintings of her late husband, Ralph, have been an inspiration to those of us writing limericks for this reading.  If nothing else, Rita Ferri's, idea for a 'limerick slam' will be a first for each of the fine Santa Barbara poets participating in the event."

 

As curator of the Auf der Heide exhibition in the Peake Gallery, Ferri has chosen many of his reverse-paintings-on-glass and paired them with Lisl's specifically written limericks. In her brochure essay, Ferri said, "As an accomplished poet and writer, Lisl countered with refreshingly smart limericks that expanded the impact of his paintings. Her limericks employ the same attitude and carry the same punch and small truths the paintings do."

 David Starkey is the poet laureate of Santa Barbara and director of the creative writing program at Santa Barbara City College.  His sixth full-length book of poems, A Few Things You Should Know about the Weasel, will be published in the spring of 2010 by the Canadian press Biblioasis.

 
---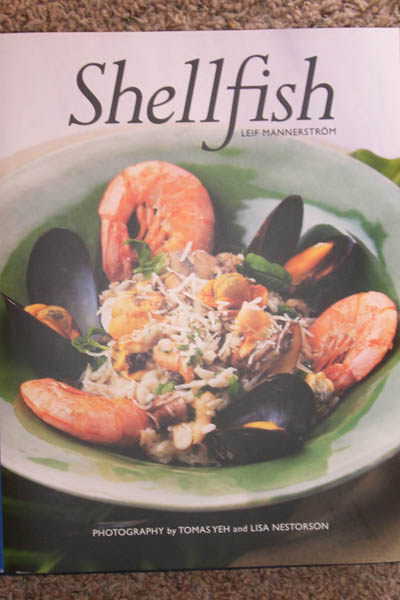 Everything you ever wanted to know about preparing shellfish is in the delightful book. The recipes by Leif Mannerstrom are so tempting and delicious, and the directions are easy to follow. If your family love seafood, this is the book for you. From shrimp to lobster, to fresh fish you will find something everyone will love.
Mussel Crepes, Shellfish Cake, Boiled Lobster, Norway Lobster & Scallop Appetizer, Sashimi of Norway Lobsters, Shrimp Soup, American Shrimp Cocktail, Lobster Sausage with Souerkraut, Caesar salad with Norway Lobster, Paella Mariscos are just a few of the wonderful recipes you will find in Shellfish. Bon Appetit!
For information visit: www.fireflybooks.com.
---
---