by Lauren Birmingham Piscitelli
Read this beautiful story by my friend Lauren, the owner of www.Cooking-Vacations.com. She has the inside dope on all the beautiful people in Italy.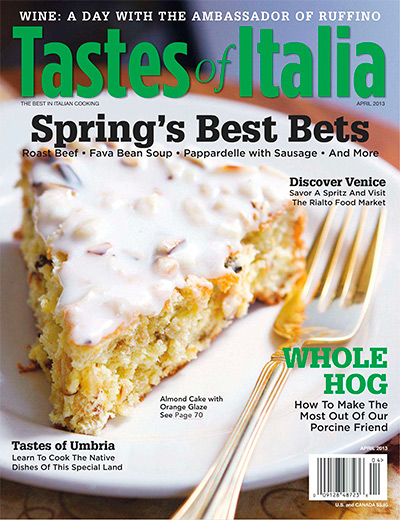 _____________________________________________________________
Ad Hoc at Home by Thomas Keller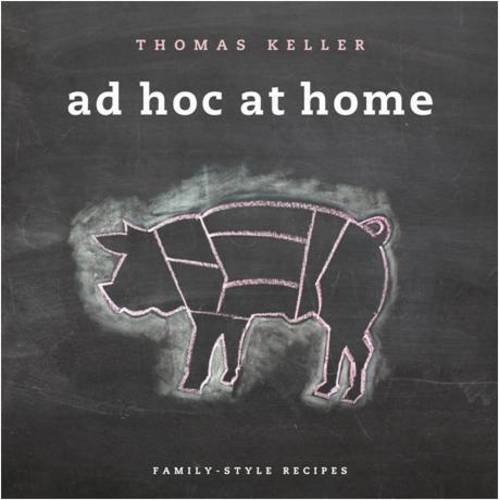 French Laundry chef in Yountville Thomas Keller has authored a great new cookbook designed with the home cook in mind, and those using it are note required to be be career stars in the kitchen. With Ad Hoc at Home, Keller offers a collection of much more accessible recipes, ones you could actually serve quite easily for causal gatherings of family and friends. The book is not aimed at the total novice, but enthusiasts will appreciate the easy to follow nature of the recipes as well as Keller's unique delivery of them.
The book requires less advance knowledge than his other cookbooks The French Laundry, Bouchon, and Under Pressure. The first section of the book is called "Becoming a better chef," and Keller outlines the techniques, ingredients, and tools that will help anyone become a better home cook. Keller's "Basics" section, at the back of the book, is amazing and helpful, providing just about every key base for meals.
 Photographs and step-by-step detailed lessons provide plenty of support, so devotees of Keller can find themselves closer towards understanding his culinary excellence. http://www.amazon.com/gp/mpd/permalink/m2ZAR0VIEUHORQ
_____________________________________________________________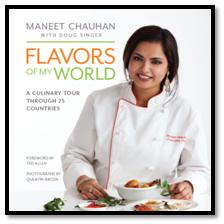 FLAVORS OF MY WORLD: A Culinary Tour Through 25 Countries
Written by Maneet Chauhan & Doug Singer
Foreword by Ted Allen
Photography by Quentin Bacon
ISBN-13: 978-0871975799
Price: $29.95
Hardcover, 128 pages
Published by Favorite Recipes Press, an imprint of Southwestern Publishing Group

Distributed by APG Sales & Distribution
Publication Date: May 1, 2013
To learn more, please visit: www.maneetchauhan.com


FLAVORS OF MY WORLD
A Culinary Tour Through 25 Countries
By Maneet Chauhan & Doug Singer

Food Network celebrity chef, Chopped judge and James Beard Award of Excellence recipient, Maneet Chauhan has always been both a passionate cook and intrepid traveler. In FLAVORS OF MY WORLD: A Culinary Tour Through 25 Countries (Favorite Recipes Press; May 1, 2013) the author's love of global cuisine shines through, as she pairs evocative anecdotes with 50 delicious food and beverage recipes from around the globe. All combine to both inspire and delight in equal measure.

A celebration of 25 extraordinary cuisines, every recipe featured in the book uses ordinary ingredients easily found in the West. Throughout the lavish full-color volume, Maneet's intimate storytelling and dynamic recipes take readers on an adventurous journey, without requiring that they ever leave the comfort of their own homes.

From Argentina to Vietnam, the book showcases these cuisines and cultures in all their glorious variety, and all the while offering imaginative variations of traditional dishes and libations in a manner that only Maneet can bring to the table! From Chile comes the sturdy 'pulmay,' a seafood and meat dish perfect for entertaining a crowd; from Ethiopia readers will savor Maneet's version of a 'doro wat' a chicken dish simmered in an array of spices; and from France comes the author's delightful adaptation of 'pots de crème," which will surely stir smiles the world over.

With a foreword by beloved television host and author Ted Allen, and featuring 50 mouth-watering images by famed photographer Quentin Bacon, FLAVORS OF MY WORLD translates a dazzling variety of 25 foods and 25 drinks into an accessible feast as only Maneet Chauhan can.

Maneet will be making appearances in the following cities for her FLAVORS OF MY WORLD book tour. Please come out and say hello!

1. NEW YORK, April 18, 2013
2. PHILADELPHIA, April 19, 2013
3. WASHINGTON, April 20, 2013
4. RALEIGH, April 21, 2013
5. ATLANTA, April 22, 2013
6. NASHVILLE, April 23 & 24, 2013
7. LITTLE ROCK, April 25, 2013
8. DALLAS, April 26, 2013
9. OKLAHOMA CITY, April 27, 2013
10. ALBUQUERQUE, April 28 & 29, 2013
11. PHOENIX, AZ, April 30, 2013
12. SAN DIEGO, CA, May 1 & 2, 2013
13. LOS ANGELES, May 3, 2013
14. SAN FRANCISCO, May 4, 2013
15. NAPA, May 5, 2013
16. ASHLAND, May 6, 2013
17. PORTLAND, May 7, 2013
18. SEATTLE, May 8 & 9, 2013
19. WALLA WALLA, May 10, 2013
20. BOISE, May 11, 2013
21. SALT LAKE CITY, May 12, 2013
22. DENVER, May 13, 2013
23. HAYS, KS, May, 14, 2013
24. KANSAS CITY, May 15, 2013
24. CHICAGO on May 16, 2013

About the authors:
Chef Maneet Chauhan's culinary education started in her homeland of India, where she graduated at the top of her class from the WelcomGroup Graduate School of Hotel Administration, and her education then continued at The Culinary Institute of America, where she also graduated with high honors. After commencement, Chef Maneet gained extensive experience leading kitchens at restaurants in both Chicago and New York, and she is currently in the process of opening her own restaurant in Nashville. A new mom, Chef Chauhan is also launching a signature spice line, and is a full-time judge on the TV Food Network's hit show, Chopped. FLAVORS OF MY WORLD is her first book.

A nationally published food, wine and spirit writer, co-author Doug Singer is the co-founder and editor-in-chief of Daily Food & Wine, as well as the travel editor for the ultra-exclusive Jetset Magazine.

_________________________________________________________________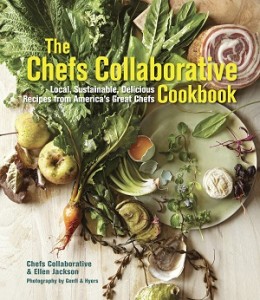 CHEFS COLLABORATIVE COOKBOOK
Local, Sustainable, Delicious Recipes from America's Great Chefs
Published by The Taunton Press
Hardcover: $40.00 US $4600 Can
April 2013
55 full-color photographs throughout
CHEFS COLLABORATIVE COOKBOOK
Local, Sustainable, Delicious Recipes from America's Great Chefs
Chefs Collaborative & Ellen Jackson – Photography by Gentl & Hyers
According to renowned food authority and former editor of Gourmet Magazine Ruth Reichl "Many chefs—and their books—pay lip service to the sustainable ideal. This book does more than that: It offers really wonderful recipes for food that is gorgeous and good for both you and the planet. It's given me so many great ideas."
Reichl is just one of so many food experts who have sung the praises of this wonderful book published by the organization celebrating 20 years fo food activism in 2013. A few visionary chefs including John Ash, Rick Bayless, Susan Feniger, Norm Pouillon, Michael Romand and Alice Waters were visionaries who played a role food education in their restaurants, school lunch programs and teaching elementary school administrators and students the principles of sustainable food.
This book, containing contributing chefs from all regions, is the ideal gift for Mother's Day or Father's Day this year.
---