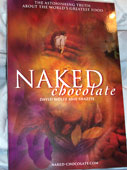 NAKED CHOCOLATE
By David Wolfe and Shazzie

The nutrition guru, and Shazzie, progressive health educator from the UK have joined forces to inform the health conscious public that chocolate is good for you. According to Wolfe "It's the best food ever."
Over 60 original recipes will provide to create food for the God's using Wolfe's techniques, while losing weight, healing your heart, increasing your sensuality, doubling your joy, nourishing your intellect, attracting prosperity in your life, finding the world's most inviting aphrodisiacs and creating outrageous beverages, desserts, cakes, ice creams, and other fantastic delights. Visit www.naked-chocolate.com.
EATING FOR BEAUTY
By David Wolfe

Wolfe describes the use of nutritional foods to achieve and retain greater vital energy, and improve your appearance. Visit www.rawfood.com.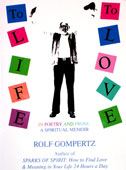 TO LIFE TO LOVE
By Rolf Gompertz

This wonderful view of love and life by renowned author, and UCLA professor, Rolf Gompertz is a delightful spiritual memoir that touches the heart and soul. It is a journey through the spring, summer, winter and fall of Gompertz' life, and includes memories of Kristallnacht in 1938 to present. Other books include Abraham the Dreamer, The Messiah of Midtown park, and Sparks of Spirit. Visit www.iuniverse.com for information and purchase.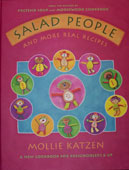 SALAD PEOPLE And More Real Recipes
By Mollie Katzen

This is the most adorable way to teach preschoolers and up about the art and value of good food. Katzen has some magical recipes, the award winning illustrations would attract any kid (or adult), and the directions are simple, cute and easy to follow. Other published books include Moosewood Cookbook, Enchanted Broccoli Forest, Pretend Soup, Still Life…With Menu Cookbook and Honest Pretzels. Visit www.tenspeed.com for information.