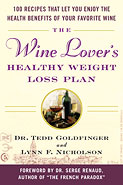 LOSE WEIGHT WITH NEW HEALTH PLAN
THE WINE LOVER'S HEALTHY WEIGHT LOSS PLAN
by Tedd Goldfinger
The Wine Lover's Healthy Weight Loss Plan, is about discovering the health benefits of wine accompanied by a healthy eating plan. Co-authored by noted cardiologist Dr. Tedd Goldfinger, and award-winning chef Lynn Nicholson, shows how you can easily shed unwanted pounds, while maximizing the health pleasures and benefits of your favorite wines.
Over 100 delicious, balanced gourmet recipes and wine pairings include a chilly riesling with spicy Greek shrimp with feta cheese…a crisp California coastal sauvignon blanc paired with an herb-stuffed chicken breast with roasted red pepper sauce…a fruity Oregon pinot noir with fresh poached wild salmon…a Napa Valley merlot with Asian spiced duck breasts…a peppery syrah with Provencal grilled lamb. The benefits of wine, and only wine, not any other alcoholic beverage have been scientifically proven to reduce coronary disease, boost resistance to cancers, infections, arthritis, and other inflammatory disorders and diseases. Taken in moderation, it's a super-drink that aids your brain, kidneys, and especially your heart. Despite their fat-laden confits and cassoulets, wine has protected the French from cardiovascular disease (a medical conceit known as The French Paradox.) Finally, paired with the right dishes, wine works to promote better health and consistent weight management for the majority of those who try it. Best of all, it's delectable, refreshing, and relaxing – just ask the many fans of the film "Sideways."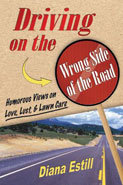 DRIVING ON THE WRONG SIDE OF THE ROAD
by Diana Estill
The Best Way to Bake a Pumpkin Pie
It's possible to make a pumpkin pie from a real pumpkin (as opposed to a canned one). But like natural childbirth, why would anyone want to do that?
Perhaps a pie baked from the wholesome natural gourd tastes immensely better than one scooped from a container. Certainly, the original cooking process is more time-consuming and messy. However, it could offer a culinary connection to our nation's foremothers. And since I still had a fully intact pumpkin left over from Halloween, I decided to find out.
Through research I discovered that the first Thanksgiving feast hadn't included anything sweet, unless you count dried fruits and lucrative food swaps. In exchange for the five deer (or about 200 lbs. of venison) the Indians brought to the table, the pilgrims shared with them some roasted fowl. This worked out so well that later the settlers tricked their friends into trading them land for a bunch of casinos.
Anyway, armed with only the vaguest instructions, I ventured into the kitchen to reenact an early American custom.
My daughter Laura agreed to be my accomplice. "Let me see what the recipe says," I said to her. "I've no clue what I'm doing."
The guidelines suggested only that I should start with a two- to four-pounder. Lifting the jack-o-lantern size melon in front of me, I speculated it weighed slightly more.
"Put it on the bathroom scale," Laura advised.
According to that gauge, the pumpkin weighed 13 pounds. But I dismissed the apparent conflict.
Stabbing at the leathery rind with a butcher knife, I narrowly missed puncturing my spleen. "Maybe you should get out your electric knife," my helper cautioned.
"Either that or your dad's chainsaw," I replied.
By the time I finished sawing the gourd, I'd coated the countertops, electrical outlets and both our shirts in yellow-orange pulp.
A cloud of odors emanated from the freshly cut fruit, creating a stench that smelled like mildewed towels and Roquefort cheese. Between gags, Laura scraped at the stringy orange mess laced with seeds. We both wanted to puke. "Just think," she said, "once upon a time, somebody smelled this and actually thought it might make a good pie."
After an hour of baking, the meat of our work had roasted tender. It was time to remove the skin and puree the soggy yellow chunks. But the pumpkin's texture demanded prolonged mashing, which naturally required me to use an ancient cooking tool known as the food processor.
My pie recipe called for 12 ounces of cooked pumpkin, so I stopped blending at 10 cups. (Note to cooks: A thirteen-pound pumpkin yields enough goo to fill a swimming pool.)
"You have to make the crust from scratch," Laura enthused. "Using a store-bought one just wouldn't do. Not after all this."
She was right, though I hated to admit it.
Six hours after our official start time, I removed from the oven a perfectly ordinary, questionably prepared and thoroughly unattractive desert. My feet throbbed, kitchen reeked and sink overflowed. I'd burned up an electric knife, a food processor, half my day and the last of my patience.
Now I know why the pilgrims' feast didn't include this traditional desert. If they'd served pumpkin pie, Thanksgiving would've lasted at least two days longer! And the meat might have rotted before the pies were done.
Take it from me; the best way to make a pumpkin pie—is to let your grocer bake it.
Diana Estill is the author of Driving on the Wrong Side of the Road: Humorous Views on Love, Lust, and Lawn Care. She has been a journalist and humor columnist for 10 years.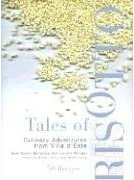 TALES OF RISOTTO
– Culinary Adventures from Villa d'Este
by Jean Govoni Salvadore and Luciano Parolari
Anyone who has had the pleasure to visit Villa d'Este, which is in my opinion the most beautiful resort in Italy, and savor the divine dishes of Luciano Parolari, will want this amazing book of 50 risotto recipes, which are easy to duplicate and represent some of Parolari's finest culinary creations; he is renowned for his risotto dishes.
Salvadore, was the first woman to hold the title Public Relations Director in Rome, when she began working for Howard Hughes at TWA. For the past forty years she has represented Villa d'Este on Lake Como, and has dedicated herself to working with the five star staff to provide guests the best of everything during their time at the hotel. It has been said by many of Salvadore's colleagues, as well as renowned hotel general managers throughout Europe that 'she put Villa d'Este on the map.'
This is the second food publication that Chef Parolari and author Salvadore have collaborated on, the first was the Villa d'Este Cook Book, a gorgeous publication filled with food and hotel photos, as well as recipes. Mrs. Salvadore also authored a book in 2000: Villa d'Este Style, the historical highlights of the Grand Hotel Villa d'Este, Lac de Como, Cernobbio. For additional information visit www.villadeste.com. To order a
signed copy of the new book please call 1-800-52Books.
---
AWRT Author Series Celebration
Thursday, November 9, 2006 ~ 11:00 a.m. - 2:00 p.m.
Beverly Hilton ~ 9876 Wilshire Blvd.
Beverly Hills, CA 90210
The American Women in Radio & Television's Author Series Celebration is a luncheondesigned to showcase women and men in media and entertainment who haverecently written books. This luncheon also provides the audience the opportunity to meet and greet the authors through a pre-lunch book signing. The event willencompass several literary genres and feature an array of authors, including: Liz Cornish, Guiliana DePandi and Sonia Nazario.

Fight Back and Win - My 30-Year Fight Against Injustice - and HowYou Can Win Your Own Battles In Fight Back and Win - My 30-Year Fight Against Injustice - and How You Can Win Your Own Battles, the world-renowned women's rights attorney and civil rights advocate, Gloria Allred, shares empowering life lessons learned from her career fighting on the front lines for victims' rights.

In Hit the Ground Running: the Woman's Guide to the First 100 Days, Liz Cornish provides the thoughtful whisper in the ear, the reassuring pat on the back, and most importantly, the roadmap to real, tangible success during the most exciting but vulnerable stage in your career: the first few months of a new leadership challenge.
In Think Like A Guy: How To Get A Guy By Thinking Like One, E! News Anchor Giuliana DePandi distills her dating knowledge into a funny yet effective handbook for women, explaining that to get the perfect guy sometimes you have to think like one.

The Newsbreaker: A Behind the Scenes Look at the News Media and Never Before Told Details about Some of the Decades Biggest Stories by Larry Garrison is a riveting account of the news behind the news.

Mind Your X's and Y's - Satisfying the 10 Cravings of a New Generation of Consumers In Mind Your X's and Y's, author and consumer expert Lisa Johnson uses her groundbreaking research to reveal what works for today's 18-to-40-year-olds buying habits.

In Enrique's Journey, Pulitzer-prize award-winning LA Times journalist Sonia Nazario recounts the unforgettable true story of a Honduran boy who braves unimaginable hardship and peril to reach his mother in the United States.
Proceeds from this event will be donated to the Foundation of AWRT, a 501(c)(3) charitable organization.
AWRT is pleased to partner for this event with LATINA Style and Broadcasting & Cable magazines and Book Soup.
For more than half a century, AWRT has served as the voice and resource for women in the electronic media. The Foundation of AWRT supports educational programs, charitable activities, public service campaigns and scholarships to benefit the public, the electronic media and allied fields. The Foundation of AWRT supports several public service campaigns including most recently AWRT Empowering America, a radio PSA campaign, which pays tribute to many of America's most pioneering and inspiring women. Through this initiative, the Foundation of AWRT has adopted needy urban middle schools across the country and provided educational donations derived from collateral based on the Empowering America program. The Foundation also produces nationally acclaimed recognition programs including the Gracie Awards®, a live, New York-based Gala that recognizes exemplary programming created for, by and about women.