Book Bites
Good Reads For June 2008
---
FOOD TO LIVE BY
by Myra Goodman with Linda Holland and Pamela McKinstry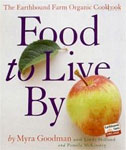 Myra Goodman and her husband Drew are the founders and owners of Earthbound Organic Farm in northern California. Getting to know Myra, and learn about the knowledge and integtity she stands for has been a delightful experience. Myra and Drew  graduated from college, and started their farm in 1984; with only raspberry sales to begin with. Today it is the most successful and healthful venue of its kind in America.
This book is filled with recipes from Myra's organic kitchen. It cotains invaluable information on organic eating and living. The recipes, most of which I have tried, are outstanding. Try the beet salad - Bon Appetit!
---
BLUE EGGS AND YELLOW TOMATOES
by Jeane Kelley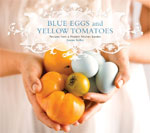 Recipes from a Modern Kitchen Garden
This is an amazing cookbook containing contemporary inspirations on field-to-table cooking from a region where home chefs prune their kitchen gardens in the shadow of metropolitan cities and year-round farmers' markets provide heirloom vegetables that are the basis for classic dishes. The gaspacho and chilled cumcumber soup recipes are wonderful and perfect for summer.

---
Dying for a good night's sleep?
LIGHTS OUT
Sleep, Sugar, and Survival
by T.S.Wiley with Bent Formby, Ph.D.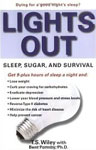 This book shares ways to lose weight, curb your craving for carbohydrates, eradicate depression, lower your blood pressure and stress levels, reverse Type II diabetes, minimize the risk of heart disease, and help prevent cancer by getting 9 plus hours of sleep a night. Wiley takes you through a journey from the beginning of time when people slept based on when the sun set and rose in sky again each morning. When it got dark they went into caves for safety, warmth and sleep. The lightbulb has created a big break in the needed sleep we all need to maintain good health, and the book provokes real thought about individual health and sleep patterns that are affecting us in a variety of negative ways. I love this book because I know it is the truth, and since I read it I am consciously making an effort to get more sleep. The book can be purchased through Pocket Books, New York or www.simonsays.com.

---