BOOK BITES RECOMMENDATIONS:
Sleep Away The Pounds:
Optimize Your Sleep and Reset Your Metabolism for Maximum Weight Loss
by Cherie Calbom and John Calbom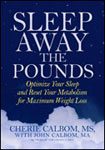 YOU SNOOZE, YOU LOSE
If you're not sleeping enough, you could be at risk for obesity, diabetes, and a host of other troubles. While you're asleep, your body is restoring your energy, resetting your metabolism, and strengthening your immune system. Sleep is the key to being healthy, trim and, fit! In fact, new research has proven that it's possible to lose weight by simply getting enough sleep. Studies show that people who sleep less than four hours a night are nearly 75 percent more likely to be obese than those who get a full night's rest. Do you want to be slim, healthy, and well-rested? This comprehensive three-week program will help you optimize your sleep for maximum health and weight-loss results.
Get Ready for a Better Bikini Body!
Celebrate National Bikini Month with Sleep the Pounds Away AM and Sleep the Pounds Away PM this July.
Women across the nation are desperate to shed the excess winter pounds and get their bikini body beach ready. Unfortunately for many that means intense dieting and constant exercising. However for those not interested in spending the rest of the spring in the gym there is another option, more sleep! Bestselling author and nutritionist Cherie Calbom has collaborated with Pharm East founder Dr. Rulin Xiu to bring to market an all-natural, two-part herbal system for restful sleep and successful weight loss: Sleep the Pounds Away AM and Sleep the Pounds Away PM. Not only will this all-natural dietary supplement promote a healthy night's sleep, it will help shed those extra pounds too just in time for Bikini Month!
Pharm East Inc., based on the Big Island of Hawaii, is a leading developer and producer of unique nutritional technologies for the dietary supplement industry worldwide. Since 1996, Pharm East Inc. has been developing and manufacturing patented, proprietary formulations. To ensure the highest efficacy, all of the ingredients and formulas used in Pharm East's products are produced at its own manufacturing facilities located in China and Hawaii. Pharm East puts strong emphasis on quality control at every stage of processing, from raw ingredient selection to harvesting to processing. In addition, Pharm East supports clinical research to substantiate its products' health advantage.
---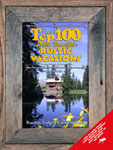 OFFICIAL RELEASE!
The Top 100 Most Beautiful Rustic Vacations
of North America Ranches, Lodges, Cabins & More,
by Dusty Dave
This is a great book for people who enjoy the beauty of America. For information see www.rusticvacations.com
---
THE SECRET
By Rhonda Byrne

Available at Book Stores Everywhere
This is a wonderful and inspiring little gem if you are looking for a quick read and unexpected inspiration. The back cover reads 'You hold in your hands a great feast" and I am always happy when someone writes something that reminds me of this important reality. I do recommend you get this book or buy the one you can listen to. I hope it makes you feel as good as it did me.