MASTER CHEF PUCK MAKES IT EASY
by Bonnie Carroll
Master Chef Wolfgang Puck has come out with a cookbook for those of us who find making delicious dishes at home a catastrophe. His new book "Wolfgang Puck Makes It Easy" is a collection of delicious recipes for your own kitchen.

AS one of the world's most famous chefs, and owner of more than 60 restaurants including Spago, Chinois, Granita, Lupo, Postrio, Vert, and the Wolfgang Puck Express chain, his reputation for the best in food is renowned.

Puck appears on his own Food Network television show "Wolfgang Puck's Kitchen" and his newspaper column is syndicated to newspapers nationwide. His hallmark is his dedication to your enjoyment of the food he prepares--a quality that is evident in his new book.

The recipe collection overflows with tips, more than 150 carefully explained recipes, step-by-step photographic instructions, and a helpful appendix. "The key to delicious recipes for your home kitchen is simplicity, quality ingredients, and good equipment," says Puck. For book information visit www.rutledgehillpress.com or www.wolfgangpuck.com.

GRAVEYARD SHIFT by Kelly Lange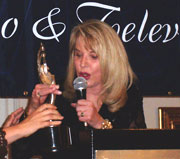 Award winning Television News Anchor Kelly Lange has once again written a wonderful, fun loving mystery that is filled with people we all know and love. This is the fifth book for Lange, who says "you just have to write what you know!" Past books include Dead File, The Reporter, Gossip and Trophy Wife. The Graveyard Shift deals with the nine to six happenings on the set, and includes the antics of anchorwoman Maxi Poole, working in the dregs of news reporting; dealing with LA bizarre homicides and dead wives of prominent local city councilmen. Lange has used her years on the job to create some fun reading for those of us who are novices to the workings of television news. The writing is fast, fun and informative. For information visit www.mysteriouspress.com.