BOOK BITES   .    .    .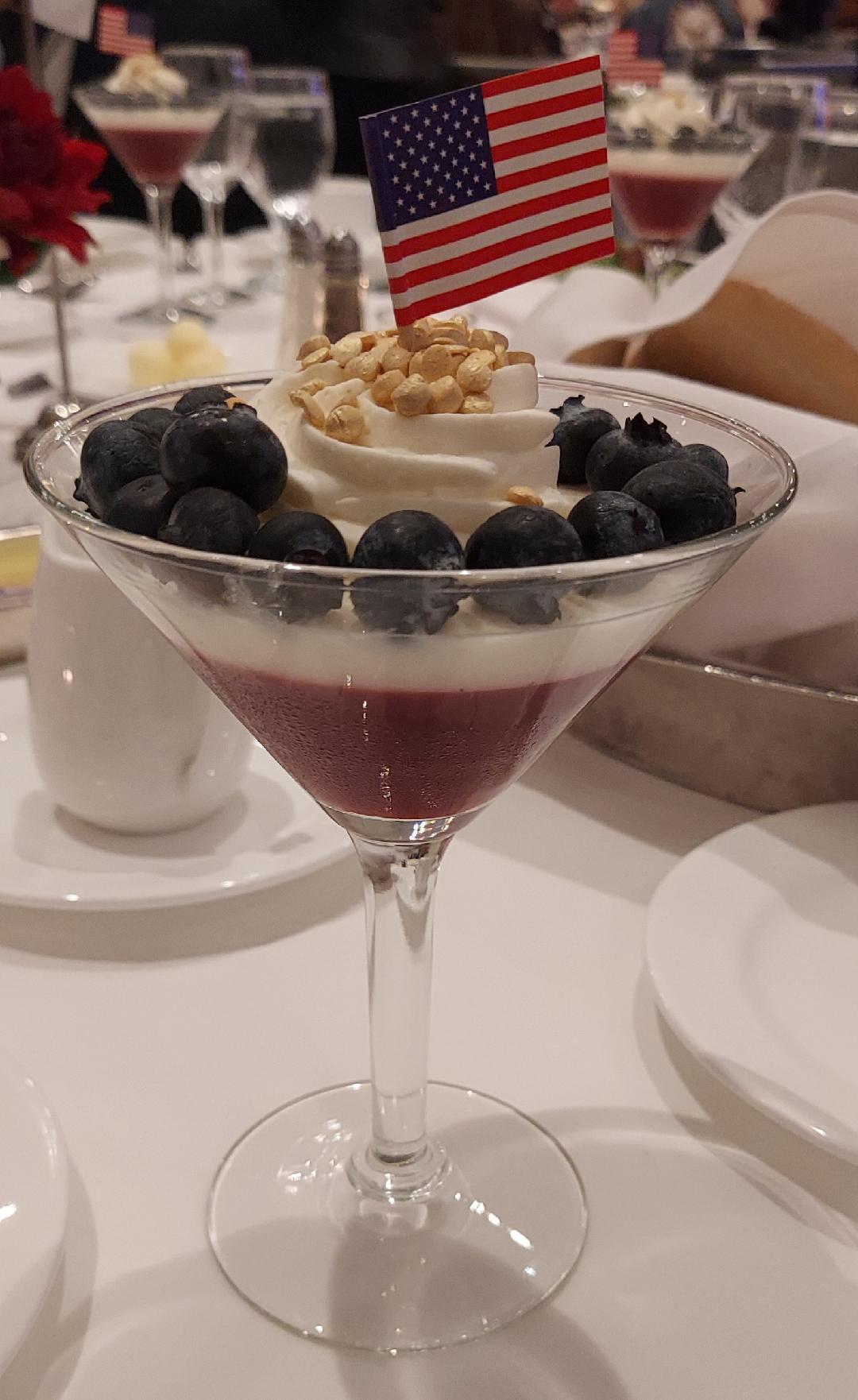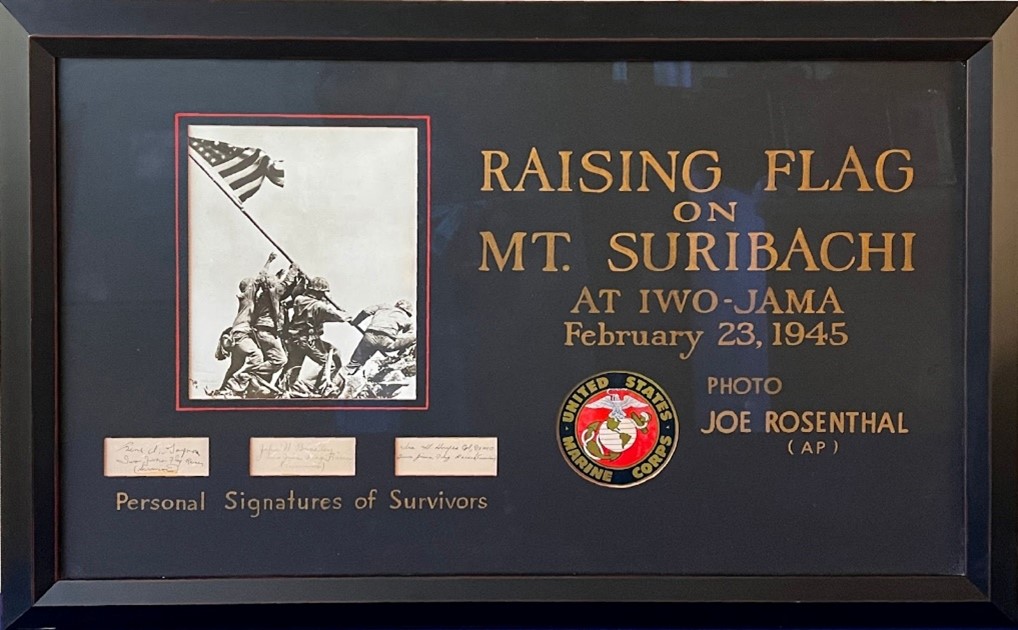 A rare Iwo Jima collage with AP photo by Joe Rosenthal and three original signatures of survivors. February 23, 1945. United States Marines.
Historic Military Art, Books  & Sweet Dessert Highlights of Pierre Claeyssens Veterans Foundation 25th Military Ball
By Bonnie Carroll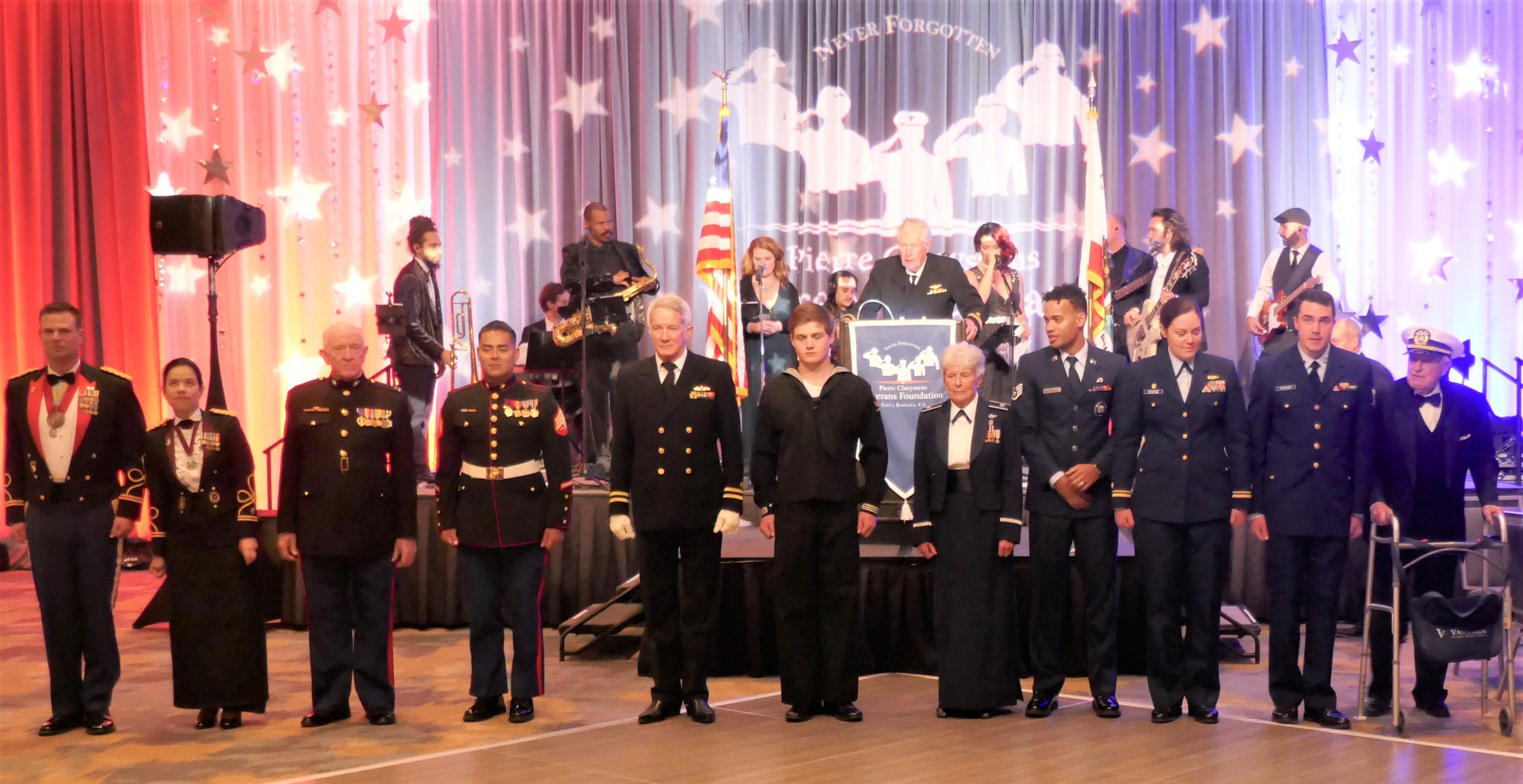 Salute to Armed Sevices Musical Tribute
The Silver Anniversary Pierre Claeyssens Veterans Foundations Ball was held Saturday, November 5th at the Hilton Santa Barbara Beachfront Resort, honoring local veterans and active-duty service members, where 300 guests enjoyed the one-of-a-kind art auction, former Navy SEALS lead by Marc Brakebill of Beyond the Teams, and fantastic live music by The Replicas. The exhibition raised needed funds for PCVF and included over 30 pieces of patriotic and military art.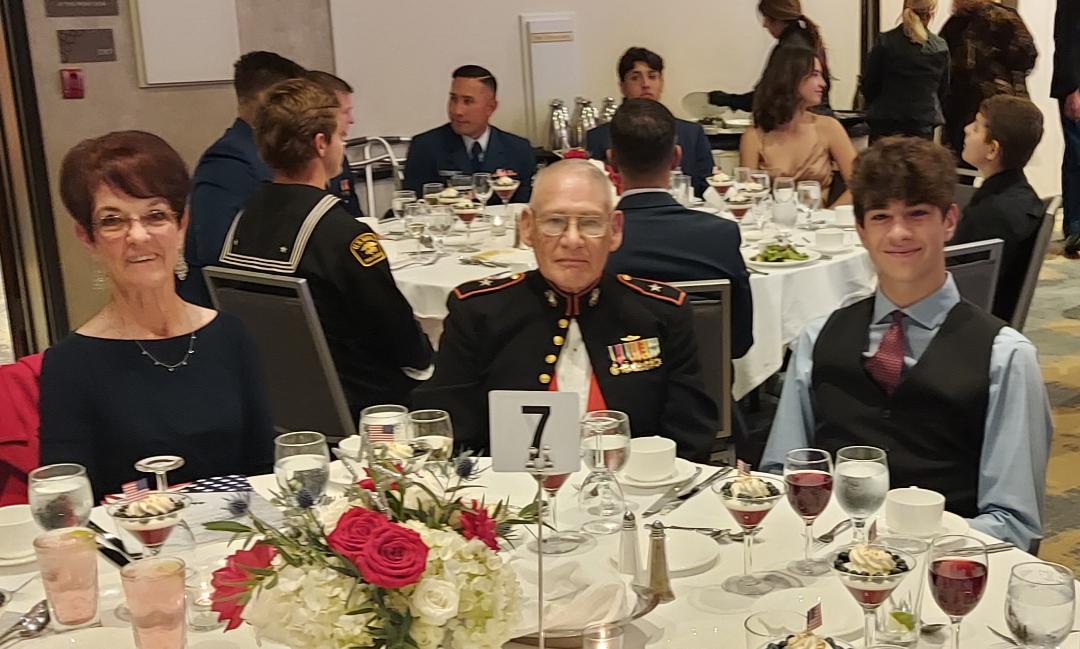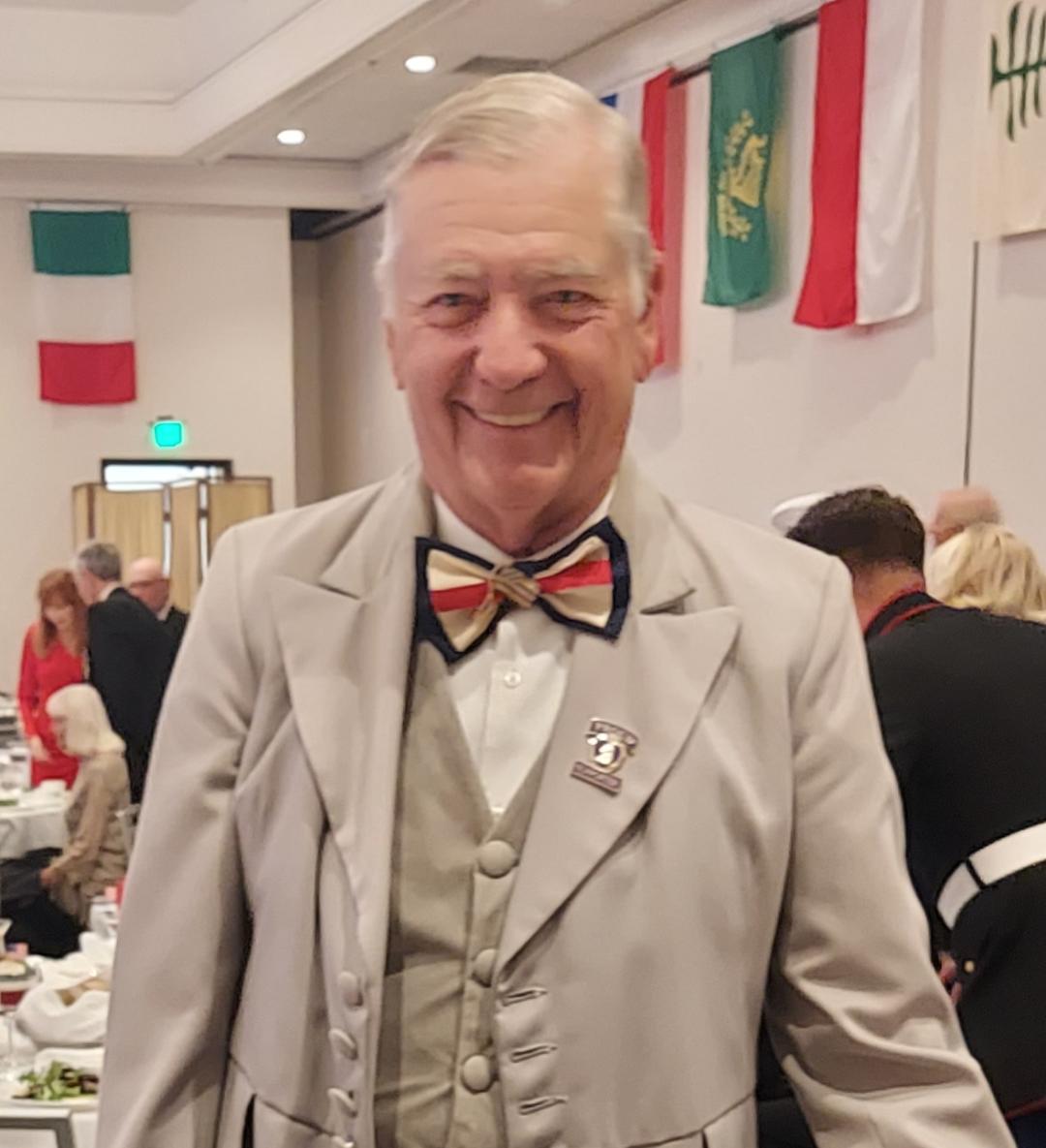 Brig.Gen Fred Lopez USMC (ret) & Family  -  Dana Newquist
The cocktail reception in the tastefully designed Art Auction area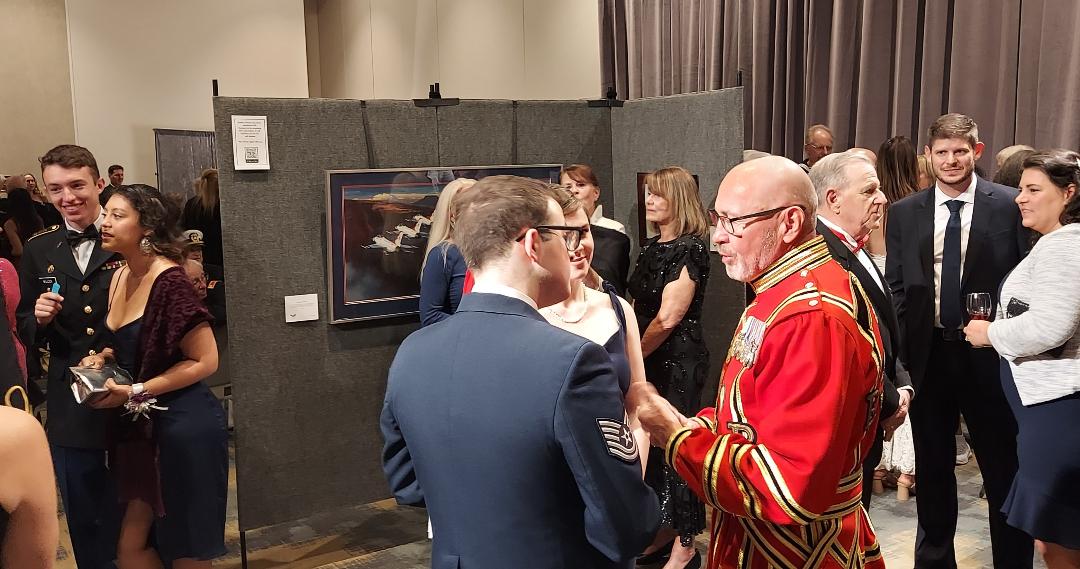 brought together so many old friends and major supporters of the Pierre Claeyssens Veterans Foundation to celebrate 25 years with a toast and a unique opportunity to purchase rare military art. The beautiful book Stories of Service by Frank Cox, A Collectio of Articles Published in the Santa Barbara News Press with forward by John Blankenship was on display and available for purchase throughout the evening.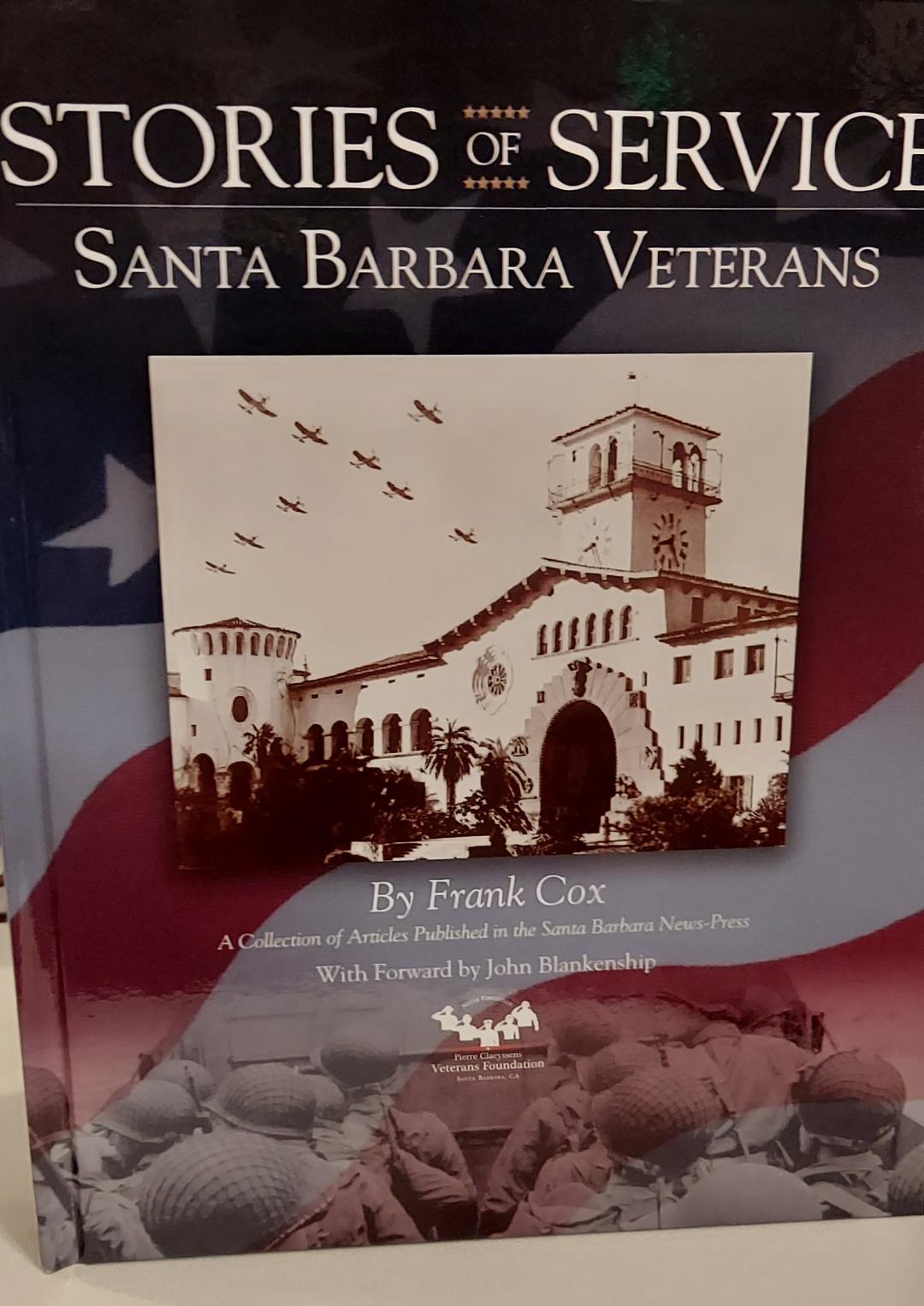 Stories of Service by Frank Cox
Philanthropist Pierre Claeyssens initiated the Military Ball in 1996 as a way of paying tribute to the U.S. Armed Forces, past and present, in Santa Barbara and Ventura counties. Pierre respected the American Military, and the Military Ball was Pierre's way to thank those who served regardless of their rank, branch, length of service, and if they served in a war or not, a special remembrance for the "Never Forgotten" Veteran.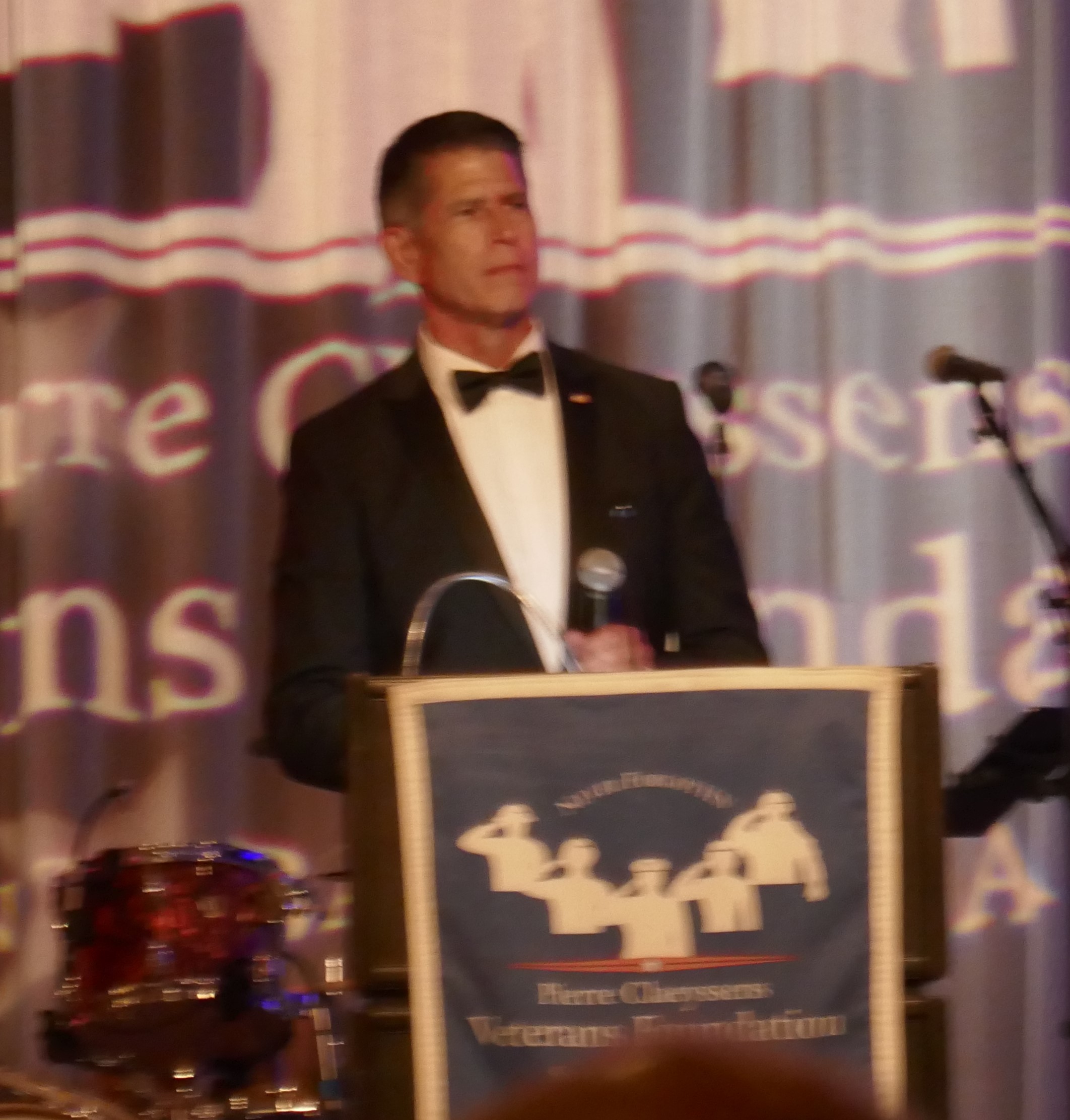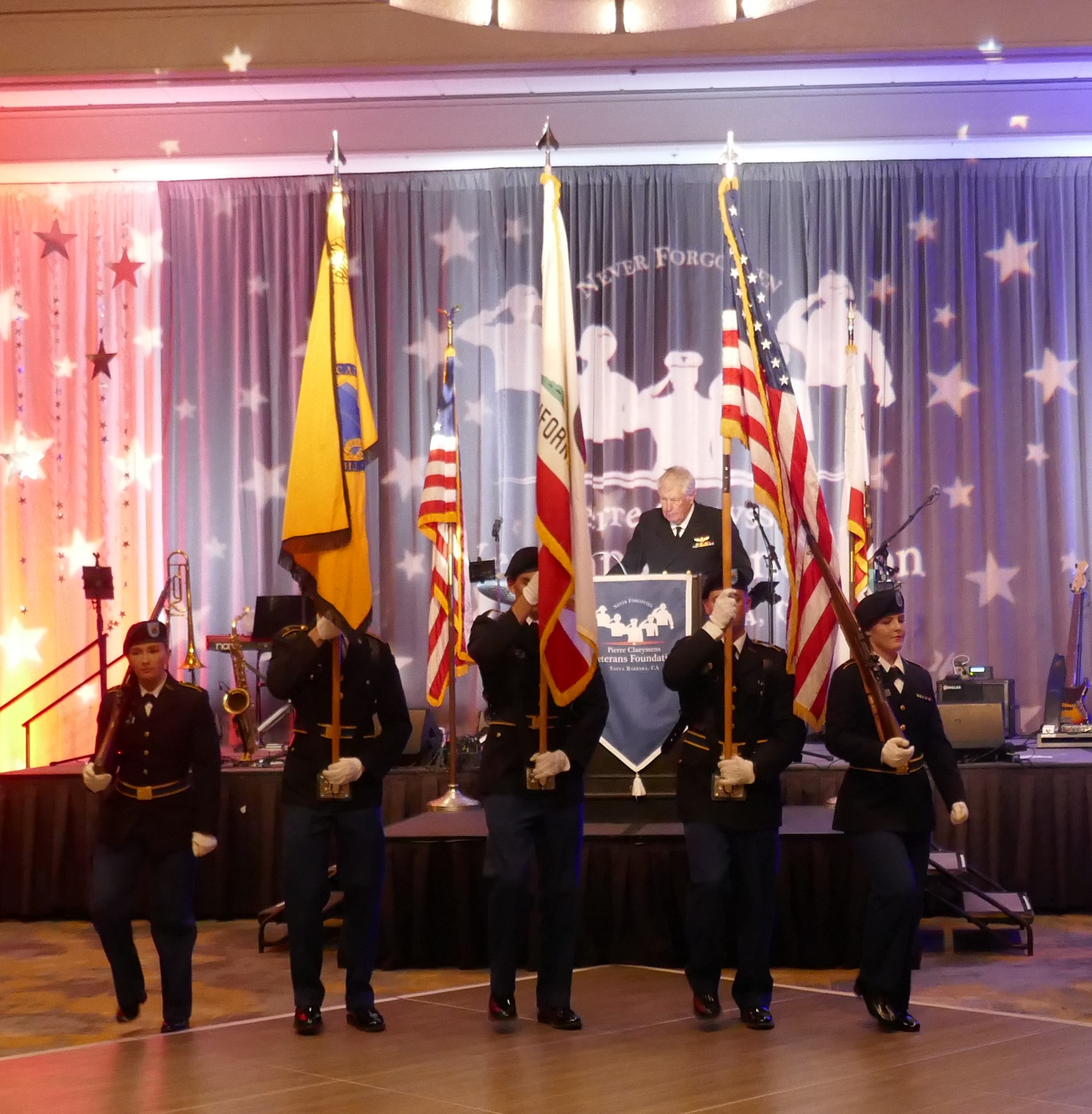 David Gonzales  -  UCSB ROTC Posting of the Colors
A few highlighted included "Raising Flag on Mt. Suribachi", a rare Iwo Jima collage with AP photo by Joe Rosenthal and three original signatures of survivors. February 23, 1945. United States Marines. North American Aviation NASA Space Shuttle Space Walk Photograph of astronauts performing a spacewalk. Signed by one of the two astronauts, David Leetsma, and presented to Ken and Connie Richardson during a visit to Johnson Space Center, 1990."Shot Down" Drawing by W. J. Reynolds. January 3,1944, Gregory "Pappy" Boyington shot down by Japanese Navy pilot, Masnjiro Kawato, 1943. Signed by both pilots. #122/600.
A Rare piece, "In Gallant Company" Print of 1948 by Robert Taylor. Signed by Marine Medal of Honor pilots Bob Gale, Ken Walsh, Foss, Sweet, Jeff Le Blanc, Smith. Collage with uniform pins, medal, "A Time to Heal" and many more were available for purchase.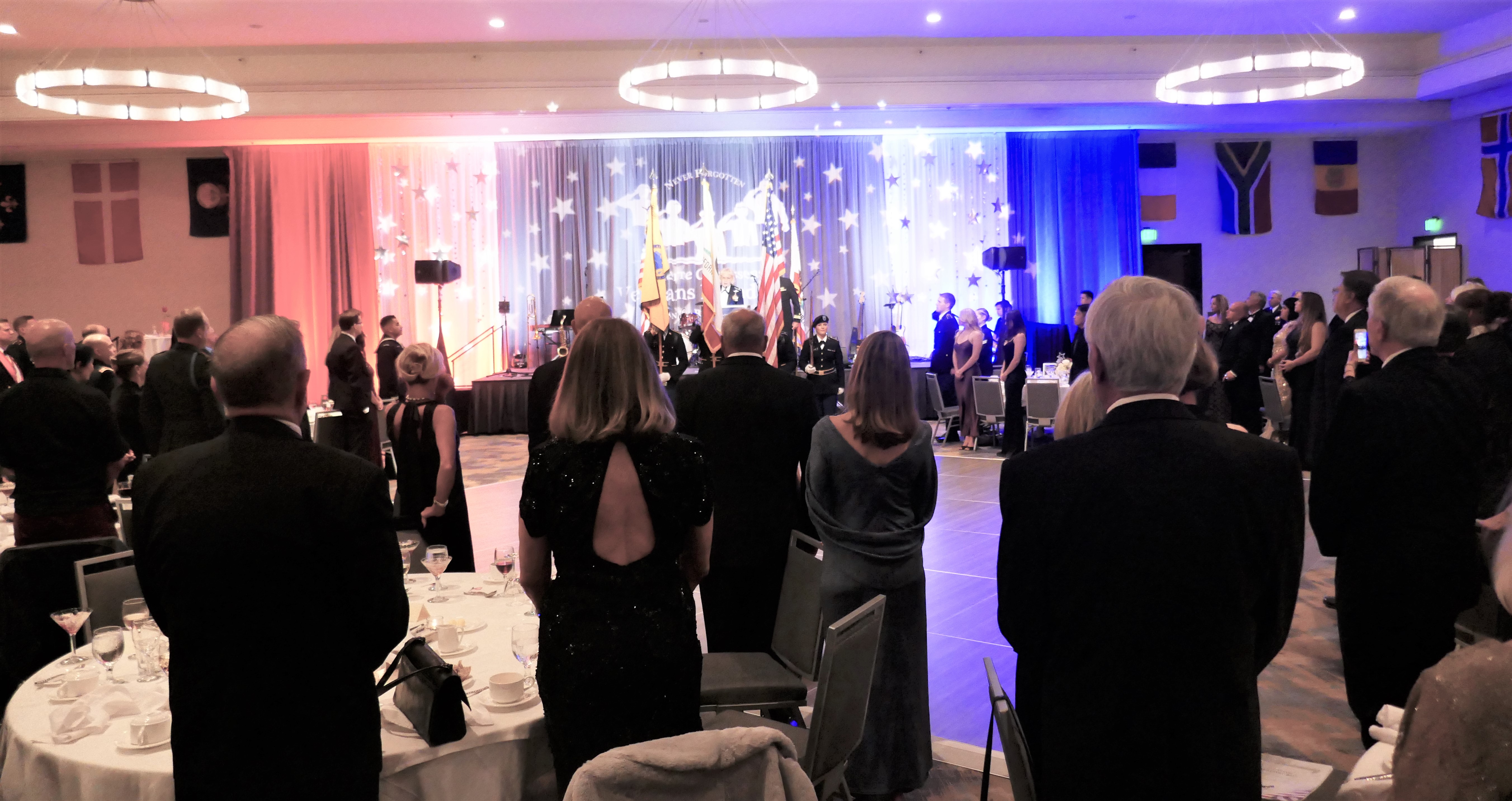 Forever Honoring Our Flag
The event also presented former Navy SEALs, led by Marc Brakebill of Beyond the Teams included Steve Terlinden and Mike Charbonnet. These extraordinary individuals, who arguably execute the most dangerous and secretive missions in the US Military, shared their inspiring story on the importance of family to the military mission and beyond. The group of former SEALs and like-minded individuals whose focus is to heal and serve the community. The audience was totally inspired by their moving story: The Teams Behind the Mission.  For information visit: https://beyondtheteams.org/.
Guests enjoyed dancing to the rhythmic sounds of The Replicas Music, who have performed for organizations such as NASA, Google, LinkedIn, GM, Ford, AppFolio, UBS Bank, and Milken Institute, to name a few. The talented group of musicians kept the party going all night long.

It was yet another wonderful evening celebrating our veterans and active-duty service members, enjoying introductions by Lt. John Blankenship, Co-founding director, U.S. Navy (former), posting of the Colors by UC Santa Barbara ROTC Surfrider Battalion Color Guard, pledge of allegiance by Lt. Col. Patricia Rumpza USAF (ret), U.S. National Anthem and America the Beautiful by David Gonzales, Sergeant, Santa Barbara Police Department (ret), invocation, Chaplain Jerry Gray, USAF, Missing Man Ceremony by Lt. col. Patricia Rumpza, USAF (ret.) & UCSB Cadet Daniel Keefe, Guest Speakers Marc Brakebill, Steve Terlinden, and Mike Charbonnet, former Navy SEALs, and an always inspiring salute to the Armed Services Musical Tribute. Kudos to Hazel and Lt. John Blankenship and their army of amazing volunteers for an unforgettable PCVF Silver Anniversary Ball.

NOTE: November 11th at 11:00 am sharp please join VFW Post 1649 and Pierre Claeyssens Veterans Foundation For Veterans Day Ceremony at Santa Barbara Cemetery,901 Channel Drive, Santa Barbara for an open air ceremony beginning with a flyover by The Condor Squadron, followed by UCSB Color Guard, Gold Coast Pipe Band, performances by David Gonzales and the Santa Barbara Choral Society, guest speakers, and a finale featuring Navy Hawkeye Airborne Command and Control E-2 flyover! Come Early! Many thanks to Pete and Gerd Jordano of Jordano's for always providing water for guests at the Veterans Day Ceremony.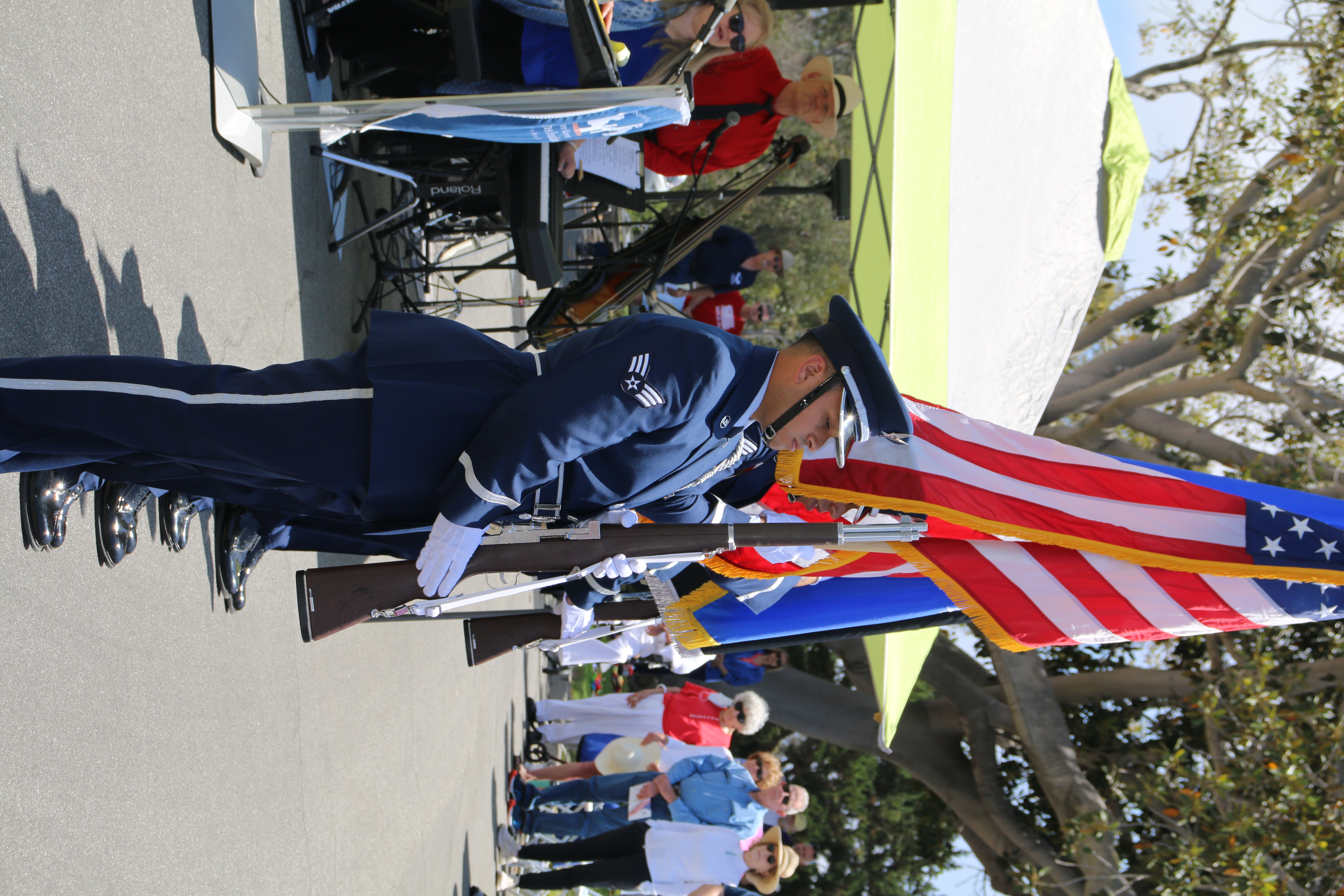 About Pierre Claeyssens Veterans Foundation
Pierre Claeyssens Veterans Foundation is committed to honoring the men and women who have served in uniform at any time. PCVF does this by supporting veterans and active duty members, and related partner organizations, in Santa Barbara and Ventura counties, as well as preserving military history and legacy. The Foundation works to uphold Pierre Claeyssens vision that those who have served are "Never Forgotten." PCVF is funded entirely by private donations. For additional information on PCVF please visit:  https://www.pcvf.org/military-ball
___________________________________________________________________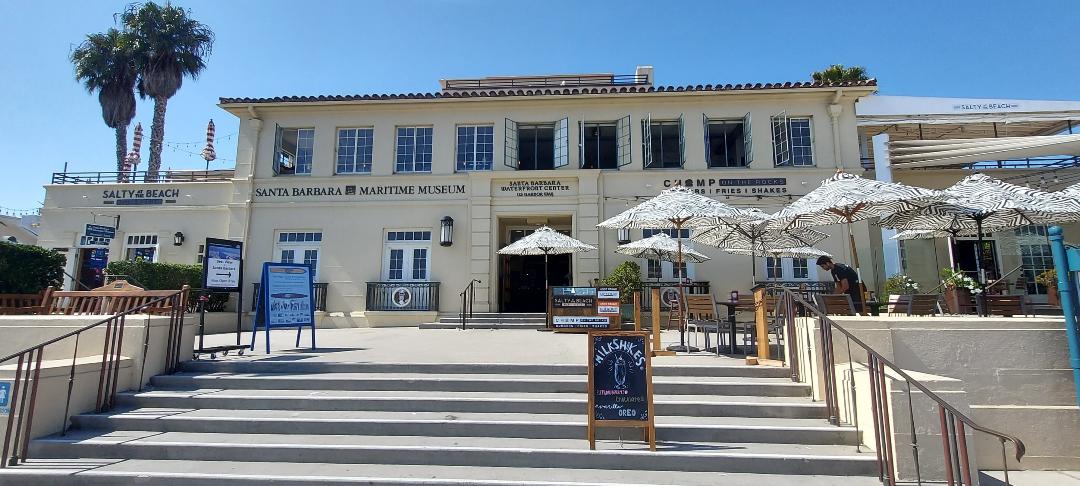 SANTA BARBARA MARITIME MUSEUM PRESENTS "CHUMASH MARITIME HISTORY--PAST, PRESENT & FUTURE"
Santa Barbara Maritime Museum Presents "Chumash Maritime History—Past, Present, & Future" As told by Chumash Elder Puchuk Ya'ia'c (Alan Salazar) Santa Barbara, CA. October 19, 2022 – The Santa Barbara Maritime Museum (SBMM) presents "Chumash Maritime History—Past, Present, & Future," as told by Chumash Elder Puchuk Ya'ia'c (Alan Salazar), on Thursday, November 17, 2022 at 7:00 pm in the museum.

As a founding member of the Chumash Maritime Association and one of the group's most experienced paddlers, Salazar will share his knowledge of the history of the ocean plank canoes, known as tomols. As a storyteller, researcher, and knowledge keeper of Chumash history, he will share some of their stories in his presentation and answer any questions audience members may have. Cost is free for SBMM's Navigator Circle Members, $10 for all other members, and $20 for members of the public. There will also be a pre-lecture reception for members only from 6:15-6:45pm. Register at: https://sbmm.org/santa-barbara-event/ and become a member at https://sbmm.org.

"I have paddled in all of the crossings from Channel Islands Harbor to Santa Cruz Island. There are currently only five other Chumash paddlers that can make that claim. It is a very elite group. I have paddled more miles in our tomols than any other Chumash paddler in modern times. At age 71, I am the oldest active paddler and still considered one of our stronger paddlers. I was raised to be proud of my Native American heritage and I take pride in being a positive role model and a respected Elder." Alan Salazar – Puchuk Ya'ia'c (Fast Runner).

About the Speaker: Alan Salazar has worked in several different areas throughout his life. He has been a traditional storyteller, an Indigenous educator and monitor/consultant, a spiritual adviser, a traditional paddler and a builder of Chumash canoes, a preschool teacher, and a juvenile institution officer. He is also the published author of Tata, The Tataviam Towhee: A Tribal Story and is currently working on his next book. As a spiritual adviser within the Chumash and Tataviam community, he leads ceremonies and prayer circles during traditional Native American gatherings and continues to fight for tribal issues of urban indigenous people. www.native-storytelling.com Alan Salazar's family has traced its family ancestry to the Chumash village of Ta'apu, now known as Simi Valley and the Tataviam village of Chaguayanga near Castaic, CA. They are Ventureno Chumash and Fernandeno Tataviam who were brought into the San Fernando Mission starting in 1799.

He is a founding member of the Kern County Native American Heritage Preservation Council and the Chumash Maritime Association, a member of the California Indian Advisory Council for the Santa Barbara Museum of Natural History, and a community advisor with the Ventura County Indian Education Consortium for over 24 years. Since taking archaeology classes at Cal State Bakersfield, Salazar has actively monitored and protected his ancestors' village sites and tribal territories. He was also the lead monitor from 2011 to 2017 at the Boeing Santa Susana Field Lab site in Simi Valley, which is a unique 2800-acre site with a sacred solstice and rock art. As a member of the Chumash Maritime Association he helped build the first working traditional Chumash plank canoe in modern times and has paddled in this tomol for over 24 years.

He is a member of the Elder's Council for the Fernandeno Tataviam Band of Mission Indians and has also been involved with teaching youth about Native American cultures for 30 years. He has done professional educational programs at schools, museums, and cultural events for 25 years, including storytelling programs at the American Museum of Britain in Bath, England. But it is the schools in Chumash and Tataviam territory that he enjoys going to the most. This event is generously sponsored by Marie L. Morrisroe.

 Founded in 2000, the Santa Barbara Maritime Museum creates exhibitions and hands-on, educational experiences that celebrate more than 13,000 years of maritime history in our region—from Chumash culture to today's surfing scenes and environmental movements. Nearly 8,000 square feet of gallery space showcase special presentations and changing displays culled from the museum's artifact collection, all dedicated to instilling love and respect for the Santa Barbara Channel, for the people who make their living on its waters, and for the abundant marine life that calls these waters home. SBMM is located at 113 Harbor Way, Suite 190, Santa Barbara, CA 93109. Visit sbmm.org or call (805) 962-8404 for details.
Bottom of Form
---