India today is a nation caught between the rich heritage of its past and the great economic potential of its future. In her provocative new book, Planes, Trains, and Auto-Rickshaws: A Journey through Modern India, journalist and best-selling author Laura Pedersen reveals the tensions and challenges facing this emerging world power, while featuring its splendors and attractions. In particular, Pedersen explores the roles of women and children in India today, providing a window into the important and often-neglected issues surrounding them.
Part travelogue, part history, and part cultural reflection, Planes, Trains, and Auto-Rickshaws provides an intimate glimpse of a nation at its turning point and is a must-read for travelers to the subcontinent and those who want to understand India beyond the headlines. A fun and fact-filled guide, the book presents a variety of potential itineraries and eradicates many popular misconceptions.
Laura Pedersen has written for The New York Times and is the author of several books, including Play Money, Going Away Party, Beginner's Luck (chosen as a Barnes & Noble Discover Great New Writers selection), Buffalo Gal, and Buffalo Unbound. In 1994, President Clinton honored her as one of Ten Outstanding Young Americans. She has appeared on Oprah, Good Morning America, Primetime Live, and The Late Show with David Letterman, and she writes for several well-known comedians. Pedersen lives in New York City. Visit www.laurapedersenbooks.com.
________________________________________________________________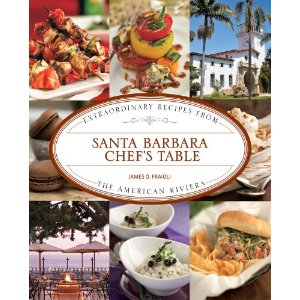 SANTA BARBARA CHEF'S TABLE by James O. Fraioli
Celebrating Santa Barbara's best restaurants and eateries with recipes and photograph, Santa Barbara Chef's Table profiles signature "at home" recipes from 40 legendary dining establishments. A keepsake cookbook for tourists and locals alike, the book is a celebration of Santa Barbara's farm-to-table way of life.