BOOK BITES   .   .   .
DON'T MISS 2023 WRITER'S CONFERENCE AT MAR MONTE HOTEL!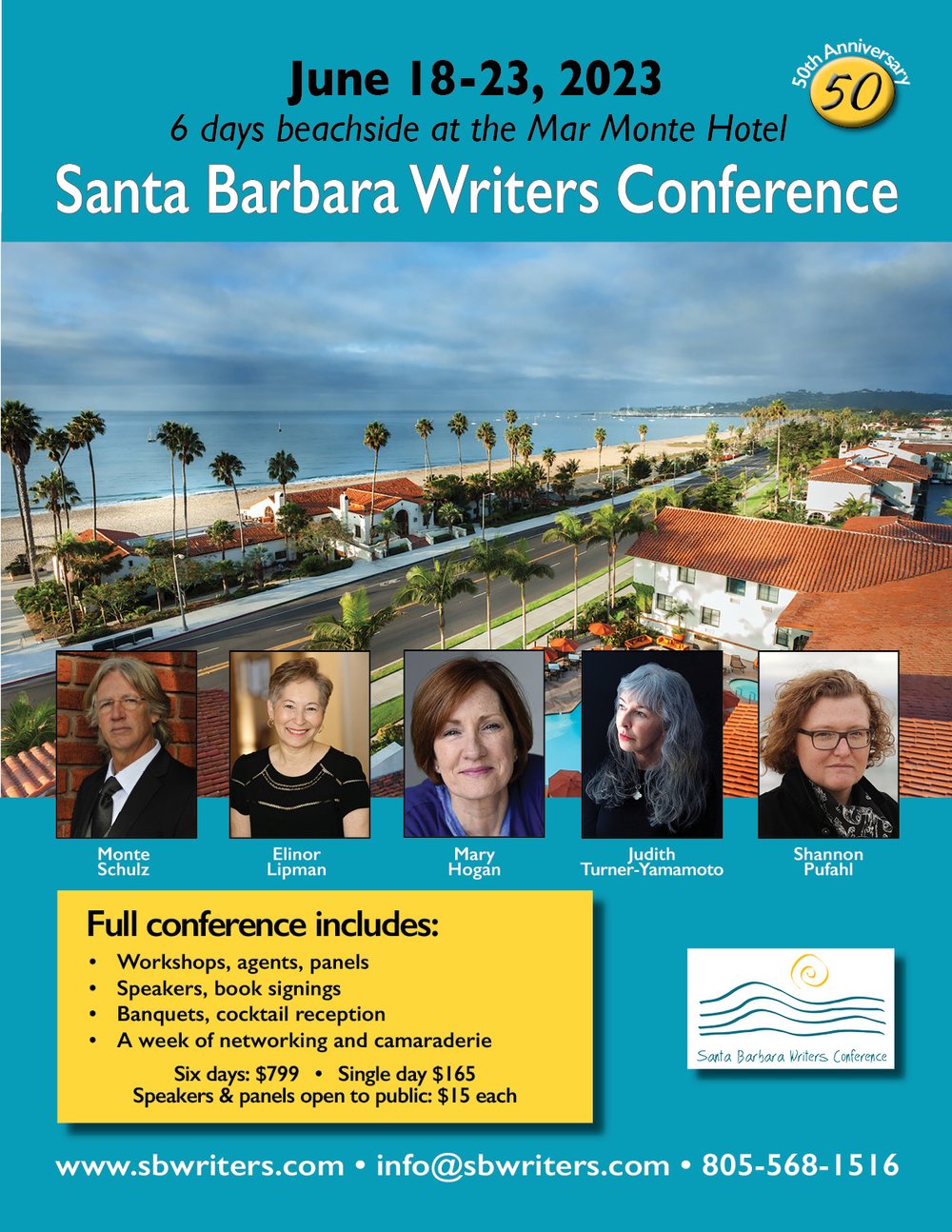 ♦  ♦  ♦
ART NEWS   .   .   .
THE MET NEW YORK  NEW EXHIBITION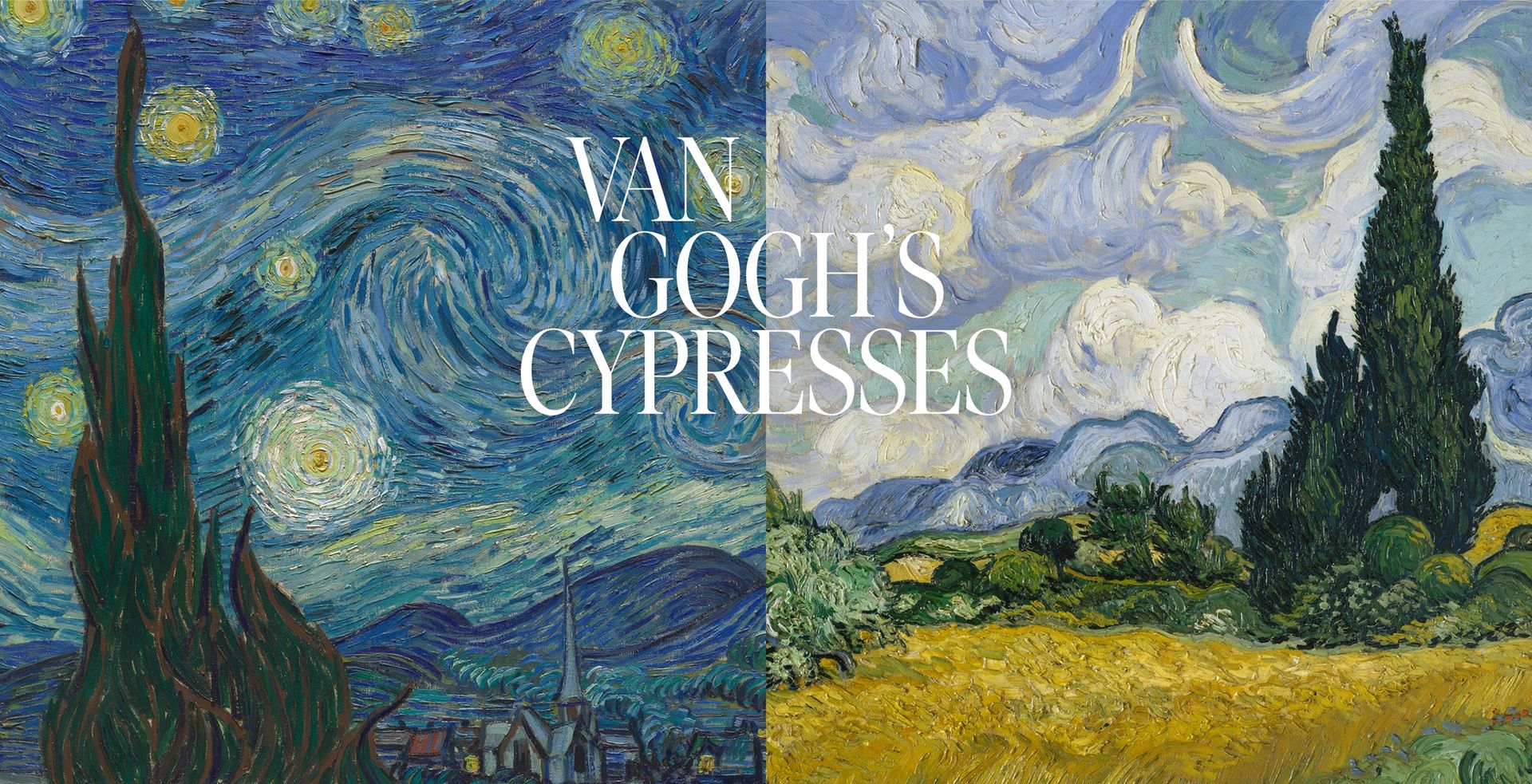 Van Gogh's Cypresses is the first exhibition to focus on the trees—among the most famous in the history of art—immortalized in signature images by Vincent van Gogh (1853–1890). Such iconic pictures as Wheat Field with Cypresses and The Starry Night take their place as the centerpiece in a presentation that affords an unprecedented perspective on a motif virtually synonymous with the Dutch artist's fiercely original power of expression. Some 40 works illuminate the extent of his fascination with the region's distinctive flamelike evergreens as they successively sparked, fueled, and stoked his imagination over the course of two years in the South of France: from his initial sightings of the "tall and dark" trees in Arles to realizing their full, evocative potential ("as I see them") at the asylum in Saint-Rémy.

Juxtaposing landmark paintings with precious drawings and illustrated letters—many rarely, if ever, lent or exhibited together—this tightly conceived thematic exhibition offers an extraordinary opportunity to appreciate anew some of Van Gogh's most celebrated works in a context that reveals the backstory of their invention for the first time.

Accompanied by a catalogue.
The exhibition is made possible by the Iris & B. Gerald Cantor Foundation.
Additional support is provided by the Janice H. Levin Fund, Katharine Rayner, and the Aaron I. Fleischman and Lin Lougheed Fund.
This exhibition is supported by an indemnity from the Federal Council on the Arts and the Humanities.
The catalogue is made possible by the Janice H. Levin Fund.
Additional support is provided by Adrian Sassoon and Edmund Burke.
Entering the Exhibition
You must join the virtual exhibition queue via QR code once inside the Museum. No advance or timed tickets required. Access is first come, first served and subject to capacity limitations.
Visitors Guidelines
The following items are not permitted:
- Bags larger than 11 x 17 x 5 in (28 x 43 x 13 cm)
- Backpacks
- Strollers (parking is available adjacent to the exhibition)
- Liquids
Free bag and coat check is available.
Special Access
Met Member Morning Hours: 9–10 am every Thursday, Saturday, and Sunday starting May 27.
__________________________________________________________________
YOUTH ART & POETRY AWARD NEWS   .   .   .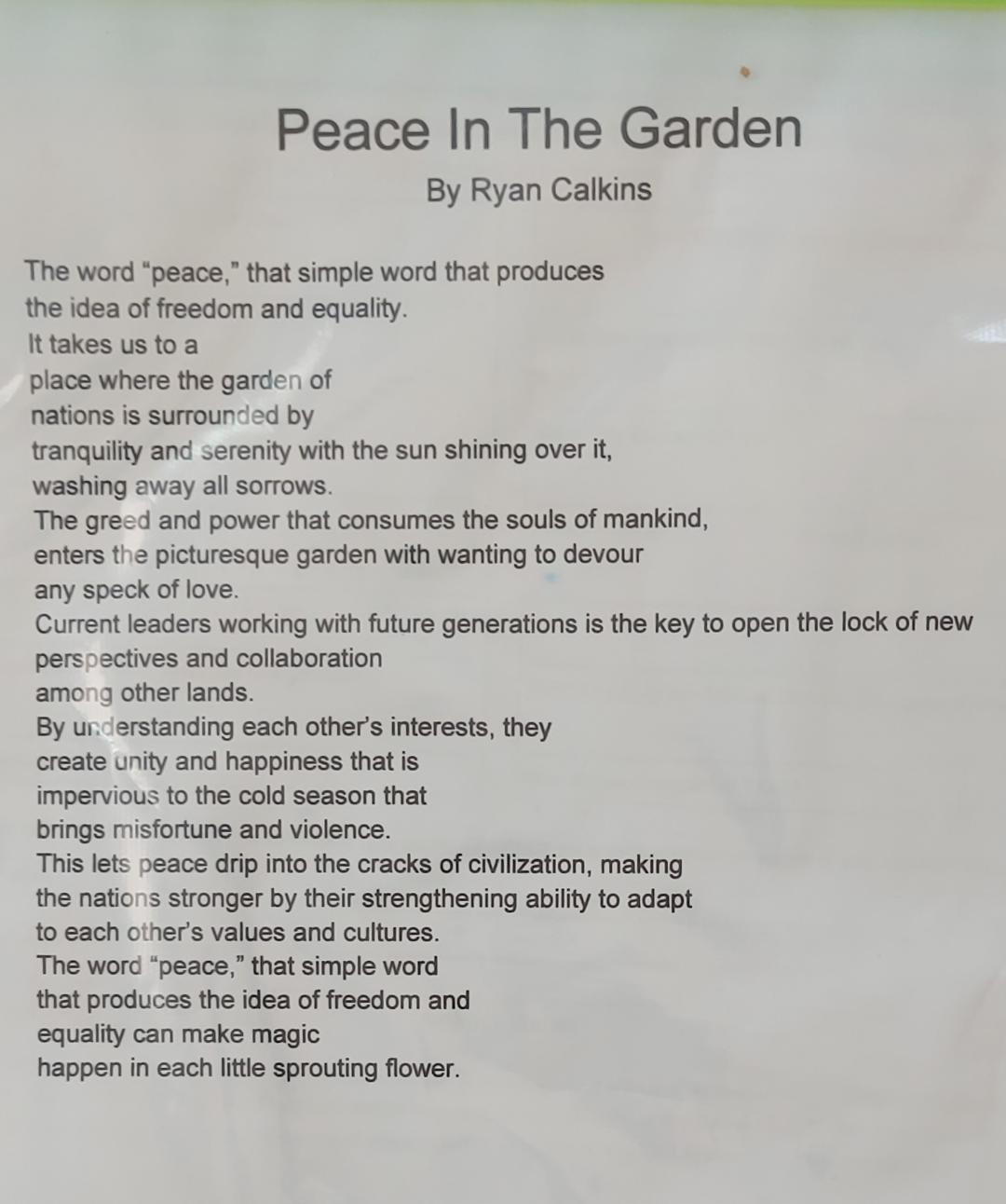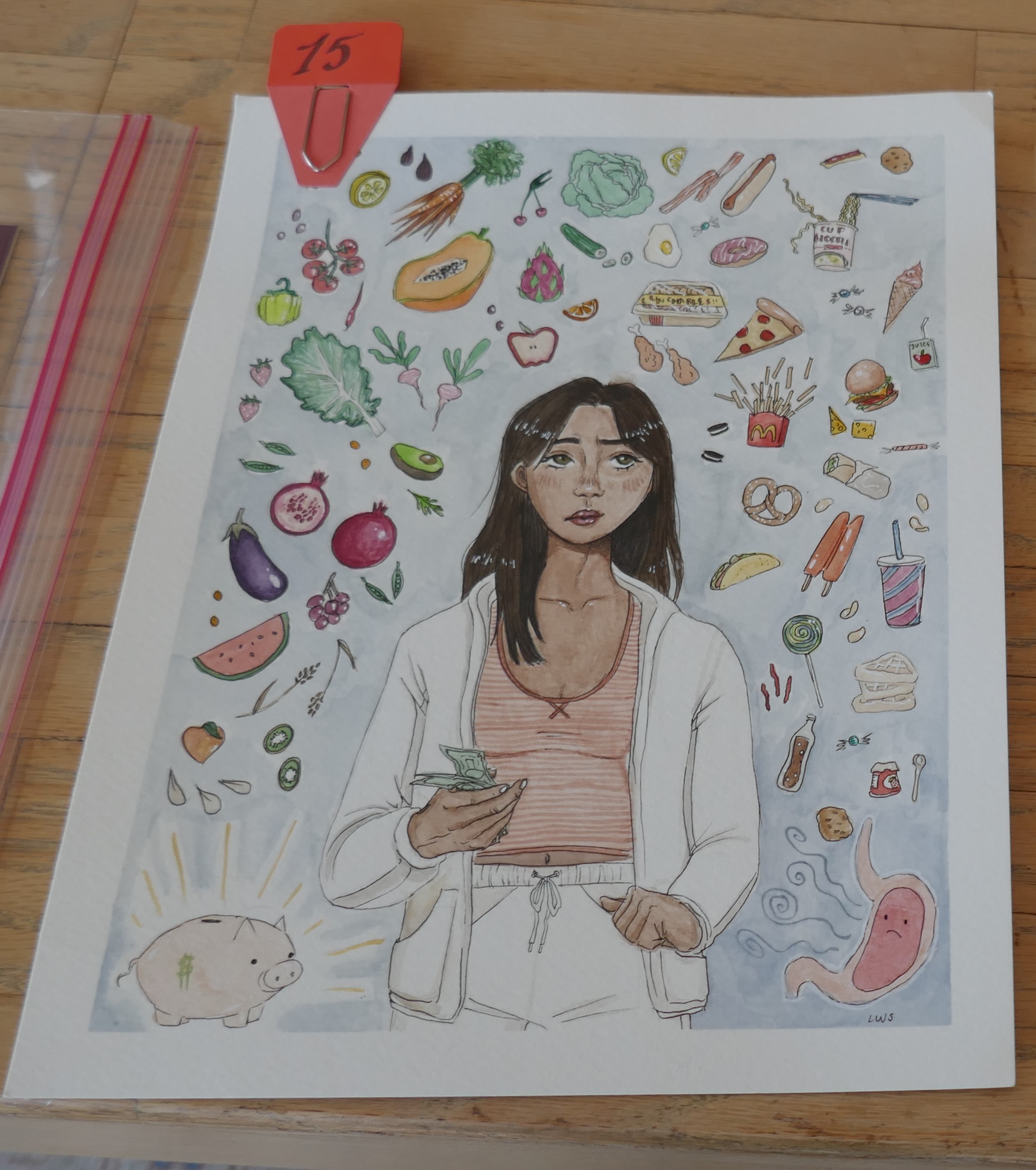 1st Place Poem by Ryan Calkins - 1st Place Art by Leighton Willow Smith
SANTA BARBARA SISTER CITIES 2023 YOUNG ARTISTS & AUTHORS SHOWCASE
              Six Artists and Three Poets Selected For Awards Annual Showcase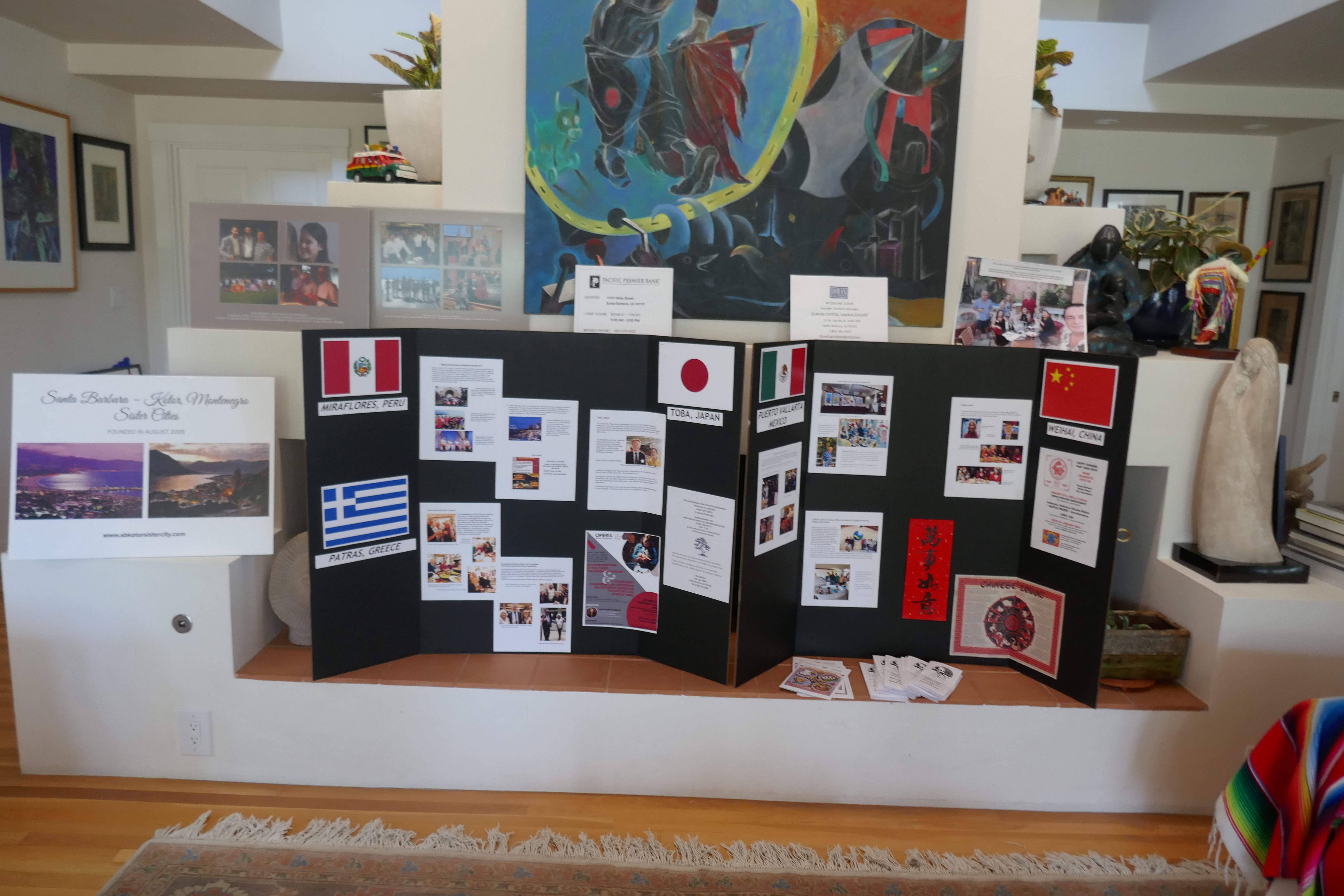 Santa Barbara Sister City Showcase Display
By Bonnie Carroll
An enthusiastic crowd of Santa Barbara Sister Cities board members, friends, young artists, and poets gathered at the home of Gil and Marti Garcia, long-time board members of the Santa Barbara - Puerto Vallarta Sister City Committee, to participate in the reception, viewing and awards presentation of the Sister Cities 2023 Young Artist & Authors Showcase. The Theme for the competition ­­­­­­­­­ "Peace by Piece Food Security in my Community" included students ages 13-18, who submitted art with written descriptions for consideration. The Children's Creative Project (CCP) assisted with this year's event.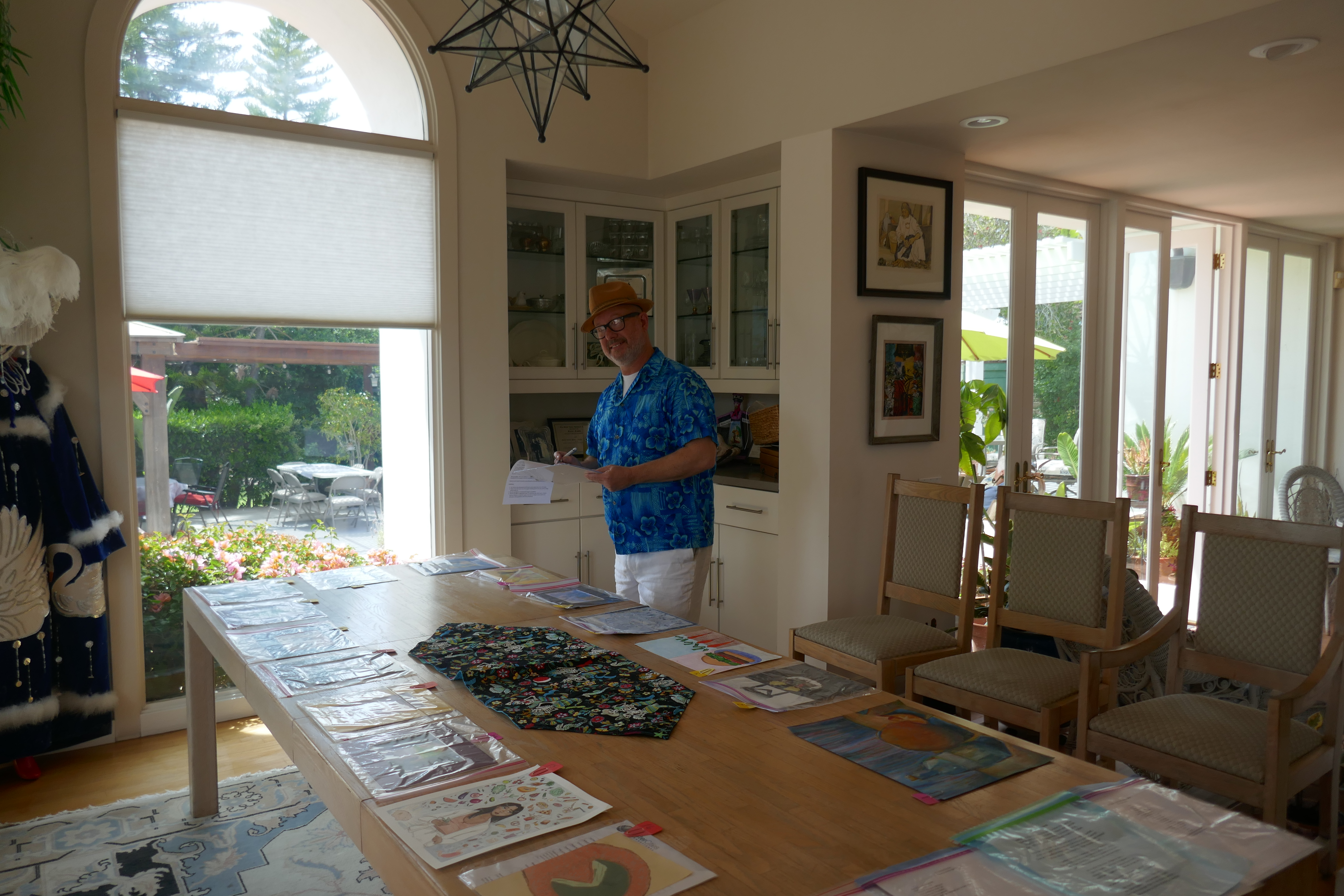 Michael Long Judging Young Artists Works
Winning artists included 1st place, Leighton Willow Smith, $250 prize, 2nd place April Harper, $150, 3rd place Sebatian Cadwell $100 prize. A collection of submissions came from Puerto Vallarta and those winners included 1st place Melany Nicole Joya Rodriguez $250, 2nd Place Viviana Vasquez Romero $150, 3rd Place Amara Estefania Coria Garcia $100.  Our official Judge for this year's art competition was Michael Long, local Santa Barbara artist, art teacher and arts coordinator with Studio 121 in Santa Barbara.
Judges for 2023 winning poets included Melinda Palacio, renowned local writer and poet who was installed this month as Santa Barbara 2023 Poet Laureate, and Alicia Sorkin, a retired high school teacher and board member of the Santa Barbara Puerto Vallarta Sister Cities Committee.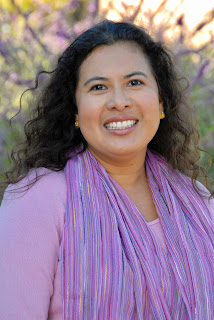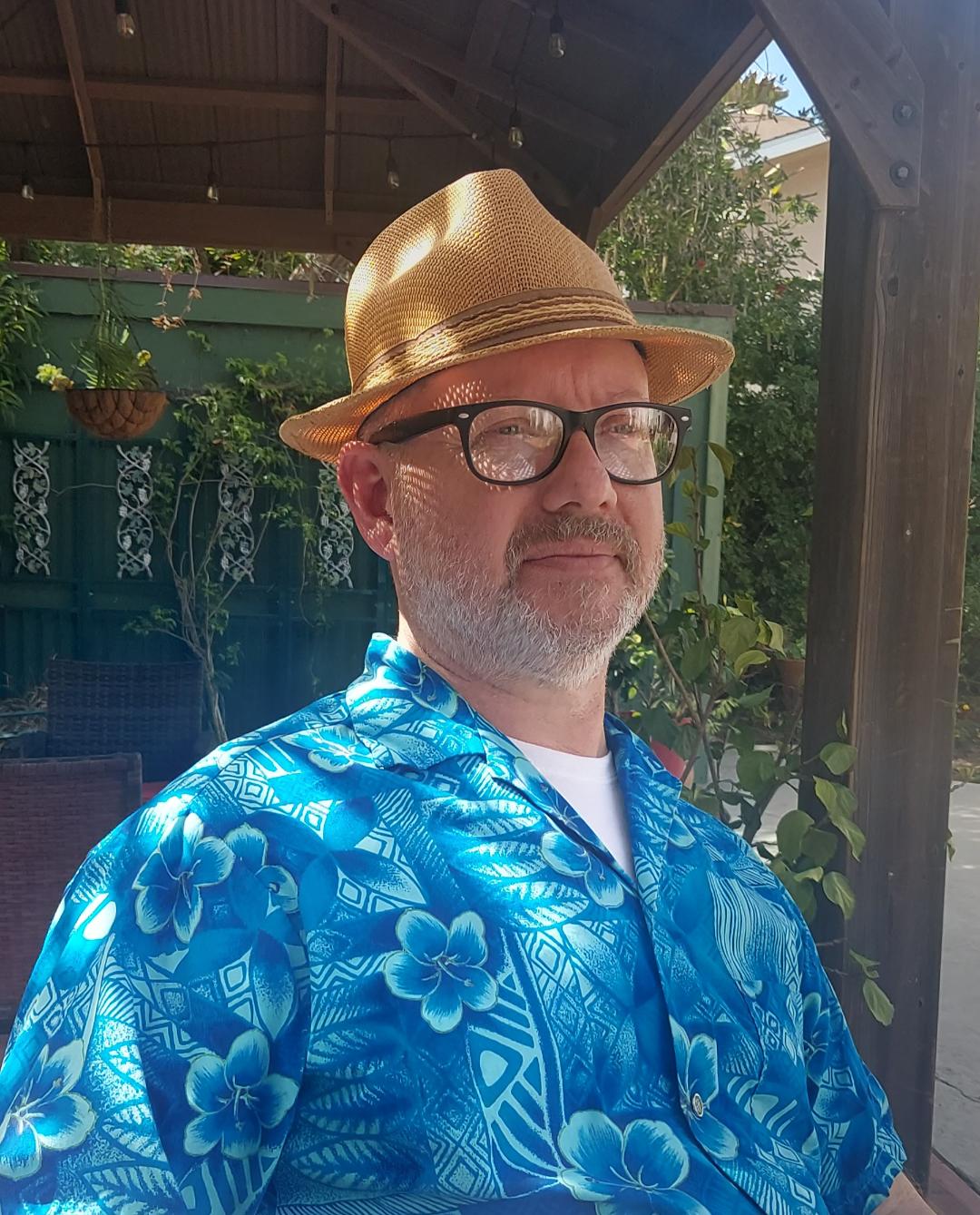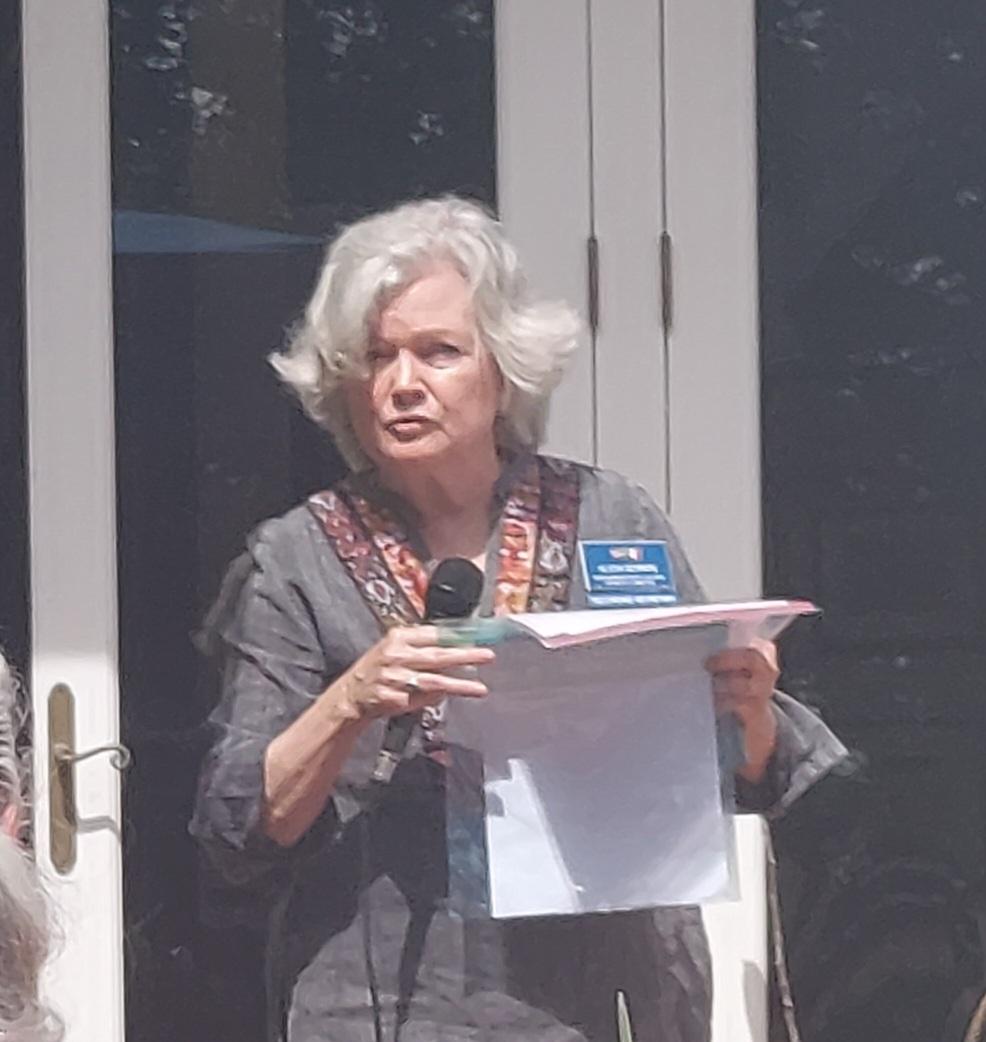 Melinda Palacio, Poet Laureate - Michael Long, Artist - Alicia Sorkin, SB/PV Sister Cities

Winning Poets included 1st place Peace in the Garden by Ryan Calkins $250, I am an Oak Tree by Brock Mitchell 2nd Place $150.00, and Counting Pennies by Penelope Welsh $100 3rd Place. When announcing the winners at the showcase Alicia Sorkin shared how pleased she was to be judging in tandem with Melisa and how unified they were in the selections they had both made to honor the most talented young poets who had submitted their well written and focused work for consideration."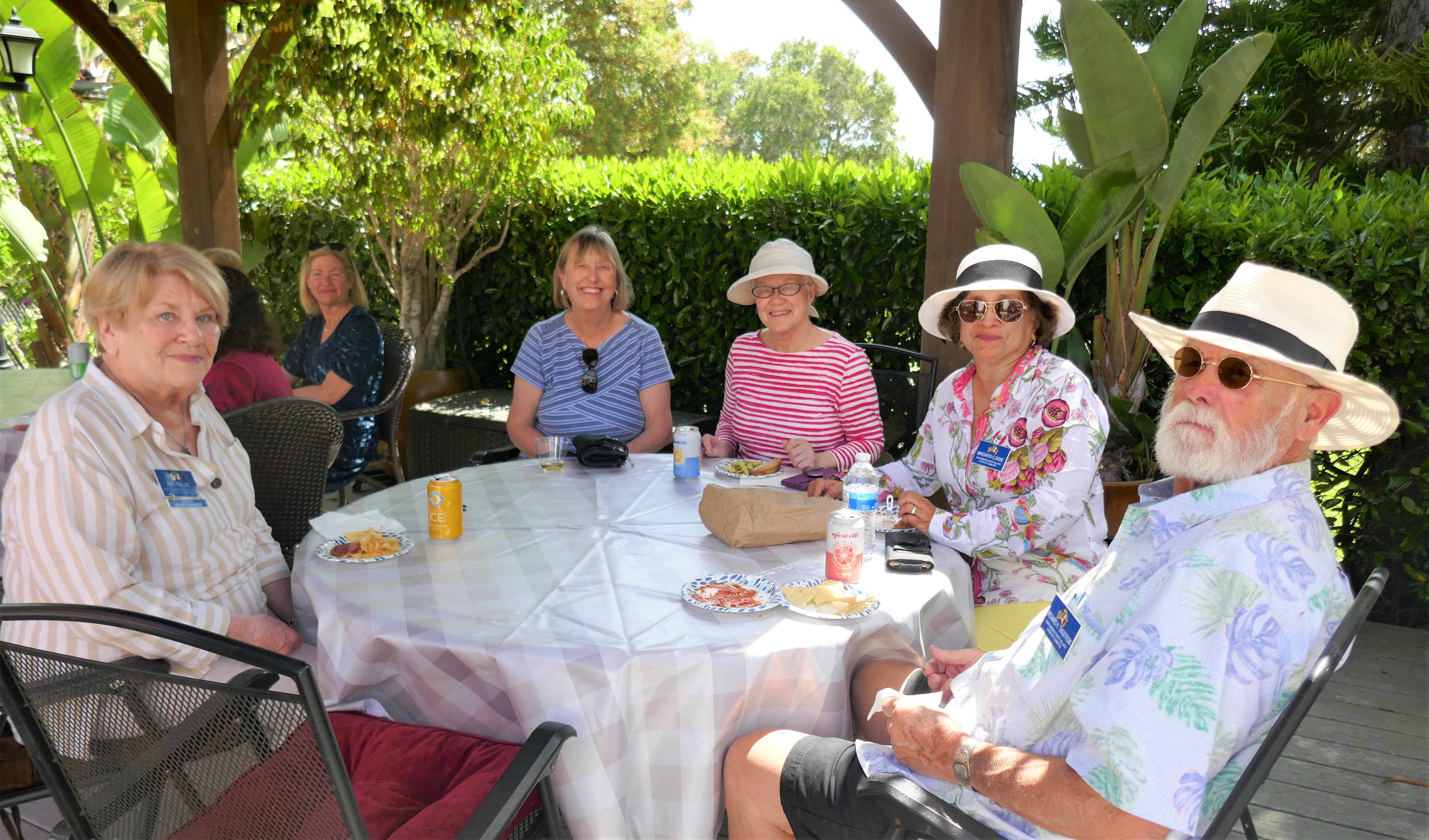 Santa Barbara Sister Cities Board Members Enjoying the Showcase
Enjoying the youth art, poetry and outdoor reception were members of the Sister City committees including Kotor, Montenegro, Patras, Greece, Toba, Japan, Weihai, China, Mira Flores, Peru, and Puerto Vallarta, Mexico and a new member Mayor Roberto Martinez, of Port Hueneme. Also in attendance were Santa Barbara City Councilman Oscar Gutierrez, a member of the Santa Barbara/Puerto Vallarta sister city committee, representing Mayor Randy Rowse, Pat Fallin, the Past SCI Board Chairman, and Linda Gunther, ex-officio. Sponsors for the winning prizes included Pacific Premier Bank and Duran Capital Management. The Children's Creative Project (CCP) assisted with this year's event.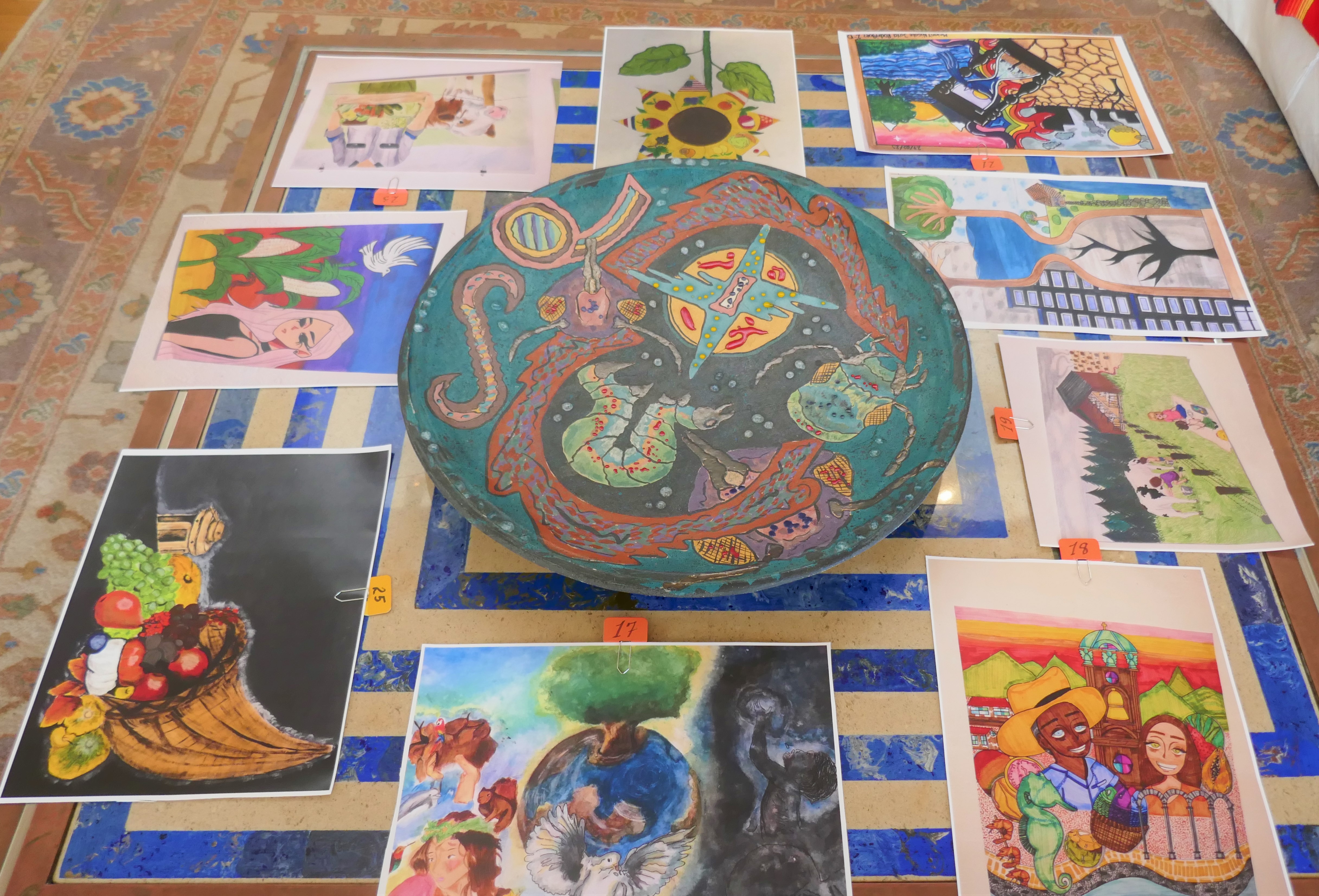 Artwork Submitted from Puerto Vallarta Young Artists 2023

Local judges Michael Long, Alicia Sorkin and Santa Barbara Poet Laureate 2023 Melinda Palacio, all agreed it was challenging to reach the final selections due to the outstanding submissions this year and the insightful representation of the theme created by all students. Guests reviewed the art works and poetry submissions following the judging and relaxed on the verandah to enjoy a buffet filled with delicious international bites provided by sister city members in attendance. The 2023 Young Artists & Authors winners will also qualify for participation in the international competition.
The 2023 Young Artists Showcase theme selected was food sustainability, which has become an undeniably harsh reality in all our lives. As covid and world challenges find our food sustainability are disrupted, ecosystems are disturbed, cultures are affected, and resources are proven to be unsustainable for long-term use,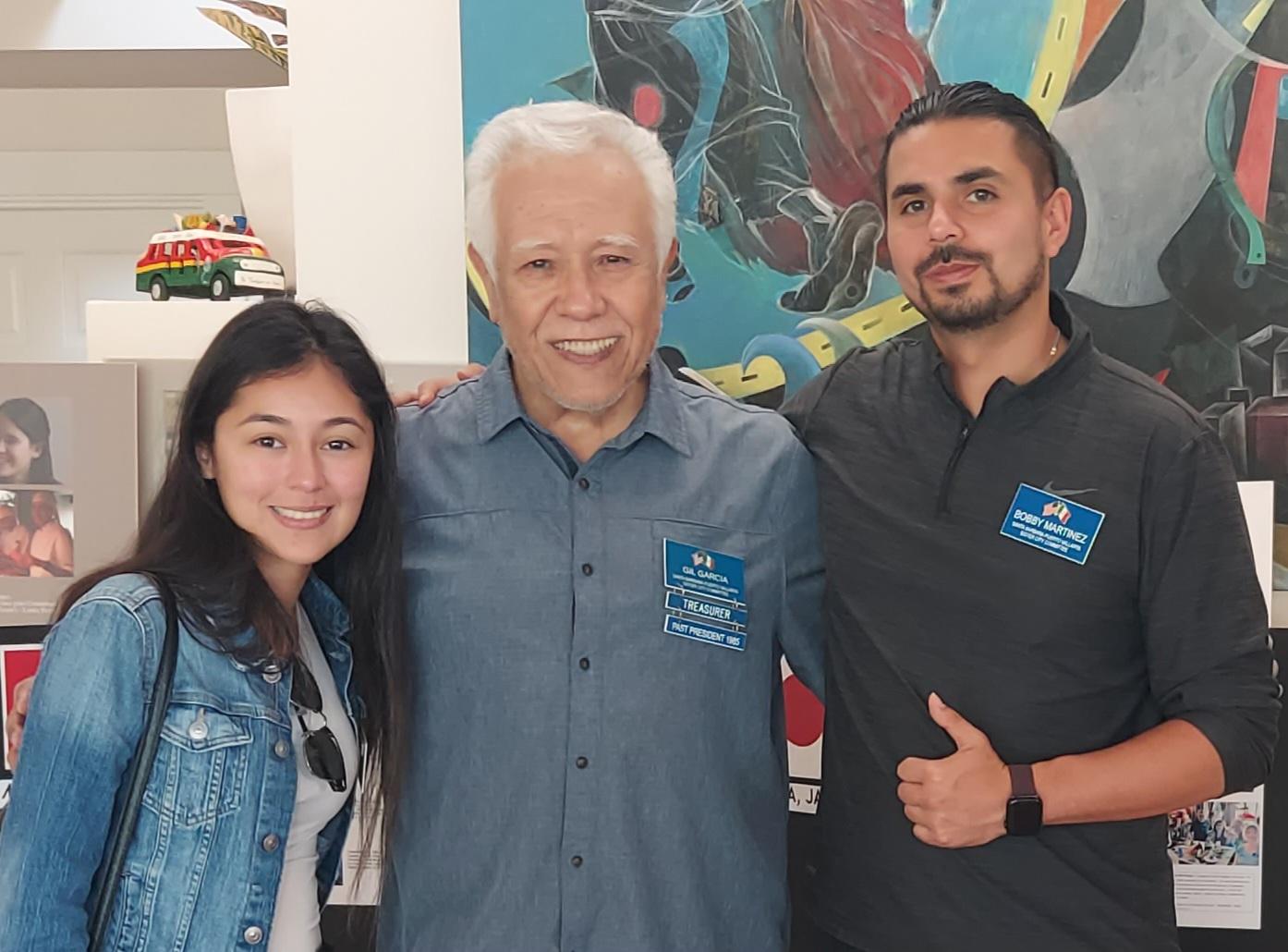 as well cost-effective issues on a small and large scale. These ongoing changes impact our local and global communities on every aspect, and youth are the key to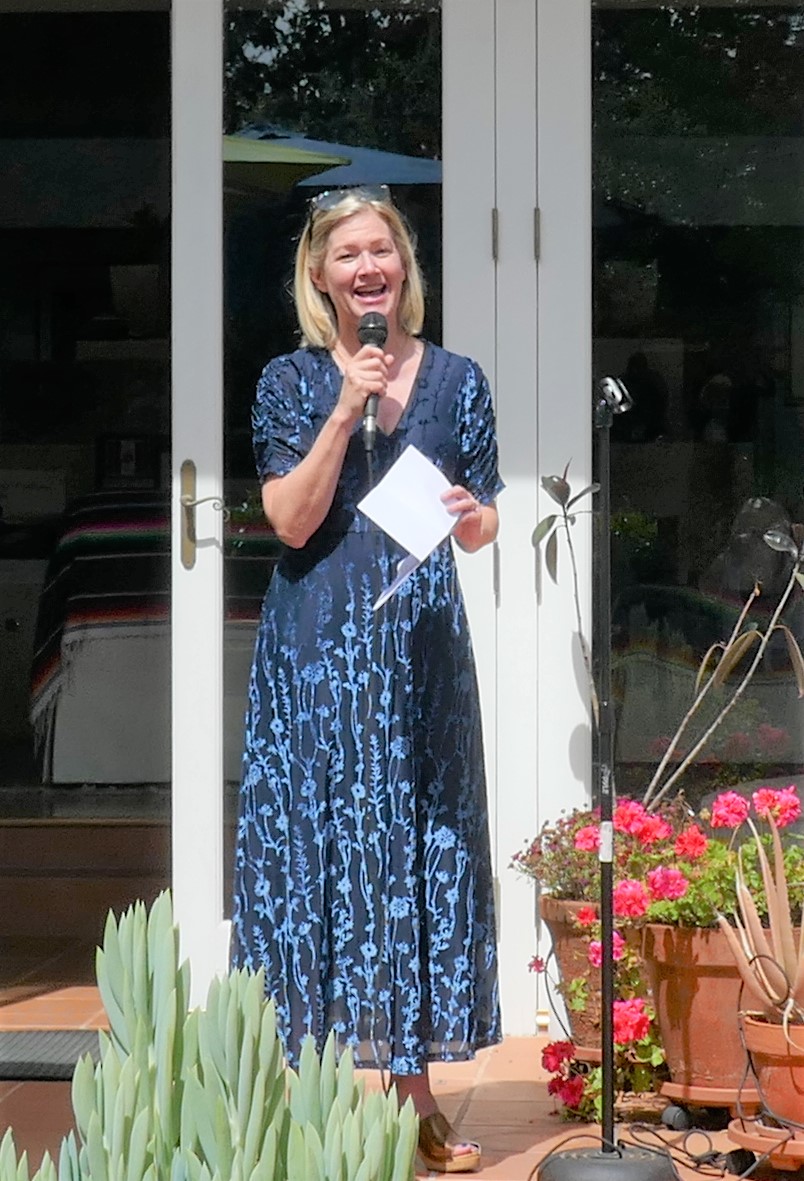 tackling this global reality. Art students represented a bevy of Santa Barbara area schools, and Puerto Vallarta, Mexico.
Event hosts Marti and Gil Garcia commended and thanked all, especially the judges who assisted in selecting the young artists & authors. Due to the unexpected absence of Chairwoman Margaret Saavedra, Sister Cities Board Vice-Chair Lucile Via, whose daughter Aria entered her artwork in this year's competition, shared her good wishes to the winners and gave a brief history on the importance of Santa Barbara Sister Cities participation.
For information Visit: https: sistercities.org/YAAS, Sister Cities International, @SisterCitiesInt. https://www.santabarbaraca.gov/gov/brdcomm/nz/sistercity/cities/default.asp.
__________________________________________________________________
POETRY GUEST WRITER'S CORNER   .   .   .

THE FLAG

BY GRANT HOUSE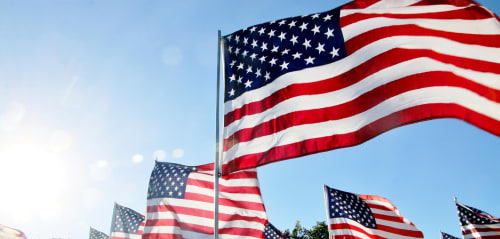 This American flag means a lot of different things to different people.
I hope it always stands for freedom to be one's self.
I hope it continues to represent our country as a refuge for those in distress and a beacon of opportunity for those looking for a new life for themselves and their families.
I hope it waves over a place where we take care of one another in good times and bad,
Where each generation does better for itself than the last,
And, where no one is a stranger for long and a warm welcome is extended to newcomers and those paying us a visit.
I hope our nation remains a place of honor and integrity where one's word, a handshake and a hug stand for something.
I hope our country stays committed to providing everyone with the encouragement, wherewithal and support to seek and fulfill their highest calling.
I hope that the flag flies over a nation big enough to admit its mistakes and right the wrongs of the past.
I hope the health and well-being of every person is its highest priority.
I hope the flag will wave over a society where differences of opinions and conflicts are resolved fairly and equitably.
I hope the flag will fly over a nation where, as the founders envisioned, religion is a private matter separate from a secular government that works for those of all faiths and beliefs,
Where all people, whatever their gender, age, background, race, caste, or economic standing are treated equally under the law and where reproductive rights and bodily autonomy are protected by law.
I hope the flag will continue to fly for a nation where folks are free from the fear of violence, intimidation, bullying, and repression,
Where law enforcement recognizes its purpose is to protect and serve all of the members of our communities.
I hope that this nation remains a steadfast global partner and a role model for the community of nations in human rights, cooperation, healing the planet, economic development, and peaceful coexistence,
A powerful ally for democracies worldwide and a friend to freedom loving people everywhere, 
And an enemy of autocratic regimes and dictatorships and of discrimination and oppression whenever they are exposed.
I hope the flag is raised in honor of those who put their lives on the line for the values of their country, especially for those who have been wounded by their service and those who gave their lives in service and the families who care for them and are left behind.
I hope that flag flies high for joy and full self-expression, the fine and folk arts, our multi-cultural heritage, entertainment, sports, and play.
I hope that banner furls for wise resource management including sustainable land use, clean oceans, clean air, fresh water and the preservation of wild spaces.
I hope that flag waves for quality free public education in all our phases of life with no one left out,
For innovation, entrepreneurship, leadership and all the qualities embodied by community serving individuals, businesses, and associations. 
I hope our flag stands for appreciation, respect, and support for the First Nations and all indigenous peoples from whom this land was taken,
And, in awe, respect, and justice for the contributions of those who have descended from the many peoples brought to this continent as slaves and all those whose lives have been affected by racism, sexism, and bigotry over the uneven history of the United States of America.
This flag stands for many things. My list is long and growing and my hopes high. 
♦  ♦  ♦
---