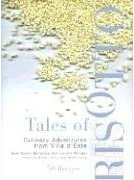 TALES OF RISOTTO
Culinary Adventures from Villa d'Este
by Jean Govoni Salvadore and Luciano Parolari
Anyone who has had the pleasure to visit Villa d'Este, which is in my opinion the most beautiful resort in Italy, and savor the divine dishes of Luciano Parolari, will want this amazing book of 50 risotto recipes, which are easy to duplicate and represent some of Parolari's finest culinary creations; he is renowned for his risotto dishes.
Salvadore, was the first woman to hold the title Public Relations Director in Rome, when she began working for Howard Hughes at TWA. For the past forty years she has represented Villa d'Este on Lake Como, and has dedicated herself to working with the five star staff to provide guests the best of everything during their time at the hotel. It has been said by many of Salvadore's colleagues, as well as renowned hotel general managers throughout Europe that 'she put Villa d'Este on the map.'
This is the second food publication that Chef Parolari and author Salvadore have collaborated on, the first was the Villa d'Este Cook Book, a gorgeous publication filled with food and hotel photos, as well as recipes. Mrs. Salvadore also authored a book in 2000: Villa d'Este Style, the historical highlights of the Grand Hotel Villa d'Este, Lac de Como, Cernobbio. For additional information visit www.villadeste.com. To order a
signed copy of the new book please call 1-800-52Books.