A WOMAN'S GUIDE TO SAVING HER OWN LIFE
The HEART Program for health and Longevity

By Mellanie True Hills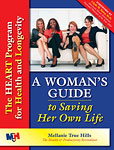 As February is "Heart Month" I hope you will enjoy a wonderful book by a woman who survived heart surgery, and has subsequently dedicated herself to educating and assisting other women, and men, in creating a healthy heart plan for living. Hills, a former star in the internet world is now CEO and founder of a nonprofit focusing on heart programs to insure longevity, and she is also very active in the American Heart Association programs.
It is only in the past decade that society and the American Medical Association have realized the importance and necessity of preventative medicine programs for women; heart attacks were considered a male related disease. The book offers a step by step plan to understand and work on the major causes of heart disease and attack the problem before it attacks you. Important factors she reviews include being overweight, not getting enough exercise, and dealing appropriately with stress. The book offers some great menu suggestions to lose trouble pounds and keep them off, suggestions for a sensible exercise plan, and recommendations regarding stress busters, as well as warning signs of trouble and questions to ask your doctor. The author really makes the reader think about their own current state of health, what improvements should or could be made, and provides a bevy of sound heart healthy solutions.
For information go to www.SaveHerLife.com.