SPA BABY SECRETS   .   .   .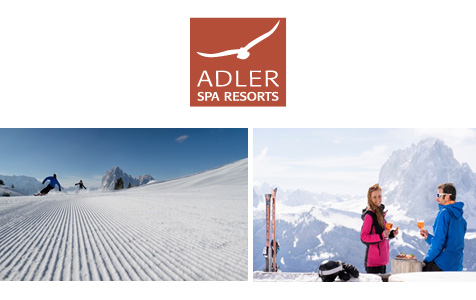 Who Needs a Chair Lift? At Adler Dolomiti, Skiers Take Flight—Literally!
New "Ski & Fly" Package Offers Guests Helicopter Shuttle to the Highest Peaks
Guests at ADLER Dolomiti, one of Italy's four ADLER Spa Resorts, have easy access to the vast, beautiful Dolomite Superski area, one of the largest in Europe. The stats alone are impressive: 12 ski resorts, 450 lifts and 760 miles of beautifully groomed trails at altitudes of more than 10,000 feet.
New for winter 2020 is Adler Dolomiti's "Sky & Fly" package, which offers skiers the chance to boldly go where the regular lifts can't take them.
Adrenaline addicts will love riding the fast, efficient helicopter shuttle to go further and deeper into fascinating areas such as Cinque Torri, Cortina and the distinctive-looking trio of peaks known as Drei Zinnen. They'll be accompanied by professional guides who will customize the itinerary to suit their guests' ability and preferences, but will always include plenty of fresh tracks and dazzling Alpine views. At the end of the day, skiers especially will appreciate the chance to soothe their sore muscles at the hotel's renowned spa, where diverse offerings include seven different steam and sauna areas and nearly 30 massages on the treatment menu. (Cost of Sky & Fly; 200-250 € per person with min. 6 participants).
Of course, guests don't need a helicopter to immerse themselves in Dolomiti Superski. Adler Dolomiti is an ideal central base for exploring, as it's just a few minutes' walk to three different lifts: the Seceda cable car (which can be reached from the ski room by escalator), the gondola to Alpe di Siusi or the Rasciesa funicular.
Adler Dolomiti's skiing packages start at €495 per person, per day.

ABOUT ADLER DOLOMITI
The 114-room hotel is in the center of Oritsei overlooking the mountains, with architecture that's beautifully integrated into the alpine setting. The original inn, which dates to 1810, still stands, along with the charmingly turreted 1905 Bittner House, and the lemon-yellow main building, designed in 1925 by the prominent Austrian architect Clemens Holzmeister. The hotel décor mixes clean lines, warm wood tones and expansive panoramic windows, and the overall look, which brings the stunning outdoors inside, is both stylish and soothing.
ADLER Dolomiti's spa is the hotel's epicenter. It's known for its sprawling Water World area, which features more than 30,000 square feet of hot and cold pools, baths, saunas and relaxation areas, all set within ADLER Park, a private, peaceful oasis. Water World highlights include the salt grotto and rock salt sauna, the Rasul bath (with mud and herbal steam), a floral-scented steam room and the women's only rose-petal bath and lounge area. There are dozens of spa treatments available, such as Ayurvedic massage, Reiki, and Alpine baths with local pine needles and hay. Respiratory therapy, which can be used as a weight loss or a stress-management technique, is one of the newer offerings. Treatments at all three hotel spas feature ADLER's own skincare products. To earn their spa time, ADLER Dolomiti visitors keep busy skiing, snowshoeing or tobogganing the world-renowned pistes or, in the warmer months, hiking or cycling (both mountain bikes and electric bikes are available). Other activities include white-water rafting, yoga, Pilates and guided full-moon walks.
For more information:  https://www.adler-resorts.com/en/
---