SPA EXPERIENCES IN EUROPE FOR SPRING
Ireland:  
Samas in the Park Hotel Kenmare
Samas, which means 'indulgence of the senses' in Gaelic, is the newest addition to Park Hotel Kenmare, one of Ireland's finest hotels. Located on the rugged and beautiful southwest coast of Ireland, Samas is adjacent to the Park Hotel Kenmare and offers an experience similar to a destination spa. www.parkkenmare.com.
---
Italy:
Villa Undulna, Tuscany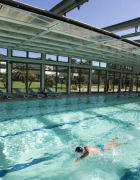 The Terme della Versilia are recognized by the Italian Ministry of Public Health with the following authorizations:
aut. min. n. 2987-16/07/97; aut. san. n. 02215-30/04/98; conc. min. n. 00022-14/01/98; aut. pubbl. n. 03562-19/06/98.
Located in an elegant and peaceful atmosphere, the Terme della Versilia offer the possibility to escape the daily noise and enjoy the pleasures of an idyllic setting, where all that matters is self-care, well being and relax.
The uniqueness of the treatments offered in the Terme lie in the combination of bromo-iodic-salty wather and therapeutic mud from the Massaciuccoli Lake. These rare and precious natural elements are used both for the prevention of arthro-rheumatic condition and vasculohepatic or dermatological complaints, as well as for relax and beauty baths, given their effectiveness against cellulite.The comfortable booths are equipped with leading-edge technology, specifically designed for each need.The competent and professional medical staff guarantee that the pursued goals will be attained, either through the fixed thermal programs. See also our thermal offers ! Visit: www.villaundula.com.
---
France:
ROYAL RIVERIA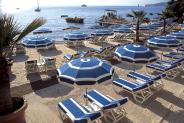 Situated in Saint-Jean-Cap-Ferrat on the Côte d'Azur in France, and within walking distance of Beaulieu-sur-Mer, the Royal Riveria is a small luxury hotel with a noble pedigree.
Whether you prefer to call it the Côte d'Azur or the French Riviera, the Royal Riviera Hotel in Saint-Jean-Cap-Ferrat is sure to leave you feeling trés chic. With an impressive edifice over a century old, the Royal Riviera was restored to its former glory in 1999. Its rooms and suites number just under a hundred, with views overlooking the sea or the extensive, lovingly tended gardens. With one of the area's only private sandy beaches, guests can enjoy the Mediterranean from the comfort of loungers, or jump right in with water sports and boats for hire. If you'd rather, enjoy the view from the poolside Pergola restaurant, the elegant Panorama restaurant, or the exotic Bar Le Cap. Meals are available as half-board or a la carte, making your choices as endless or as easy as you wish. Royal Riviera's location is the height of convenience, with Beaulieu-sur-Mer a most pleasant 30-minute walk away, and Nice, Eze, and Monaco all within a short car ride. Visit: www.royalriveria.com.
---
Switzerland:
Villa Sassa, Lake Lugano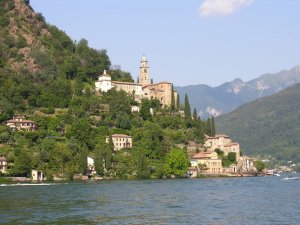 AURUM SASSA SPA has been inspired by Lugano's light, a love for nature and by the desire to create the ideal environment for those who love taking care of themselves. Let us plan together your most special memorable occasions when you must appear in perfect form, rising above stress and emotion. Your wedding, your degree ceremony, a new challenge or a new start in life. Our experts are always on hand to guide you in your choice of treatment. Visit: villasassa.com
---
---