LITTLE DIX BAY
A Little Bit of Heaven
by Bonnie Carroll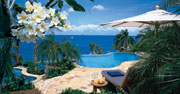 Overlooking the brilliant Caribbean Sea, the secluded spa at Little Dix Bay is an island oasis unto itself—a place designed in harmony with nature to nurture your mind body & spirit. The very location of this spa is literally a sanctuary for the inner and out self.
The spa offers the world's finest beauty and recuperative program in an unparalleled dramatic setting. Guests are welcomed to experience quality, originality, and discrete personalized services in a heavenly environment. The spectacular location of the private Cliff Spa suite is a dramatic place to experience the amazing beauty of the sea, while also enjoying both indoor and open-air wet and dry treatments. I can't think of a place that would be better to book a day of indulgence, which at this spa includes a wrap, 90 minute massage, delicious lunch, hydra essence facial and a happy ending deluxe hand and foot therapy. This is a five hour package that consists of $450.00 worth of pure bliss.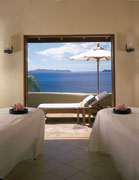 The Little Dix Spa body enhancing treatments have delicious sounding names like spice & coconut; body bliss; mango pineapple sugar scrub; Virgin Gorda goat milk & honey wrap; lemon grass spice wrap, and they also offer a gentlemen's facial. The Thai and Four Hand Massage are reported to be very popular at the resort.
Little Dix Bay is located on Virgin Gorda in the British Virgin Islands, which was named in 1493 by Columbus, who saw in the outline of the island a "fat woman" and this translates to Virgin Gorda. Lawrence Rockefeller established the resort in 1964, and the charming staff at the resort are primarily Virgin Gordians. Mr. Rockefeller thought the resort would be best served by people who lived on the island.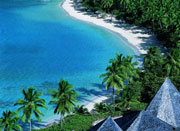 The first time I saw "Wilderness Beach" was in 1970, and it took my breath away. The natural rock formations, known as the Baths at Virgin Gorda, looked like they had been created by Louis B. Mayer for the backdrop in an MGM movie. The "Wilderness Beach" named by Lawrence Rockefeller can only be reached by private water taxis, as are eleven other local beaches. The island is located ninety miles east of Puerto Rico and twenty-six miles northeast of St. Thomas, and has remained a private escape destination since its inception.
The Pavilions dining area is great for breakfast or a' la carte diners, and serves English tea service in the afternoon, including scones. The beach House offers excellent open air dining, where grilled meats, seafood, and Anegada Lobster are specials. This is a very romantic place to enjoy a sunset dinner. The chef will also prepare picnic lunches for beach expeditions or a leisurely afternoon on the seashore.
Little Dix Bay onVirgin Gorda is managed by Rosewood Hotels & Resorts, and not only provides the perfect romantic venue for lovers, but also can provide ideal accommodations for corporate retreats or board of directors meetings. Activities include day trips to neighboring beaches, snorkeling, scuba diving, tennis clinics and private lessons, fishing and boat charters, and jeep rentals. For information call 888-ROSEWOOD or visit www.rosewoodhotels.com.