TWO BUNCH PALMS RESORT & SPA
By Debby Eshman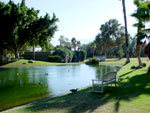 Looking for a romantic getaway, secret getaway, or just in need of some serious R&R? Two Bunch Palms Resort & Spa has what you're looking for and much more.
Located just 2 hours from Los Angeles north of I-10 in the Desert Hot Springs / Palm Springs area.
Our romantic getaway at this Resort was wonderful. Once we
passed through the security gate upon our arrival, it felt as if we left the world behind and entered into a beautiful oasis of tranquility. All guests are reminded to speak softly, and leave cell phones in their room. You hear very little sounds other that of the soothing sounds of nature surrounding you and the fresh mineral water running through the streams that replenish the pools.
Our Villa was very spacious with antique décor from the 1920's, with our own private patio and fenced back yard, a Plasma TV, and Kitchenette.
A legend tells of Al Capone staying at Two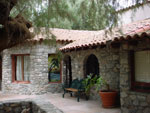 Bunch Palms as his hideaway retreat. They have an Al Capon Suite you can stay in as well. As you drive into the Resort at the Reception area you will see Al Capone's Legendary black Duesenberg, a rare getaway car designed to outrun the Feds and their flying ammunition.
We enjoyed a couples Swedish massage during our stay. We were led to the Pagoda overlooking the lakes
where we were side by side for the most relaxing massage, with a breeze coming through the windows of the Pagoda off of the lake. It was an hour of pure bliss. After our massage we stopped off at the Casino Dining Room to get an Asian Chicken Salad to go. We ate our lunch at one of the many tables overlooking the pond watching countless ducks and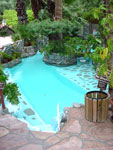 turtles enjoying the water.
We found ourselves spending a lot of time at The Grotto which has adjoining pools of sparkling mineral water. One pool is a very soothing 98 degrees while the other is a toasty 104. The pools are continuously replenished by streams from the temperature controlled holding tanks. It is a wonderful place to reflect, relax and let go of much of the stress our busy lives bring.
The Casino Dining room was very intimate and cozy with beautifu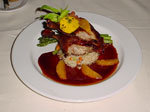 l views and a patio to dine if you so desire. The service and the food were extraordinary. We enjoyed the most delicious Pan Seared Crab Cakes for our appetizer. Our Entrees were Moisin Duckling: roasted half duckling, red currant, Orange and Port reduction on a bed of whole-grain rice and Herb-marinated Grilled Rack of Lamb with whole roast garlic and potatoes. Prepared and presented perfectly. The recipe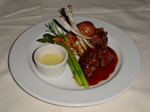 for the crabcakes can be found along with other recipes and menus at www.twobunchpalms.com.
Our stay at Two Bunch Palms was truly an amazing experience in many ways. It was enlightening as well as relaxing. I believe there is truly something for everyone there, each of us feeling refreshed or revitalized in some way. It is an experience that I will always treasure. The staff at the Resort, Dining Room, Spa all go above and beyond to ensure your stay is a pleasant one. My only regret was that our time there wasn't longer.
---
VILLA D'ESTE SPA
Innovative treatments at the beauty farm

By Bonnie Carroll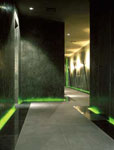 My thanks to Cardinal Tolomeo Gallio, who built Villa d'Este in 1568, for without this beginning none of us might have found the place that is referred to as 'heaven on earth' by Pulitzer Prize Winner Herb Caen. This year Villa d'Este, member of The Leading Hotels of the World, opened a new modern spa to provide additional heavenly services to their prestigious clientele. The exquisite Beauty Farm, a green marble sanctuary that offers a multitude of blissful pampering services, is located in a venue that is equally magnificent. Each room was designed to provide total privacy, comfort and relaxation during visits, and an outside patio is a perfectly private place for guest to enjoy healthy refreshments between spa menu selections. According to spa director Linda Costantino "there is a doctor on staff who oversees all of our treatments, and we only use the finest line of face and skin care products."
Set north of Milan on one of the most romantic lakes in the world, Villa d'Este was originally built as a summer residence for Cardinal Gallio, and years later became the favorite playground of an Empress, an English Queen and sundry aristocrats. In 1733 it was transformed into a luxury hotel surrounded by 25 acres of magnificent garden. Continuously renovated, including a new Spa in 2006, Villa d'Este today offers the superior standards of hospitality you expect from one of Europe's truly legendary resorts.
Recently, two private villas on the grounds were made available for visitors. The Villa Malakoff and Villa Cima are available for short term tenancies (7/15/30 days) with amenities ranging from housekeeping to full hotel service, 7 days a week. They are perfect for a family, or small corporate meeting group, and offer every comfort, while providing use of all the resort services. The interior design is lovely, and the views are outstanding. This could be a perfect opportunity for that New Year rest and diet regimen you have promised yourself. Chef Parolari at the hotel can arrange for your specific diet needs, and the fitness and spa managers, as well as Villa d'Este General Manager Danilo Zucchetti will also assist with any special requests during your stay. For additional information and a list of complete spa services visit: www.villadeste.it.
Villa d'Este
22012 Cernobbio
Lago Di Como, Italia
Telephone 39 031 348 1