TERME DELLA VERSILIA – HOTEL VILLA UNDULNA
An Earthly Paradise in Cinquale
by Bonnie Carroll
The short train ride to Forte dei Marmi, through the Italian countryside from Florence, the passing view is a vision of charming farms and buildings that represent centuries of inhabitants. The train station and town are welcoming, as was the driver from the resort who came to meet me. Our arrival at the resort and spa included a personal greeting from Laura Natali the resort director.

My hotel suite was on the second floor of the hotel, with a patio that overlookedthe beautiful resort.The Olympic size mineral pool is covered with glass and overlooked the sliding glass roof to allow the sun to shine on guest swimmers during the day. A variety of classes are held in the pool from morning to evening. My room also had an ocean view. The resort is located between the mountains and the sea, and standing on my patio I was delighted with the feeling of complete quiet this healthful destination offers.
My first stop was at the Terme Della Versilia Spa, which is completely modern and contains every amenity to provide the latest and most healing treatments to guests. The spa has a signature line of skincare products that are among the best I have ever experienced, and they can be ordered online at www.termedellaversilia.com.
Following a magnificent facial, body scrub, natural peat mineral application, and gentle massage, I was ready to dress and attend a special slide show presentation of the works of artist Giovanna Scianname, a versatile artist who works in many creative forms, including plexiglass sculptor, painting, and photography. The artist presented a slide show presentation on her health through water inspired art, which was accompanied by synchronized theme music. The book Figur Azioni Scianname, published by Sala Museale Del Baraccano, was available to guests, and is filled with photographs of her outstanding and original work. According to the artist "I wish to show the healing nature of water in its varying states." This art program, one of many planned programs presented at the hotel, was attended by invited community members and hotel guests, and I so enjoyed being the only non-Italian present.
My dinner at the hotel was served in the hotel restaurant. Meals can be included in the visit to the hotel, and the menu offers a variety of healthy selections, that are prepared in Italian style and very nutritious. The resort also offers private apartments for families, and food service is also available to them in the restaurant. A delicious breakfast is served buffet style in another area each morning. There is a charming poolside café that offers salads, sandwiches, fruit & cheese dishes, and a variety of beverages from morning until late afternoon..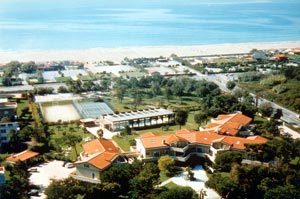 According to Laura Natali, Resort & Spa Director, "when the hotel was being built they were digging for a well and to their great surprise and delight found a natural hot spring. The pool is a natural hot spring pool, and is a source of healing and relaxation to all the guests.:" I personally spent some time in thewonderful warm waters and felt completely renewed. The peat used in many of the healing treatments is also indigenous to the area.
Behind the pool is a tennis court and small soccer field, where guests may enjoy a family competition. Primarily guests come here to relax and be tranquil, and the rolling lawn is usually filled with guest on lounge chairs, reading the paper and enjoying espresso. Quiet is the optimum mood here.
Villa Undulna was a delightful surprise visit on my 'love affair with Italy' journey, and I highly recommend this special retreat to readers who wish to experience the very best in spa treatments and service in a beautiful and relaxing environment, where warm greetings in Italian await you at every encounter. It is located a few miles from Forte dei Marmi, which is a forty minute train ride from Florience, and is a twenty minute car ride from Pisa, home of the renowned leaning tower.
Hotel Villa Undulna
Terme Della Versilia
Viale Marina angolo Via Gramsci
54030 Cinquale Montignoso (Ms) Italy
3 Miles from Forte dei Marmi
Phone +39 0585 807788 Fax _39 0585 807255
www.villaundulna.com – www.termedellaversilia.com
---

Autumn has arrived! With its warm and amber colours, with its wind of change that marks the passage from the warm to the cold season.To welcome in the coming season in the best of ways, the staff of Villa Sassa invites you to choose among its many attractive proposals.

Reto Stöckenius, Director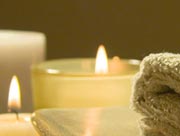 Lugano's light, its love for nature and the desire to create an ideal environment for those who love taking care of themselves, these are the things that have inspired the creation of AURUM SPA. Let's plan together all your most beautiful and important moments, moments in which you will have to look in great shape and be able to cope with stress and emotion well: getting married, graduating from university,new challenges or simply a new life. www.villasassa.ch/AURUM SASSA SPA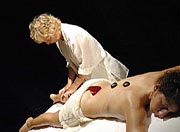 Autumn Concerts – 2.11-21.12.2006
The autumn concerts present on the billboard this year are mainly focused on symphonic music for large orchestras: www.lugano-tourism.ch
For information: info@villasassa.ch or Telephone+41 91 911 41 11
Villa Sassa | Hotel, Residence & SPA
Via Tesserete 10 - CH-6900 Lugano - Switzerland
Phone +41 91 911 41 11
Fax +41 91 922 05 45