SPA BABY SECRETS  .   .   .
Ritz Carlton Spa LA Featured Delicious and Unique 'Ice Cream' treatment for Lovers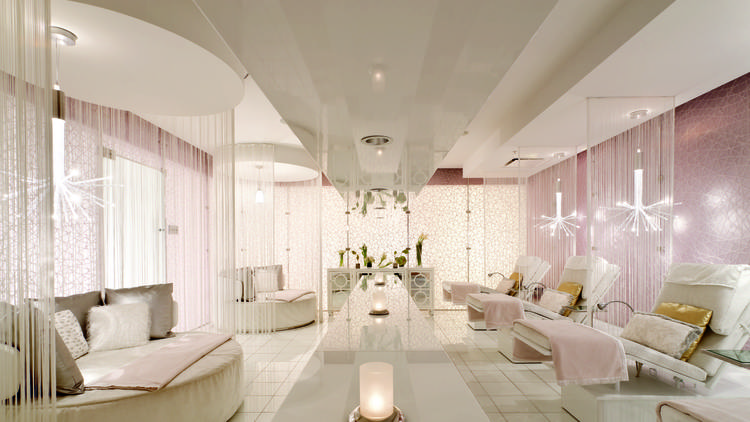 Ritz-Carlton Spa in downtown Los Angeles offered a special "For the Love of Ice Cream" treatment menu in February. Guests indulged in new facial, scrub, manicure/pedicure, and couples' massage therapies enhanced with a glass of Champagne and a single serving of ice cream or sorbet paired to each treatment.
Each treatment was inspired by classic sorbet and ice cream flavors and featured fresh ingredients to rejuvenate the mind, body, and spirit.
The 'Hands in the Cookie Jar' manicure ($55) and pedicure ($85) included a soak in a warm almond milk bath, vanilla sugar scrub - a serving of cookie dough ice cream.
Berry in Love Facial ($185) was paired with a serving of berry sorbet and included a passionfruit exfoliation and mask, hydrating serum, and moisturizer.
Guests were offered a serving of strawberry and honey ice cream with the Sugar, Honey Scrub ($260), which begins with a brown sugar and honey scrub followed by an application of strawberry lotion.
The Love Floats couples' treatment ($500) included a hot chocolate stone massage, an ice cream sundae bath, a chocolate body mask and a sprinkling of 24-karat gold shimmer. Afterward, indulge in vanilla, chocolate and strawberry ice cream with cherries, bananas, caramels, almond brittle, blueberries, strawberries, chocolates and 24-karat chocolate bark.
It was a sweet way to get through the month.  Visit: www.ritz-Carlton.org for more information.
---