SPA MAGAZINE SPOILS THE PRESS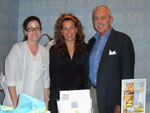 By Bonnie Carroll
The Four Seasons Hotel in Los Angeles was the ideal destination for the annual S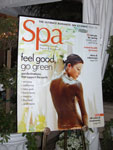 pa Magazine party, attended by travel, health and lifestyle media. Representatives from Spa's throughout the country met with guests to explain their special venues, and health products and services.
The Ojai Valley Inn was promoting, not only their renowned spa, but their new Artist and Apothecary Cottage, w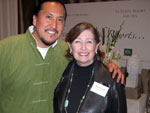 here guests can mix up their own potions or create beautiful paintings and decoupage to take home. Sheila Cluff, owner of Oaks at Ojai Spa, and her daughter Cathy were busy telling everyone about the latest editions to their healthy destinatio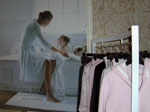 n with a history, while Billy Yamaguchi, Zen hairdresser to the health minded rich and infamous, was promoting his new book and giving beauty advise at a booth highlighting spas that house his wonderful salons; including La Costa, Hotel Del Cor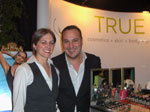 onado, and Rancho Las Palmas Resort & Spa.
From the latest new Jacuzzi tubs to Caesar's Palace body jewelry, the best in natural skin care products, leisure ware, aging treatments, and up-to-the-minute info on massage and body treatments - it was all fun, informative and inspiring. The event was followed by a cocktail reception featuring delicious healthy appetizers and beverages.
---
FAMED TUSCAN SPA OFFERS GUESTS A GLIMPSE
OF THE TRUE MEDITERRANEAN LIFESTYLE
-Terme di Saturnia Spa & Golf Resort promotes a healthy Mediterranean lifestyle with
the perfect balance between work, relaxation and enjoying the pleasures of life-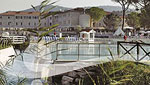 Surrounded by picturesque and natural, untamed scenery at the foot of the medieval Tuscan village of Saturnia, Terme di Saturnia Spa & Golf Resort offers guests a unique and enlightening travel experience with programs, cuisine and a daily mantra geared toward the promotion of a fulfilling and healthy Mediterranean lifestyle.
Finding the perfect blend of work and leisure, food and friends is the goal with an age-old idea of the Mediterranean way of life, promoting physical activity and taking the time to enjoy the small pleasures of life. The Mediterranean lifestyle is centered on three different elements; balance, activity and diet, and Terme di Saturnia Spa & Golf Resort has created personalized and specialized programs to help guests strike the equal balance between each of these elements, resulting in total relaxation and well-being.
A Balanced Life
A balanced life is about taking the time to relax and enjoy the simple pleasures of life and the company of those family and friends around. Set amongst the rolling hills of Tuscany, Terme di Saturnia offers the ideal retreat from the stresses of everyday life, creating a relaxing and renewing atmosphere. A true medical spa with a staff of 45 therapists and five medical doctors, the spa offers therapies for beauty, stress management and thermal and hydrotherapy treatments based on the area's unique thermal waters which date back to the Etruscan period. The resort features four thermal water pools, falls and a Jacuzzi. The main 1,500 square meter thermal pool at the center of the resort stays at a constant 98.6 degrees F and is the ultimate spot to soak away tension and pressure.

Physical Activity
Another key aspect to a healthy Mediterranean lifestyle is the engagement of physical activity on a daily basis. Promoting an immediate sense of well-being, exercise is a fundamental belief at Terme di Saturnia offering a daily fitness program in addition to personal training options. Fitness & Wellness activities range from a morning hike, stretching activities, water gymnastics, Pilates, elastic-band training and targeted body workouts including upper and lower body and abdominals. Instructors offer personal attention during group activities, and for those that seek a personalized workout, Terme di Saturnia offers personal trainers.
A Healthy Diet
Diet is the final element to the Mediterranean way of life. Terme di Saturnia's two restaurants, Ristorante all'Acquacotta and Ristorante Aqualuce, naturally incorporate a healthy menu full of fresh fruits and vegetables, grains, meat, fish and olive oil, all of which are abundant to the southern Tuscany region with its close proximity to the Mediterranean waters and the vast farms lands. For those guests seeking additional resources, Terme di Saturnia offers a special diet program where guests can follow a personalized diet during their stay with a menu and program to take home to continue the regimen following a stay.
Daily and weekly rates at the 140-room luxury Terme di Saturnia Spa & Golf Resort include the use of the resort's thermal pools, Roman Bath with Sauna and Steam bath, and Thermal water falls. The rates also include a guided morning hike, use of the gym, not including classes, and a reserved deck chair and sun umbrella in the pool's park. For avid golfers, guests can practice their stroke at the resort's driving range, and an 18-hole golf course will be opened in spring 2008 with use at an extra charge. Daily rates range from € 200 or $264* to € 385 or $509* depending on room type and occupancy. Weekly rates range from € 917 or $1,212* to € 2,394 or $3,164* depending on season, room type and occupancy.
All rates are per person with bed & breakfast accommodations.
Extra-bed in double room: 20 percent reduction
Cradle or small bed for children up to three years: € 30 or $40 per day
From December 26, 2007 to January 4, 2008, add an extra charge of € 65 or $86 per person per day (includes New Year's Eve dinner party with drinks)
Minimum stay of seven nights from December 26, 2007 to January 4, 2008

Lunch Buffet: € 37 or $49 - Gourmet Menu (dinner): € 40 or $53 - Menu à la carte (dinner): price depending on choice. www.termedisaturnia.com
---
Mandarin Oriental Hotel Group Appoints
Andrew Gibson as Group Director of Spa
Mandarin Oriental Hotel Group has announced the appointment of Andrew Gibson as Group Director of Spa.

Mr Gibson has been appointed to lead and manage the global activities of Mandarin Oriental's internationally acclaimed luxury spa division. He is a well known and respected spa professional with twenty-five years of luxury and diversified hotel and leisure services experience.
Mr Gibson was most recently a partner and Chief Executive Officer with Raison d'Etre Spas Discovery, a spa consultancy and management services company based in Thailand. From 2003 to 2006, he was Managing Director of Six Senses Spas,Thailand.
Mandarin Oriental Hotel Group has established itself at the forefront of the spa industry, leading some of the most advanced facilities and treatment programmes available to spa-goers today, including signature holistic treatments, award-winning spa design and an acclaimed signature spa line. The Group currently has 15 new spa projects under development: five in Asia; three in Europe/North Africa and seven in The Americas. The Spas at Mandarin Oriental are dedicated to promoting 'wellness' in the broadest context, and have been consistently recognized by influential global publications as among the world's finest.
A British citizen, Mr Gibson is married with two children. He holds a Bachelor Degree in Recreation Management and Environmental Conservation from the University of Manchester, UK.
Mandarin Oriental Hotel Group is the award-winning owner and operator of some of the world's most prestigious hotels and resorts, currently operating 20 luxury hotels with a further 14 under development in Riviera Maya, Mexico and Hainan Island, China (2007), Barcelona and Boston (2008), Dallas, Chicago, Las Vegas, Macau, Marrakech, Turks and Caicos and Grand Cayman (2009) and Guangzhou, Taipei and Paris (2010). In total, Mandarin Oriental now operates, or has under development, 9,500 rooms in 20 countries with 15 hotels in Asia, 12 in The Americas and seven in Europe and North Africa.
Photography of Mandarin Oriental is available to download, in high and low resolution, in the Photo Library of our Media section, at www.mandarinoriental.com.