Le Petite Retreat
day spa
by Bonnie Carroll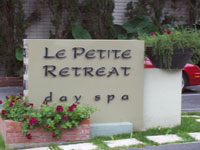 On a busy boulevard in the Larchmont district of Los Angeles, in a smartly decorated home that sits unobtrusively away from busy traffic flow, is the best kept spa experience in the city. The treatments available at Le Petite Retreat range from aqua sonic dermabrasion facials to a signature "Jade" hot and cold stone massage. Exfoliating body treatments are many and include the Dead Sea mud mask & green tea soak, as well as a Coppertino bath experience, using copper to provide relief from arthritis and headaches. Hand to toe services highlight the use of Italian strawberry anti-oxidants wax masks, followed by a massage. Waxing and bath & body treatments are also favorites enjoyed by faithful clients.
The ambiance of this special retreat is simply astonishing. Despite the busy business location of the venue, upon entering you find yourself in a Zen vibration of peace and harmony, while sitting by a burning fire and enjoying a cup of herb tea prior to your treatment. New age music dances softly from room to room, and the scent of delicious aromatherapy oils fill the senses. The décor in the waiting area, dressing rooms and treatment rooms is rich and tasteful, while comfortably simple and relaxing. Every amenity is available in the immaculate dressing/shower areas, and the dry sauna is so soothing.
The Jade hot and cold stone massage was a first for me, and although I have had Le Stone therapy massages in the past, this was quite extraordinary. The stones not only smooth out tired muscles, but actually move body energy and help release toxins. I highly recommend this signature massage and my thanks to Loren, who was extremely skilled in performing this specialty treatment. I left feeling like I had been on a week long vacation. I was completely renewed and look forward to my next visit to this charming ashram.
Le Petite Retreat also offers pedicures and manicures in their outside patio, where the sound of water and soothing musical sounds create a "secret garden" experience for patrons to have their pretty little toes made healthy and glamorous, while enjoying nature at its best. If you believe "beauty is health made visible" than you might want to try their color vibration treatment to balance natural energy and detoxify your body, or Chromatherapy on the body's acupressure points and energy meridians through the use of colored lights and vibrational frequencies to re-align your body's natural energy flow.
If you are looking for your own little slice of Nirvana, where you can become one with your own light, this is the place! Le Petite Retreat is located at 331 North Larchmont in Los Angeles, California. For appointment call 323-466-1028 or go to www.LPRdayspa.com.