BESPOKE WELLNESS SERVICES BY EXPERT CONSULTANTS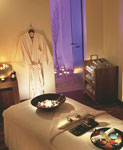 -At Mandarin Oriental Hyde Park, London-
Responding to demand, Mandarin Oriental Hyde Park, London is delighted to provide guests with services from a vetted list of leading wellness experts, offering the following:
Nutrition Advice
Medical Check-Up
Yoga
Pilates
Tai Chi-Qi Gong
Personal Training
Building on the range of holistic treatments available at The Spa at Mandarin Oriental, the Spa's concierge team will gladly build an overnight 'Wellness Retreat' from the above services, tailor-made to the needs of the individual. Equally guests are invited to request just one additional activity such as 'Personal Training' in the hotel's state of the art gymnasium, 'Tai Chi-Qi Gong' in the fresh air and abundant green space of Hyde Park or a 'Medical Check-Up' in the comfort and privacy of a luxury room. Available all year round, this arrangement is ideal for guests looking for a bespoke health and wellness experience, rather than participating in a pre-structured group programme.
Leaders in their fields, consultants lending their advice and expertise include Tai Chi-Qi Gong Third Duam Master, Tony Ulatowski, and acclaimed nutritionist Max Tomlinson. Tony Ulatowski has been practicing Tai Chi for over 20 years and is the British Tai Chi champion having been awarded a gold medal in 'Stick Form' and a silver medal in 'Straight Sword'. Max Tomlinson combines practicing in Harley Street and Fulham Road clinics with guest speaking about natural therapies for UK television and writing for a number of the UK's leading newspapers and magazines.
The influence of The Spa at Mandarin Oriental, with its sincere understanding of wellness and desire to provide an inspiration to all its guests for lifestyle change, has spread deep into the hotel's culture. Complimentary yoga mats and healthy fruit baskets are available in rooms, fresh power juices and dairy-free options are served in The Park restaurant, and around the clock access is provided to state-of-the-art cardiovascular equipment in the gymnasium.
Situated right on the very edge of Hyde Park and home to a spa regularly rated one of the best in the world, Mandarin Oriental Hyde Park, London is alone in its ability to offer a 'rural' Wellness Retreat in the comfort of luxury surroundings in the heart of London. Other activities to enjoy in Hyde Park include horse riding, swimming, tennis, roller-blading, roller-skating, rowing and cycling.
Every effort is taken to ensure guests staying for a comprehensive 'Wellness Retreat' enjoy the optimal healthy experience and that they leave relaxed and restored, armed with expert tips on how to lead a healthier lifestyle. For best results, the consultants recommend booking two 'Wellness Retreats' at each end of a fixed period so that they may set guests' goals, as well as measure and provide feedback and support on their results.
Terms and conditions:
A two hour Time Ritual at The Spa at Mandarin Oriental costs from GBP200. Prices for additional Wellness Services range from GBP100. Room rates at Mandarin Oriental Hyde Park, London start from GBP415 and suites from GBP675 excluding VAT and 5% discretionary service charge. It is recommended that enquiries are made as early as possible, please contact The Spa at Mandarin Oriental directly on +44 (0) 207 838 9888.
The Spa at Mandarin Oriental, London offers a haven of tranquillity in the heart of Knightsbridge that combines harmonious design elements with therapeutic rituals. It is a place where East and West blend in harmony, and a series of tailor-made treatments known as 'Time RitualsTM' draw on exotic therapies and philosophies from around the world. Guests can relax within the Spa's separate male and female heat and water areas which include; a Sanarium, Amethyst Crystal Steam Room, Vitality Pool, and Zen Colour Therapy Relaxation Room. Operating hours are from 7am to 10pm daily, with treatments held from 7.30am to 9.30pm. Reservations: +44 (0) 20 7838 9888.
Mandarin Oriental Hyde Park, London, a historic five-star hotel with 198 luxurious rooms and suites, boasts London's most perfect location between tranquil Hyde Park and sophisticated Knightsbridge. Breath-taking views of the park are offered from many of the sumptuous suites, as well as the hotel's award-winning restaurants; Foliage and The Park, whilst Mandarin Bar is the epicentre of the capital's nightlife with a wide range of cocktails, exotic nibbles and live jazz music until 2am. The hotel is also home to the afore-mentioned spa.
---
LAS VEGAS SPA TIPS
The Healing Power of Water
The ancient Romans revered water for its healing powers and indulged in the luxury of public baths. Surrounded by marble statues and relaxing fountains, you'll appreciate that Roman ideology as you enjoy the ultimate escape at Qua Baths & Spa at Caesars Palace. A separate circuit of Roman Baths for male and female guests features three distinct temperature experiences. The Tepidarium pool matches your body temperature at an even 98 degrees. The Caldarium Pool heats things up at 104 degrees and the Frigidarium offers a cool experience at 72 degrees. Then, watch it snow in the Arctic Ice Room, complete with ice shavings to cool and exfoliate the skin.
Submerge yourself at WET - The Spa at TI. This aquatically designed spa beautifully captures the rejuvenating and nourishing essence of water. WET's exciting line of water-based signature services includes The WET Signature Wrap, a warm seawater treatment used to restore key minerals, and The WET Aromatic Seaweed Bath, a treatment enriched with three types of seaweed vitamins and minerals.
At the Aquae Sulis Spa at JW Marriott Las Vegas Resort & Spa, you'll experience ultimate relaxation in the Ritual Room. Revitalize your body with calming hot and stimulating cold plunges followed by a soak in the warm float pool. Surrounded by garden waterfalls, you will next move through six invigorating chambers of the outdoor Hydro-circuit pool. Finally, finish the ritual with the steam and sauna, followed by a cascading waterfall shower massage...all before your scheduled spa treatment!