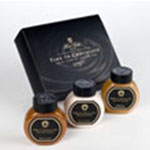 SACHER HOTEL IN VIENNA GIVES SWEET SPA SERVICES FOR THE HOLIDAYS
Sacher Spa Launches Time to Chocolate Series
Anyone who soaks in pure chocolate will end up with silky smooth skin that, hours later, is still as soft as a peach. At the Hotel Sacher, courtesy of Cocoa Scrub and Massage, the Luxury Hot Chocolate Ceremonies promise a culinary Spa experience that guarantees sweet satisfaction--all entirely calorie-free
---
NEW SPA BRINGS TRADITIONAL ANDALUCIAN TREATMENTS
TO MARBELLA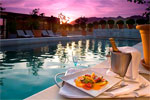 Marbella, Spain (November 28, 2007) - The spa vacation is nothing new for the luxury set. For some travelers, though, it doesn't make sense to fly half-way around the world only to hide out in a non-descript spa that could really be anywhere. Common trends in spa technology and even spa décor have made many facilities seem practically identical, whether they are found in New York City, Paris or the Caribbean.
The Sentidos en Rio Real hotel in Marbella, Spain, is bucking this trend with the opening of the intimately sized Petite Sérénité Spa. This exclusive mountainside oasis was designed and built to emphasize – rather than disguise – a sense of place and timeless indulgence, rather than bow to the "international spa" concept that has become so prevalent at so many other facilities around the world.
"We have nothing against mass-market contemporary spas," said Isidre Andreau, director of Petite Sérénité. "They are fine for a clinical treatment, hair coloring or even a therapeutic massage, but they tend to be a bit generic and certainly fall short of offering an authentic local experience. The concept at Petite Sérénité is to take advantage of our location along the Costa del Sol's most picturesque coastline and embrace the availability of local Andalucian ingredients, design elements and treatment techniques."
You won't see vials of Botox or Restylene at the Petite Sérénité. What you will find resembles the supplies in a traditional Spanish kitchen or organic garden more than what is usually found in a spa. Olive oil, mint, chamomile, local flowers, herbs, native plants and regional citrus fruits are common ingredients in treatments at the Spa. The Malaga Flower Exfoliation, for example, utilizes sea salts mixed with jasmine and geranium flowers to create a body scrub that removes dead skin cells, rejuvenates the skin and creates a long-lasting softness. In another signature treatment, the Rosemary Ritual Massage, the therapist mixes fresh essence of rosemary with massage oil to give an energizing massage that is relaxing to the body, but invigorating to the mind and spirit.
Standard treatments, such as massages, pedicures, body wraps and facials take on a new life when infused with traditional Andalucian methods and products to create entirely new and innovative therapies, many of which were designed by the Spa's own herbalist. Even the décor is local, with native hardwoods and carved stone being used in the construction.
To help introduce travelers to the tranquility of the Petite Sérénité Spa, the hotel is offering a free chamomile and mint massage to guests staying three nights or more, though the end of 2007.
Another main attraction at the Sentidos en Rio Real is the Golf Academy, supervised by Spanish golf legend Alfonso Piñero. Professional instructors coach golfers of all levels on key aspects of the game, utilizing high-tech swing-analysis equipment combined with years of personal experience.
Lessons take place on the hotel's own par-72 course that stretches across a beautiful valley, softly sloping from the mountains to the Mediterranean. True to the gracious style of Andalucia and the Sentidos en Rio Real hotel, all golf lessons include a picnic along the garden-like course.
The hotel is just two miles from the heart of Marbella, the sunny seaside town long known as a favorite hideaway for the rich and famous. It blends traditional Spanish architecture with Asian and Mediterranean influences, along with enough modern touches to give the property a stylish and luxurious feel.
Sentidos en Rio Real can be booked through leading travel agents or directly at hotel@rioreal.com or www.rioreal.com. Request the "Tiny Temptations" package to receive the complimentary mint and chamomile massage.
---
FAMED TUSCAN SPA RESORT ANNOUNCES
ADDITION OF TWO GRAND SUITES
-Terme di Saturnia Spa & Golf Resort further incorporates "habitat philosophy" mantra with new grand suites, providing guests with a spacious, calming and balanced setting-

SATURNIA (TUSCANY), ITALY –Terme di Saturnia Spa & Golf Resort, the luxury resort located in Tuscany's picturesque rolling hills, is proud to unveil two new Grand Suites, bringing the total to 140 guestrooms, as announced by Terme di Saturnia Chief Executive Officer Maurizio Cossalter.
Available beginning in January 2008, the two suites are ideally situated overlooking the resort's famed thermal pool, providing guests with sweeping views of the therapeutic waters around which the property is centered. Similar to Terme di Saturnia's guestrooms, the Grand Suites were designed to compliment the "habitat philosophy," which is the resort's constant strive for harmony throughout the surroundings. Every detail throughout the suites, from flooring and lighting to choice of fabrics, has been carefully tended to so that they allow for an atmosphere of total wellbeing to promote relaxation and serenity.
Designed by the renowned Mario Bellini Studio, who has also worked with Fiat Auto Spa and the National Gallery of Victoria, the bright Grand Suites are comprised of a bedroom, living room and two bathrooms equipped with a separate bath tub. The suites feature a contemporary design and one of the suite features a variety of warm purple tones while the other showcases elegant shades of taupe. A large open window located between the bathroom and bedroom allows for a greater sense of space throughout the room, and the exquisite quality of the furnishings and décor ensure that the suites offer a sound sense of luxury and style. In addition, each room is equipped with air conditioning, a minibar, a telephone, a flat-screen television, satellite TV and a safe deposit box.
Terme di Saturnia Spa & Golf Resort features 140 guestrooms, including 65 junior suites, three suites and two grand suites, state-of-the-art spa with 48 treatment rooms, two restaurants, the hair salon, Aldo Coppola by Terme di Saturnia, a conference center with meeting room for up to 250 people, six outdoor pools and an indoor pool, a replica of a traditional Roman bath house, fitness center, tennis court, practice green, a Cruciani shop featuring luxurious cashmere, Art Gallery, the Spa Boutique at Terme di Saturnia and a new nine-hole golf course, with the additional nine holes opening spring of 2008.

A true medical spa with a staff of 45 therapists and five medical doctors, the spa features therapies for beauty, stress management and thermal and hydrotherapy treatments based on the area's unique thermal waters which date back to the Etruscan period. The 3,000-year old thermal pool has been flowing continuously into the natural crater nestled at the center of the resort, containing precious minerals and salts which were found to have healing effects on aches and pains of the ancient Romans.
Daily and weekly rates include the use of the resort's thermal pools, Roman Bath with sauna and steam bath, and thermal water falls. The rates also include a guided morning hike, use of the gym, not including classes, and a reserved deck chair and sun umbrella in the pool's park. Golfers can enjoy the resort's golf course and driving range for an additional fee.
All rates are per person with bed & breakfast accommodation

Extra-bed in double room: 20 percent reduction
Cradle or small bed for children up to three years: € 30 or $43 per day

From December 26, 2008 to January 6, 2009, add an extra charge of € 65 or $94 per person per day (includes New Year's Eve dinner party with drinks)

Minimum stay of seven nights from December 26, 2008 to January 6, 2009

---
SpaFinder's 10 Spa Trends to Watch in 2008:
The Feng Shui'd Gym – Goodbye, mirrored walls and fluorescent lighting; hello waterfalls, fine art and, more generally, the kind of soul-stirring design and ambience for which spas have become famous. (For photos of the new gym design:
http://www.flickr.com/photos/21519266@N04/sets/72157603373191949/show/
The Star Therapist – A spa treatment is only as good as the therapist who provides it, yet for years consumers have been dazzled by a spa's emphasis on features and services. Look for that to change as increasingly savvy spa-goers come to seek out and reward talented therapists. View our gallery of 20 "star therapists" who were recently honored in our new Therapist Hall of Fame.
Wellness, Wellness, Wellness – Wellness may end up becoming the next trillion-dollar revolution, and it's becoming increasingly central to the spa experience, with fitness, nutrition, education, as well as alternative practices such as energy medicine, reiki, and Traditional Chinese Medicine (TCM), all becoming important aspects of "spa."
Luxury Detox and Bootcamps – Detox programs and weight loss bootcamps have long been associated with deprivation, suffering – even penitence. But many spas are beginning to treat them less as "punishments" and more as] celebrations. After all, if you can get the same results with high thread count sheets, spa treatments and a sense of community, why not live a little while you're trying to improve your life?
Spa Real Estate Mania – Since 2004, when SpaFinder first noted this trend, the number of residence communities with a spa/healthy living component has grown from a handful to more than 250. And the company predicts that number will surpass 300 well before the end of 2008, as health-focused baby boomers look to downsize and younger families are drawn by the prospect of healthy activities for the kids. The global real estate market downturn, ironically, may also be a factor, as developers look to differentiate their offerings and target more affluent buyers. View our spa real estate photo gallery.
Taking Sleep Seriously … Especially if you Want to Lose Weight – With recent studies highlighting the importance of sleep for everything from improved productivity at work to cardiovascular health, SpaFinder forecasts that sleep will be taken even more seriously in the year ahead. Tipping the scales (so to speak) will be new research revealing that healthy sleep is necessary for weight loss.
Look for more hotel spas to bring in sleep directors, more destination spas to offer sleep programs (including medically guided sleep analysis), and more day spas to offer "snoozing zones" and creative massage scheduling that allows therapists to say, "stay on the table for as long as you like."
Fertility Tranquility – Spas are beginning to offer treatments and diet regimes designed to boost fertility. Examples include the Program for Infertility at The Raj Ayurvedic Spa in Iowa, the Ritual de Fertilidad at the Tides Riviera Maya (where an ancient fertility ritual is simulated in their special "Maya House of Fertility" treatment room), the Lunaception Treatment at the Qua Spa at Caesar's Palace, and Fertility Reflexology and Fertility Yoga at The Spa at Little Dix Bay. Fertility-oriented acupuncture is becoming especially popular as a natural alternative for couples worried about the health effects of fertility hormones.
Hydro and Thermal Super-Experiences –The European tradition of alternating hydro/thermal experiences is catching on worldwide and being interpreted in new and often spectacular ways. Witness the new Banyan Tree Spa Bahrain, purporting to be the Middle East's largest spa (for now) and one of the world's most extensive hydrothermal gardens. There the spa adventures include a rain mist shower, samarium, monsoon shower experience ("Summer Storm" or "Arctic Winter"), grotto steam, affusion shower, ice igloo, pelotherapy chamber, bucket drench shower, sole therapy, tropical shower experience ("Caribbean Rain," "Spring Rain" or "Polar Rain"), an herbal ceramic sauna, brine cavern (steam and salt), and a huge hydrotheramal garden vitality pool with numerous aqua jet seats, bubble air beds and water geysers.
Urban Spa Explorer – Increasingly, young urbanites are taking a "rough guide" approach to spa-going, moving beyond high-end spas to explore the vibrant melting pot of (largely immigrant-run) spas – from Russian and Korean baths to Thai massage parlors – that are popping up in many American and European cities.
Although these businesses may seem off limits to some, the best of them offer authentic indigenous treatments, expert therapists, low prices and clean facilities. As they're discovered by trend-setters, they'll become more popular, larger, more beautiful, etc. – in other words, part of the "official" spa industry. In 2008 and beyond, this process will add a new dimension to the industry's growth.
Plug-in or Unplug: It's up to You – Is it more relaxing to go to a spa and stay plugged in or to unplug and get away from it all? From a spa's point of view, should clients be allowed to be on their Blackberrys during a foot reflexology session, or should they ban connection devices from their relaxation room? Both are subjective calls, so it's fitting that the trend will be toward a bespoke solution for customers – another way to customize the spa experience.
So the next time you're at a spa, don't be surprised if the customary questions like "male or female?" and "lavender or ginger?" are followed by a new option: "plugged or unplugged?
---
QuisiBella Spa
located at 3311 State in Santa Barbara.
Visit www.quisibella.com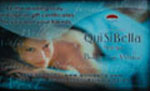 This lovely little day spa is tucked away in a Santa Barbara shopping center, and is a wonderful secret hide-a-way to treat all your beauty and spiritual needs. They offer everything from acupuncture to pedicures, and the therapists are all the best. Their product lines inlcude Yonka Skin Care and Epicurean Skin Products, as well as Elixer Teas.

The owner has been providing the best to Santa Barbara mavens for many years and the ameninities at her spa are the best. There is a sauna/steam facility, as well as unique treatments such as signature, serenity, rituals, balneo, massage, Qui Si Bella exclusives, anti-aging solutions, permanent make-up, manicures, pedicures, hair removal and get-a-way packages. Money saving memberships are available for singles or couples.