Hotel organizers of the event wanted invited guests to get to know the creators and representatives of the fine product lines carried in The Spa, as well as experience some exciting new treatments.
Holistic and aromatic healer Hope Gillerman, was on hand to share information on her H. Gillerman Organics, along with representatives from ANSR, NuFace, Clarisonic, and Aesthetics Montecito. Apparel designs on display were from Jules Allen Sweaters, Splits 59 and Letarte.
Spa director Jaana Roth presented a bevy of gifts to winners of The Spa drawing, which included beautiful items donated by the sponsors and the hotel.  Following the tour of touching, tasting and sampling guests enjoyed relaxing in The Spa lounge sharing hot tips on looking good and feeling healthy. For information on The Spa visit: www.fourseasonssb.com.     
The Spa at Four Seasons Resort The Biltmore Santa Barbara announces the launch of a new menu of signature treatments designed by H. Gillerman Organics. The four massages, intended to specifically address the most common health problems brought on by a stressful lifestyle, add a valuable new element to the oceanfront Spa's comprehensive selection of body and skin care rituals.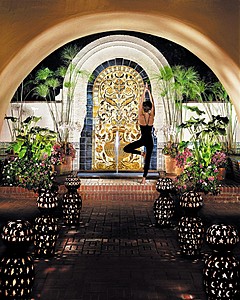 "We explored dozens of options in our search for the perfect company and product line to use for our signature massages, which we wanted to cater to our guests' most frequent concerns," says Jaana Roth, spa director. "I am so excited about our partnership with Hope Gillerman, because not only do her essential oil remedies impart real, noticeable and fast results, but the brand is perfectly geared toward guests in search of effective all-natural wellness and healing methods in a luxury setting."
At the core of the new treatments are H. Gillerman Organics' eight exclusive formulas made with the highest concentrations of the finest quality, unprocessed, undiluted, unaltered, organic / wild-crafted and therapeutic-grade essential oils from around the world. The formulas provide aromatic healing while stimulating the body's healing mechanism by acting as probiotics and eliminating toxins.
Each of The Spa's four organic aromatherapy massages is designed to ensure maximum physical and emotional benefits targeted to the client's needs:
Pure Breathing: Wards off cold and flu; enhances relaxation and deepens breathing; energises and inspires. Sinus Remedy (eucalyptus, orange, petitgrain) clears breathing passageways, decongests, and relieves swollen glands. Chest Remedy (spruce, fir, cardamom) reduces aches and pains, allergies and fatigue.
True Relaxation: Induces deep muscle relaxation and eases stress. Stress Remedy (lavender, tangerine, sandalwood) soothes the nerves, while Muscle Remedy (basil, birch, vetiver) relieves muscle pain and chronic tension and promotes healing of muscular injuries.
Natural Rest: Balances body rhythms, improves sleep and restores after travel. Travel Remedy litsea, cedarwood, palmarosa) relieves jet lag and helps the body adjust to seasonal shifts. Sleep Remedy (bitter orange, clary sage, lavender) helps with sleep quality and insomnia to provide fully restorative natural rest.
Clear Mind: Relieves pain; improves mental focus; grounding. Tension Remedy (peppermint, lavender) relieves headaches and revives mental focus and alertness. Jaw Clenching Remedy (chamomile, vetiver, patchouli) calms mental activity, allowing one to slow down and shift gears to help alleviate tense facial muscles and night grinding.
In addition to their purity, the remedies are free of chemically altered oils, imitation fragrances, petrochemicals, sulphates, parabens and preservatives (to ensure maximum therapeutic results) – the entire H. Gillerman Organics line is produced and packaged using environmentally conscious practices.
The Spa also offers the entire H. Gillerman Organics line of retail products, consisting of all eight remedies packaged in two topical formats: drop-by-drop, 100 percent essential oils applied to prescribed points on the body throughout the day; and roll-on body oil blends applied directly to areas of discomfort. Both formats can double as personal scents, and some of the products can be used as bath oils.
---
ADLER THERMAE SPA & RELAX RESORT
SPECIAL FALL–WINTER OFFERS 2011-2012
Adler Thermae Spa and Resort in Orcia Valley, the heart of Tuscany, announces its Fall and Winter 2011 spa special offers.  A selection of  compelling temptations that addresses the entire person from physical fitness to  Romance.  Original, well thought out programs include wine massages (and tastings!) demonstrating the anti aging power of regional grapes.  There are  guided walks and hikes through the exquisite Val D'Orica visiting nearby small villages enjoying the art treasures and tasting the organic produce and wines. And  the very serious, can take  three days of private fitness coaching and anti-stress sessions.   There is a program for most everyone addressing all facets of wellness both phychological and physical. 
Just Amore: A romantic dream of wellness and togetherness; 3 or 4 idyllic nights
(Sun-Thu or Thu-Sun) including 1 welcoming bottle of Prosecco, 1 Brunello Ritual with a delightful full-body treatment for two, 1 Rasul Bath for two and a relaxing bath in the Grotta Salina exclusively for you alone, from € 749 per person including half board. Valid December 12-21.
Ayurveda & Yoga: The path to physical and spiritual harmony and a source of fresh energy; 3- or 4-night stay (Thu-Sun or Sun-Thu) including 1 introduction and personal Dosha test, 1 Abhyanga Massage, 1 Ayurveda Body Pack and daily Yoga, from €759 per person including half board. Valid November 17-December 4.
Wine Experience: Vinotherapy for pleasurable moments of wellbeing with intensive anti-ageing effects; 3- or 4-night stay (Thu-Sun or Sun-Thu) including 1 Brunello Body Scrub, 1 Grape Massage, 1 Facial Grape Treatment and 1 wine-tasting session in our cellar, from € 818 per person including half board. Valid December 11– 22.
EnerFIT: For a general feeling of fitness and harmony! Replenish your energy store and spoil yourself with a 3- or 4-night stay (Thu-Sun or Sun-Thu) including 1 Energy Balance Treatment, 1 Aqua Tonic and 1 Private Coaching Session, from € 768 per person including ADLER's half luxury board.  Valid from November 17-December 8.
AQUA Relax: Enjoy the feel-good effect of the thermal waters cocooned in clouds of vapour. Relaxing 3- or 4-night stay (Sun-Thu oder Thu-Sun) including 1 Fango Pack, 1 Zen water massage,1 relaxing herbal or essence bath, from €764 per person including half board.Valid December 11– 21.
MENERGY: Only a healthy body is capable of mental and physical peak performance. Recharge your batteries with a 3- or 4-night stay (Sun-Thu or Thu-Sun) including 1 Relaxation Massage, 1 Anti-stress Massage under the Vichy shower, and 1 Facial Treatment with melatonin, from € 828 per person including half board. Valid from November 6 - December  11.
Adler Thermae is located 15 minutes from Pienza, Montalcino and Montepulciano.  It was created by the Sanoner family who opened their first resort in the Dolomites in the1800s and is recognized as a pioneer in the wellness industry.  Adler Thermae is the result of a careful merging of the traditional thermal spa and the modern fitness resort.  Its concept is based on enjoying good health, good food and service and exploring treatments, and fitness in a natural and remarkably beautiful environment. 
For centuries, the Etruscans, the Romans and the Italian nobility have traveled to this region in Italy to take the waters, enjoy the delicious wines and food products and breathe in the soft clean air of the splendid countryside.  Adler Thermae now invites guests to do as the Romans do and discover all the unique revitalizing Tuscan treasures.

For more information visit www.adler-thermae.com

---