THE CHOPRA CENTER FOR WELL BEING
Bringing New Meaning to Namaste
by Bonnie Carroll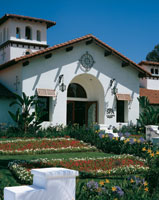 The Chopra Center for Well Being is the culmination of a long-time dream for its founders Drs. Deepak Chopra and David Simon. The two renowned physicians have succeeded in creating the perfect environment in which to put into practice their vision of a more holistic style of medicine - a way to help people not only achieve better physical health, but better emotional and spiritual health as well. After a decade, The Chopra Center at La Costa Resort & Spa is internationally known for pioneering the integration of the best in Western medicine with ancient Eastern natural healing traditions.
"If you were to ask me what was the most important experience of my life, I would say it was learning to meditate, "Dr. Chopra said. "For me that is the most important thing a person can do to restore harmony and evolve to a higher state of consciousness."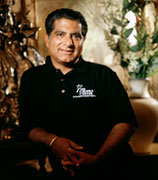 Yoga and meditation are central in the Chopra Center's teachings, yoga classes are held each morning, and group meditation takes place twice daily. Guests at La Costa Resort & Spa are invited to attend the free, weekly introductory yoga and meditation classes. Drs. Chopra and Simon teach popular multi-day seminars such as "Seduction of Spirit," "SynchroDestiny" and "Renewal Weekends" at the flagship center. Their many programs are also available at affiliate locations at the Doral Golf Resort and Spa in Miami, Spa Moksha at the Center for Mind-Body Medicine in Birmingham, Ala., and at The Chopra Center of Memorial health in Savannah, Georgia. Executive and corporate programs are also offered on a regular basis.
"For a long time I have been committed to demonstrating to the healthcare community and to consumers that there are expanded options available to enhance our medical model, "Dr. Simon said. "With a focus on inspiration, education and patient empowerment, we can enliven the physical, emotional and spiritual health of individuals as well as entire communities."
Wellness programs are ongoing, and include seminars devoted to "Perfect health," "Soul of Healing" and "Perfect Weight." Participants can add the healing support of Ayurvedic treatments and massages to any of these programs through the center's in-house day spa. The relaxing spa has an ambiance of peace and harmony, and the staff are eager to answer questions. The center also houses a gift shop filled with informative and inspirational books, CDs, tapes, a variety of meditation tools, as well as supplements and teas.
During my recent visit to La Costa Resort and Spa I was invited to visit the Chopra Center, to attend a yoga class, and experience one of their renowned Ayurvedic treatments. I was charmed by the welcoming environment at the Center, and awed by the skill of the therapist who gave me my Gandharva and Marma treatments. This is so much more than a massage with warm oil, and does include meditation and the willingness to be open to receive all the benefits of what is being given. The quartz bowl, described as a quarts singing bowl, acts as a musical instrument that generates vibrational harmonies that take the recipient into a deep meditation. I felt such peace following my treatment, and I had the best night's sleep I can remember in a very long time.
I have had many treatments, at a milieu of trendy hotels that claimed to offer Ayurvedic massages, however, I can now tell you, based on my experience, that the Chopra Center therapy is the authentic Ayurvedic experience. I have enjoyed some nice "wanna be" massages by the same name at other venues, but after my morning at the Chopra Center, I am convinced that without the obvious dedicated training and solid spiritual intention of therapists at the center, this treatment is relegated to becoming a trendy gimmick that sells massage services in local spas. Now that I have experienced the difference for myself, I cannot settle for anything less than the best. Namaste to JC and the staff at the center for all the information they shared with me and for their genuine kindness.
Below are the descriptions of the treatments I was so grateful to enjoy, and on your next visit to La Costa Spa and Resort don't miss the opportunity to stop by the Chopra Center and make your appointment for an unforgettable therapy that could take you on a pleasant journey of improved health. Participating in one of their free yoga or meditation classes is also very uplifting.
Gandharva Therapy (gaan-darva)
65 minutes $185
Everything in the universe resonates at an optimal frequency. The chakras, bones, organs,etc. in the body all resonate at a different frequency. The body is in a healthy state when each cell resonates in harmony with the whole being. When there is a blockage, the frequency of the body part in question is altered. This vibrational disharmony in the body allows illness to set in. Sound and hands-on energy work can help break up, release and even dissolve the blockages that originate in our etheric body. Gandharva Therapy also affects the brain wave activity, allowing the recipient to experience alpha states as in meditation.
This is a meditative experience in massage. Utilizing the principles of sound therapy and the movement of subtle energy, a crystal singing bowl, full body massage, marma therapy and energy work are used to promote rebalancing and rejuvenation of mind, body and spirit.
Marma Therapy
35 minutes $95
Using pure essential oils, the Marma Point Therapy promotes subtle energy cleansing and rebalancing which restores the memory of wholeness. It is a combination of energy balancing and a light touch over the marma points which is very subtle, yet profoundly relaxing. Marma points are the gateways in the body where the body and mind communicate. By stimulating the marmas, blocks due to stress and improper diet can be dissolved, making the mind body connection even more intimate.
The Chopra Center for Well Being is located at the La Costa Resort and Spa, along the coastal foothills of Carlsbad, 30 minutes north of San Diego. For information call 1-888-424-6772 or visit www.chopra.com.