NEW SPA AT MANDARIN ORIENTAL, MANILA
Hong Kong, April 10, 2007 -- Mandarin Oriental, Manila introduces The Spa at Mandarin Oriental, Manila, offering guests and spa-goers a holistic approach to enhance their well-being.

The Thai-themed luxury Mandarin Oriental spa, is located on the hotel's topmost floors, and like all Spas at Mandarin Oriental, offers a sensory experience that touches the mind, body and spirit, merging ancient and contemporary techniques and philosophies from around the world.
Most experiences start with a relaxing foot ritual, while an individual analysis of each guest's lifestyle allows for individually tailored treatments. The collection of exclusive rituals include specialized facials, body massages, treatments, wraps and scrubs, and spa packages ranging from one-hour and 40 minutes to three-hours and 20 minutes. A signature treatment that is common to every Mandarin Oriental Spa is the Time Ritual, a personalized journey booked as a block of time, and consisting of treatments suited to each individual's preference.

The Spa uses Ytsara, a luxurious line of organic Asian spa products incorporating natural ingredients of herbs, roots and flowers, blended in its own line of signature essential oils, designed to relax, revitalize and de-stress.
"We are delighted to be able to offer holistic spa services and treatments given by a team of highly trained therapists, that go beyond simply delivering massages to tired bodies," said Helmut Gaisberger, General Manager of Mandarin Oriental, Manila. "This new spa gives us the opportunity to further enhance our wellness facilities, complementing our Yoga Studio and the Health Club," he added. "For the ultimate in relaxation, we will also add relaxing heat experiences to the spa by mid-year."
The exemplary standards and attention to detail found at The Spa at Mandarin Oriental, Manila are also reflected in its opulent, Thai-inspired interior design. The warmth and serenity of teak wood, is combined with contemporary wall treatments and organic textures. Thai furniture and silk upholstery blend harmoniously with Asian artifacts, which complete the Oriental theme. The reception area on the 18th floor is a welcoming oasis that is softly lit, gently scented, with soft music that sets the relaxed ambience of this blissful sanctuary. A short flight of stairs opens on to a serene Oriental-style relaxation area and a mini Oriental garden on the upper floor, surrounded by four self-contained treatment rooms.
The Spa at Mandarin Oriental, Manila is open from 9 am to 1 am daily. For enquiries and reservations, call the Spa Concierge at +632 750 8888 extension 1901 / 1902 or direct line +632 750 0968, or via email at momnl-spa@mohg.com.
Mandarin Oriental Hotel Group is the award-winning owner and operator of some of the world's most prestigious hotels and resorts, currently operating 20 luxury hotels with a further 14 under development in Riviera Maya, Mexico and Hainan Island, China (2007), Barcelona and Boston (2008), Dallas, Chicago, Las Vegas, Macau, Marrakech, Turks and Caicos and Grand Cayman (2009) and Guangzhou, Taipei and Paris (2010). In total, Mandarin Oriental now operates, or has under development, 9,500 rooms in 20 countries with 15 hotels in Asia, 12 in The Americas and seven in Europe and North Africa.
---
HOTEL EXEDRA SPHERA SPA
Experience Sensory Space with a Wellness Philosophy at Hotel Exedra
by Bonnie Carroll
Exedra Sphera Spa is a beautiful and restful space in the five-star luxury Exedra Hotel on Piazza Della Republica, located in the heart of Rome, and is discretely tucked away on the forth floor of the hotel, with only an elegantly dec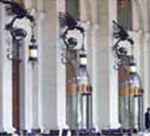 orative door to announce the entry to a magical peaceful oasis within the busy Rome hotel property. This is a luxurious way to deal with travel stress and recover from jet lag while visiting the various regions of Italy.
Massage, skin, body treatments, and unique facials are among the choices offered here. I reveled in the individually designed treatment recommended for me following a week-long tour through the Abruzzo region of Italy. This treatment is given in a private suite of rooms, and begins with a steam in a beautiful room that has twinkling lights on the ceiling that provide color therapy as you steam. Then you go into a warm Jacuzzi, this can be done by couples side-by-side, and you enjoy more color therapy as you relax tired muscles for fift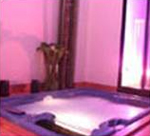 een minutes. Finally, you get on the table and surrender yourself to the competent and skilled therapist who completely takes away your stress with a forty-five minute massage. I found this so relaxing that I actually fell asleep on the table - it was beyond divine! Every treatment is followed with a cold bottle of water to replenish the body and assist in restoring moisture and eliminating toxins.
Many combinations of therapy body treatments and beauty skin care treatments can be enjoyed here, with special attention to individual requests. The spa itself is very quiet and delicious aromatherapy scents drift through the air. The delightful and talented staff are not only charming and cordial, but also extremely skilled in massage and care of the body. My therapist was one of the best I have experienced in Italy.
There is also a Hair Design Studio Voluttoso in the hotel to provide any hair or nail care needs for busy travelers. They offer haircuts, a variety of color treatments, elaborate hairstyling, make up and naturally provide specific beauty care for wedding parties.
Hotel Exedra is a member of the Boscoli Hotel Group, who provide luxury hotel accommodations throughout the world. For information visit: www.spa-experience.eu or www.boscolohotels.com.
Hotel Exedra
Piazza Della Republica 47
Rome 00185 Italy
+39 06 489 38465
---
TOTALLY TUSCAN
ADLER THERMAE's Four Night Spa Package

Adler Thermae in Orcia Valley, the heart of Tuscany, announces its "Totally Tuscan" package. Taking advantage of the rich indigenous products of the region, Adler Thermae has designed a four night stay that cannot be experienced any other place in the world. For centuries, the Etruscans and Romans have traveled to this region in Italy to take the waters, enjoy the delicious wines and food products and breathe in the soft clean air of the beautiful countryside. Adler Thermae now invites you to do the same and discover all the unique revitalizing Tuscan treasures.
Orcia Valley's olive trees producing unique oils, seed oils from the celebrated region's grapes and local sheep's milk and honey have become the basic ingredients in a precious line of Tuscan treatments found only at the Adler Thermae. The following "Totally Tuscan" package includes these treatments and adventures into the countryside:
4 nights accommodation in Superior double room with terrace or balcony and panoramic view (arrival on Sunday)
daily Breakfast with freshly prepared breakfast specialities, home made bread and "Vitality juices"
delicious Gourmet Dinners with Tuscan specialities
daily mid-afternoon snack buffet with fresh fruit salad and home made cakes and tarts
unlimited access to thermal pools and sport pool
unlimited access to Finnish sauna, Turkish bath, herbal steam sauna, saline steam sauna
unlimited access sport classes (yoga, acqua gym, pilates, zen stretch, body tonic, etc.)
free use of our mountain bikes
1 body exfoliation with Olive pits that purifies the skin
1 nourishing bath with Tuscan extra virgin olive oil
1 revitalizing massage with Tuscan Olive Cream
1 red grape body wrap making skin firm and soft as a baby's
1 Sangiovese (local wine) red grape facial treatment giving a lifting effect
1 set of "Tuscan Spa" products (including 1 Red Grape Hydrating Day facial cream, one Red Grape rejuvenating facial night cream, one Red grape hydrating body milk.
Adler Thermae is located 15 minutes from Pienza and Montelpuciano. It was created by the Sanoner family who opened their first resort in the Dolomites in the1800s and is recognized as a pioneer in the wellness industry. Adler Thermae is the result of a careful merging of the traditional thermal spa and the modern fitness resort. Its concept is based on enjoying good health, good food and service and exploring treatments, and fitness in a natural and remarkably beautiful environment.
"Totally Tuscan" package is 1017 Euros per person in high season, April 1 to November 4, 2007, and 940 Euros per person in low season, November 4 to December 20, 2007 (the package is not available during bank holidays, Easter, New Year)
For more information visit www.adler-thermae.com