ST. JAMES TRANQUILITY SPA--The Ultimate Burn Solution in Antigua
LILY WATER TREATMENT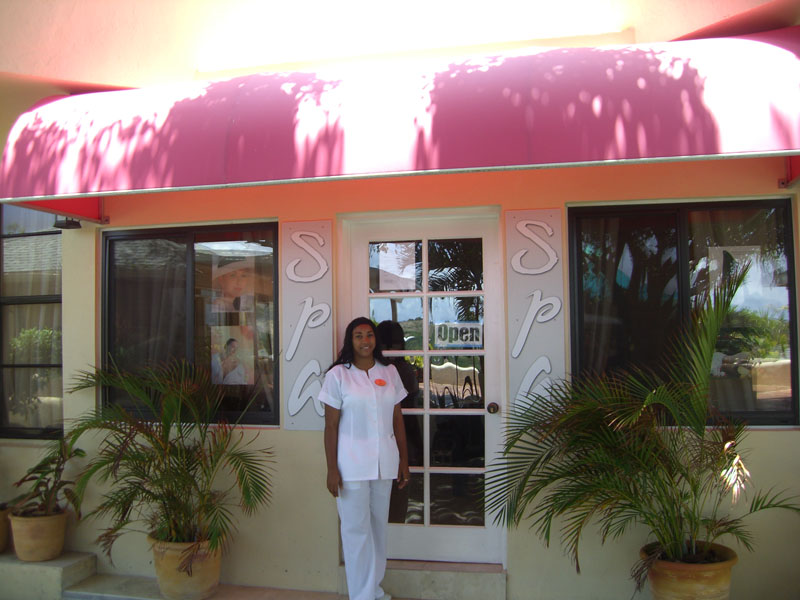 Tucked away on a seculuded 100-acre peninsula on the southeastern coast of Antigua is the St. James Resort & Villas, with a longstanding reputation for outstanding service. Guests from around the world enjoy a wide array of resort ammenities, including a delightful spa with a full menu of services, including the Lily Water.
This treatment was designed to aid people who forgot to protect their skin during water activities or relaxing on the beach. It includes being covered with aloe gel, placed on a table filled with ice, wrapped in plastic, and then covered with more for twenty minutes, while you listen to ocean music. The treatment has been testified to by guests who had bad sunburns as a way to relieve the burn pain and make the skin soft. Following this treatment guests take a shower to remove the gel, and are then sprayed all over with lily water.
The Tranquility Body & Soul Spa offers a full menu of treatments including wraps, massages, facials and more. For information please visit: www.stjamesclub.com.
---
                               Contact: Elizabeth@OaksSpa.com
The Oaks at Ojai, 122 East Ojai Avenue, Ojai, CA 93023, 805.646.5573 x 150
---
First Tcherassi Hotel + Spa Set To Open in Cartagena, Colombia Fall 2009
Renowned Fashion Designer Silvia Tcherassi Turns Her Vision From Haute Couture To Hotels 
Early this Fall, Silvia Tcherassi will become the first Latin fashion designer to turn her attention from dressing women to dressing rooms with the opening of her namesake hotel, The Tcherassi Hotel + Spa, in Cartagena de Indias along Colombia's Caribbean coast.  After a meticulous two year restoration and renovation, a 250 year old colonial mansion will come to life in the heart of Cartagena's old city reflecting the spirit and elegance of a bygone era, while providing all of the contemporary comforts and luxurious amenities discerning travelers expect today. For Tcherassi, bringing glamour to hospitality is a natural extension of her brand.
As she explains, "Fashion and hospitality are both businesses totally committed to the creation of new experiences and new sensations; trying to awaken the inner senses of each person, whether through a new style of clothes or a perfect stay in a beautiful environment.  The process is almost identical. It is the search of a balance between form and function."
For the operational part of the project, Tcherassi has teamed up with Miami-based Club Federation, LLC to develop and manage the property, bringing the hospitality industry expertise to match her creative and fashionable vision.  The luxurious, home-like hotel will offer seven oversized guestrooms and suites (all named after elegant fabrics used in Tcherassi's collections) featuring dramatic high ceilings, private balconies, rich wood floors and open bathrooms.  Original, restored walls sparkle with a hint of gold dusting adding a rich texture to the rooms that are filled with natural light as a result of the open and airy layout. In keeping with the residential feel (as well as being eco-friendly), custom-made amenities with Silvia's fragrance will be offered in large glass containers in lieu of the traditional travel size options.  His and her private label Tcherassi bathrobes will also be available to guests making them true "designer robes."
Comfort translates outside of the bedrooms as the hotel will feature a full service spa including state-of-the-art treatment rooms and a pool for water-based therapies. For those who wish to indulge themselves by pleasuring their palates instead of their bodies, the hotel will house "VERA," a 40-seat indoor/outdoor restaurant and lounge serving authentic Italian cuisine. Diners sitting in the air-conditioned patio will overlook one of the hotel's four pools, as well as a stunning vertical garden consisting of more than 2000 lush local plants.  
For the hotel, Tcherassi has not only called upon an education in interior design, but utilizes her fashion expertise wherever possible. Do not disturb signs will be made from elegant fabrics, specially made fabric flowers will be gifted to guests and artistic pendant lamps designed particularly for each room using special fabrics are all sure to become collector's items.  Taking another cue from her fashion experience, hallways and interiors will be enhanced by strategic lighting and music geared to enhancing the guest experience as if they are stars on the catwalk. 
Opening rates for the hotel begin at $275 per night. Reservations can be made as of September 15, 2009 by calling (888) 575-2799 or visiting www.tcherassihotels.com. The Tcherassi Hotel + Spa is a member of Luxe Hotels and is located at Calle del Sargento Mayor 6-21, Cartagena de Indias, Colombia.
---
SPAS IN SPAIN APPEAL TO EVERY TASTE
Zen-like Clinic, Island Resort or Art Nouveau Thermal Spa

Spas have been around in Spain some 2,000 years, since Roman times.  Today, there's a new generation of spa resorts and wellness clinics to appeal to every taste.  Not to be outdone, turn-of-the-century balnearios are sprucing themselves up and adding state-of-the-art facilities.  In its 17 regions, the country offers a tremendous variety of spa experiences.  With 8,000 miles of coast – Spain borders the Mediterranean to the east and the Atlantic Ocean to the north and west – spas in the coastal areas take full advantage of the healing powers of sea water in their therapies.  And with some 2,000 registered thermal springs in the mountains, spa goers can opt for treatments with those mineral-rich waters. Here are just three of the hundreds of spa choices for American visitors to Spain.
Alicante, Valencia – SHA Wellness Clinic
      Spain's first macrobiotic spa is drawing travelers serious about their health.  Opened last November, the SHA Wellness Clinic is nestled in the hills above the beach town of Altea near Alicante in the region of Valencia.  Architect Carlos Gilardi and interior designer Elvira Blanco Montenegro have used marble, natural stone, glass and steel to achieve a clean minimalist look.  Water is both a design element and an integral part of the clinic's therapy with waterfalls cascading into pools throughout the property.  
      Five structures – linked by bridges – house 93 suites ranging in size from 860 square feet to over 3,400 square feet.  All have terraces; some are equipped with hydro-spas; and the Presidential Suite has its own swimming pool and solarium.  Set amidst tropical gardens, the white-washed complex has several large swimming pools, relaxation areas, yoga rooms, a gym, paddle tennis courts – and a putting green.
      The 14,000-square-foot spa is divided into a thalasso-thermal zone and a treatment zone.  The former has therapeutic pools, physio-hydromassage beds, a toning pool, sauna, tepidarium, caldarium and relaxation areas.  A tea house is set amidst a Zen garden. The treatment zone has 16 rooms offering an extensive menu of natural therapies, massages and beauty treatments.  The new restaurant which debuted in May offers macrobiotic cuisine and Mediterranean and Japanese dishes.
      SHA aims to significantly improve and prolong the wellbeing of its guests through the fusion of ancient Asian disciplines and modern Western techniques.  Focusing on three concepts: the SHA method, anti-aging and aesthetics medicine, the clinic has a team of doctors, aestheticians and consultants on natural therapies available to guests. Treatments under the "SHA method" area include Acupuncture, shiatsu, yoga, chi-kung, tai-chi, watsu, laughter therapy, reflexology and reiki.  Under the "anti-aging" area, the clinic offers exclusive and completely natural procedures that manage to control cellular changes by decreasing free radicals and stopping cellular oxidation over time. Under the "aesthetic medicine" area, the treatments use cutting-edge technology like ultrasound, laser and LED devices to stimulate the curative response.  All procedures are non-aggressive and non-invasive and include biological therapies such a biostimulation to help increase platelet growth and mesotherapy for the prevention and treatment of the skin's aging.
      Close by the clinic are four championship golf courses, including one designed by Jack Nicklaus.  Five marinas dot the nearby coastline and the Natural Park of Sierra Helada, one of Europe's large bird sanctuaries, borders the property.
      A seven-day "Anti-stress Program" costs about $1,654 (1,170 euros) and includes medical consultations, a customized diet, daily fitness and entertainment activities, a relaxing massage and body wrap, and stress reduction session. Prices for the suites start at about $353 (250 euros) per day, double occupancy.  For more information about the SHA Wellness Clinic, located at Verderol, 5, Playa de Albir, Alicante, call: 011-34-96-681-1199, email: info@shawellnessclinic.com or go to www.shawellnessclinic.com.
Galicia – Gran Hotel La Toja
      Located in the northwestern corner of Spain bordering the Atlantic, Galicia is known for its lush mountains and misty forests as well as its dramatic seascapes.  Along much of the region's coast are "rías," broad inlets formed by the sea flowing inland.  Renowned as one of Spain's best spa hotels, the 5-star Gran Hotel La Toja sits on La Toja Island lying off the coast of the region's Rías Baixas area.  Surrounded by pine trees and connected by a bridge to the mainland, the 197-room spa resort is set in beautiful gardens with towering palms.  The original section of this 1907 dowager retains its art nouveau style with a fabulous intricately-designed staircase and exquisite stain glass windows.  A more modern section houses the up-to-date spa.  And to celebrate its 100th anniversary in 2007, the resort was completely refurbished. 
      This area of Galicia is justly famed for the quality of its hot springs – boasting some of the best, medicinal waters of its kind.  All spa treatments make full use of the waters and the mineral-rich mud from the surrounding rías.  Facilities include a seawater Jacuzzi, scented baths, Turkish baths and mineral-medicinal cold water sprays.  The spa's hyper thermal pools containing sodium and bromine are used to treat rheumatic, respiratory and E.N.T infections, skin illnesses, varicose veins and cardiovascular problems.
      Besides its three restaurants, the resort features the nine-hole Golf Club Isla de la Toja, an Olympic-size swimming pool, three tennis courts, two paddle tennis courts, a fitness center and a beauty salon.
      Rooms are equipped with terraces, Wi-fi and satellite TV and start at $430 (or 304 euros) per day, double occupancy including access to the Thermal Club. For more information about Gran Hotel la Toja, located on Isla de la Toja, O Grove, Pontevedra, call: 011-34-986-730-025, email: hotel@granhotellatoja.com or go to www.granhotellatoja.com.
Tenerife, Canary Islands – Abama Resort Golf & Spa
      Visitors to Tenerife, the largest of the Canary Islands have another spa experience in store. Tucked away in Guía de Isora, a tranquil and undiscovered area of the island, the Abama Golf & Spa Resort, operated by The Ritz Carlton Hotel Company, L.L.C.,  is a 400-acre finca surrounded by volcanic landscapes, lush vegetation with some 300 varieties of plants, trees and palm trees and breathtaking views of the Atlantic.  Lying on the slopes of the majestic dormant volcano of Mount Teide, Spain's highest peak at 12,195 feet, the Abama Golf & Spa Resort resembles a castle made from terra cotta.     
      The 478-room resort has a private beach, seven swimming pools, a golf course designed by Dave Thomas, the Sánchez-Casal Tennis Academy and 10 dining options – ranging from Japanese to Argentinean – all directed by 3-star Michelin chef Martín Berasategui.  The Basque chef's signature restaurant, M.B., offers Mediterranean dishes with an emphasis on the bounty of the sea.  Japanese cuisine is on the menu at Kabuki, overseen by Ricardo Sanz, whose restaurant in Madrid has been cited as one of the best Japanese restaurants in Europe.
      Tenerife draws golf and tennis aficionados and sun worshippers – since it enjoys more sun than any other part of Spain – which is saying a lot.  The Out of Africa-inspired spa boasts a thermal circuit with a sauna, tepidarium, and hamam, Jacuzzi, indoor pools, a hydrotherapy pool and a spa garden. A range of therapies are featured including thalgo and ytsara treatments, dry wraps, aromatherapy, reflexology and Swedish and Ayurvedic massages.  The Fitness Center has all the latest state-of-the-art equipment.
      The "A La Carte" Wellness Plan includes accommodations for seven nights in a deluxe room with breakfast at La Veranda, a personalized diagnosis with a nutritionist, a fitness evaluation and treatment consultation, daily access to fitness classes, the thermal water circuit, and the gym and one signature ritual for $2,141 (or 1,515 euros) per person, double occupancy. For more information on Abama Golf Resort & Spa, located at Carretera General, TF-47, km 9, Guía de Isora, Tenerife, call: 011-34-922-126-000, email: rc.tfsrz.reservation@ritzcarlton.com or go to www.abamahotelresort.com.
     For information about Spain, go to www.spain.info
---