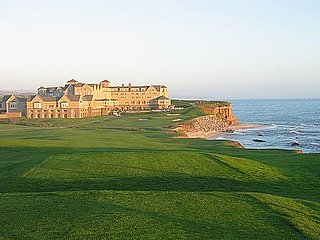 RITZ-CARLTON SPA HALF MOON BAY by Bonnie Carroll
This is a 'back to serenity' full service spa is one no one should miss. With roomy accomodations, and every pampering ammenity desired, this beautiful and restful oasis is a favorite hide-away for the tired traveler or good health devotee.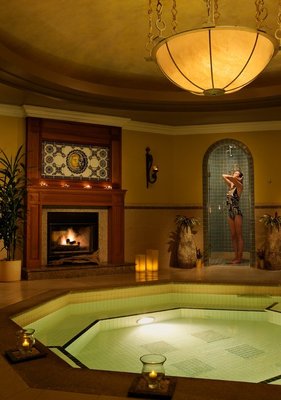 The service menu provides a large selection of fine treatments, massages, and beauty services. Products used are the finest, and some come from Kaplan, M.D. (see Health Minded section). A beautiful large jacuzzi room provides chairs to rest and enjoy new age music, while savoring fine teas.
The attached spa shop carries the products used, as well as some unique apparel, make-up, and skin care specialties enjoyed at the hotel.
Plunge showers make jacuzzi or sauna totally enjoyable, and the dressing area is private and accomodating. For specific spa information visit:www.ritzcarlton.com.
---
 Four Seasons Resort Maui at Wailea Kicks Off Spa Wellness Series
with Jacob Liberman, Vision Therapy Pioneer


Sixteen Four-Day Weekends From September 2 through December 19, 2010
Feature Different Wellness Experts Each Week
Have you noticed that most people in the United States are wearing prescription glasses by the time they are in their 20s?   It is estimated that 67 percent of adults wear glasses and another 16 percent wear contact lenses. In its continued commitment to provide innovative offerings, The Spa at Four Seasons Resort Maui has invited Dr. Jacob Liberman, O.D., PhD., a pioneer in the field of phototherapy, to kick off the first of 16 weekends of the new Fall Wellness Series.  
The first weekend is set for September 2-5, 2010. Liberman believes a great deal can be done – starting with young children, and with teens and adults alike – to restore and enhance vision naturally. He will talk about the role the eyes play in learning and he will discuss and demonstrate exercises which can help improve eyesight and make vision more resilient. He also will offer intensive one-on-one optional private sessions to The Spa's Wellness Series participants.      
The special four-day wellness weekends, which continue through December 19, will be led by a different expert each week. The featured guests are among today's top lifestyle practitioners who are mapping out new ways to influence lifelong health in such fields as holistic medicine, sound and vibrational healing, Reiki, Rolfing, naturopathy, energy healing, meditation, and fitness and high-performance exercise. Weekend series events are open and free to hotel guests; $25 for non-hotel guests.        
"We created the Fall Wellness Series because our guests are eager to explore alternative therapies to make impactful lifestyle choices," says Pat Makozak, director of The Spa and senior spa director for the Americas, Four Seasons Resorts. She adds that the weekends will be of interest to both health-conscious guests from around the world as well as to local Hawaii residents. This program is only available at Four Seasons Resort Maui at Wailea.       
Liberman, who lectures worldwide, is based on Maui, Hawaii. He is the author of three books, Take Off Your Glasses and See; Light: Medicine of the Future; and Wisdom from an Empty Mind. Liberman is a fellow Emeritus of The American Academy of Optometry, The College of Optometrists in Vision Development, The College of Syntonic Optometry and The International Academy of Color Sciences. He is the recipient of the H.R. Spitler Award for his work in phototherapy.  
Among the upcoming series practitioners and topics in September: Dr. Malik Cotter on "A Wellness Sampling including Tai Chi, Qigong and Living Well," September 9-12; Dr. Arthur W. Harvey on "Sound and Vibrational Healing," September 16-19;" and Eve Eschner Hogan on "Labyrinth and Discussion," September 23-26.  
Four Seasons Resort Maui fall room rates start at $445 per night, plus tax, for mountainside accommodations through December 16, 2010. Several other special packages, including a fifth night free stay, offer extraordinary value.  For reservations, call 808-874-8000 or visit www.fourseasons.com/maui. For additional information on The Fall Wellness Series, please call 808-874-2925.
The Spa at Four Seasons Resort Maui is world renowned for its commitment to innovation, the continuous introduction of new results-oriented wellness services and products, and for its high caliber therapists.  This award-winning spa features three outdoor authentic Hawaiian treatment hales overlooking Wailea Beach in addition to world-class spa facilities.  For information, contact The Spa at 808-874-8000 or visit www.fourseasons.com/maui.
Links to the guest speakers for the September 2010 Four Seasons Resort Maui at Wailea's "Fall Wellness Series":
Dr. Jacob Liberman: www.exerciseyoureyes.com
Dr. Malik Cotter: www.lauralee.com/malik.htm
Dr. Arthur W. Harvey: www.musicforhealthservices.com/pages/Bio.htm
Eve Eschner Hogan:  www.EveHogan.com
---