---

THE SPA AT LAGUNA CLIFFS
A Blissful Meeting Place for Mind, Body and Spirit
by Bonnie Carroll

The entrance to The Spa at Laguna Cliffs is like visiting the home of a friend on Cape Cod. Navy and white accents create a comfortable outdoor waiting area leading into the fully stocked gift shop, which offers the finest and latest in everything natural, healthy and inspiring. The spa was built eight years ago, and is ideal for individuals, couples, private groups and bridal parties to experience the best in health, wellness and fun.
The reception desk staff members are always happy to see you, and assist in an in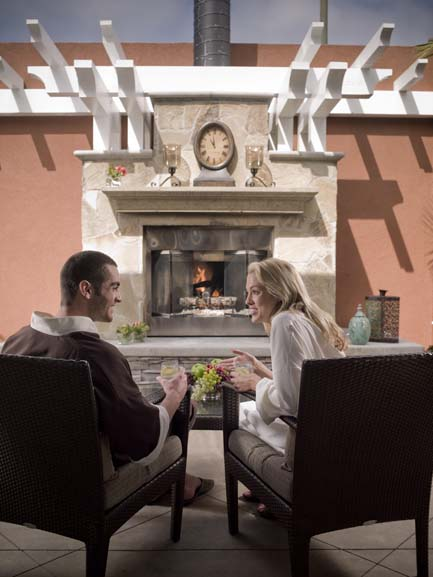 troduction to the dressing rooms and amenities available while visiting the spa. This can provide a moment to select a wonderful self-help book to take into the beautiful inner sanctum of the spa to enjoy with your lunch on the outdoor patio, or while waiting in front of a burning fireplace in the quiet room. The hotel restaurant chef has created special health inspired plates to be enjoyed by spa guests. According the Spa Director Jane Lohmann "It is our hope that our patrons who spend a day with us will be educated and take this knowledge home to take control of there own health and life." "We like to think they will take some of us with them and we have done our job."
Products I love that are available in the spa include the hotel signature spa products as well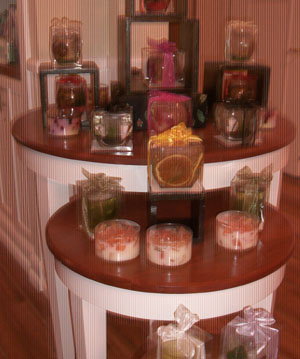 as Spa Sister, ph Harlow lounge wear, Dream Time, Yoga Clothes & Robes, LA Cool skin products, Alison Raffaele, Clarisonic brushes, Skin Authority, Zen products and countless wonderful books including Yoga for Anxiety, Five Good Minutes, 5 Ways to Sooth Yourself Without Food, Women Who Worry Too Much, Every Day Bliss for Busy Women, and Leave Your Mind Behind. Meditation, personal training and yoga sessions are also through the spa by appointment.
Treatment menu selections are so enticing that it requires some serious decision making to schedule appointments. Included on the menu are the Cleanse & Clarify or Organic Enzyme Peel for pampering facial care, combined spa experiences of two 60-minute spa services such as Petals and Polish combined with Cliffs Couture Manicure and Pedicure or the Seaside Sanctuary exfoliation-Warm Energy Wave-Cleanse and Clarify Facial, or the Essence of the Season treatment that includes a body therapy based on the season-aroma essential facial and basic manicure and pedicure. Patrons are encouraged to relax and rest by the waterfall at the spa before and after treatments.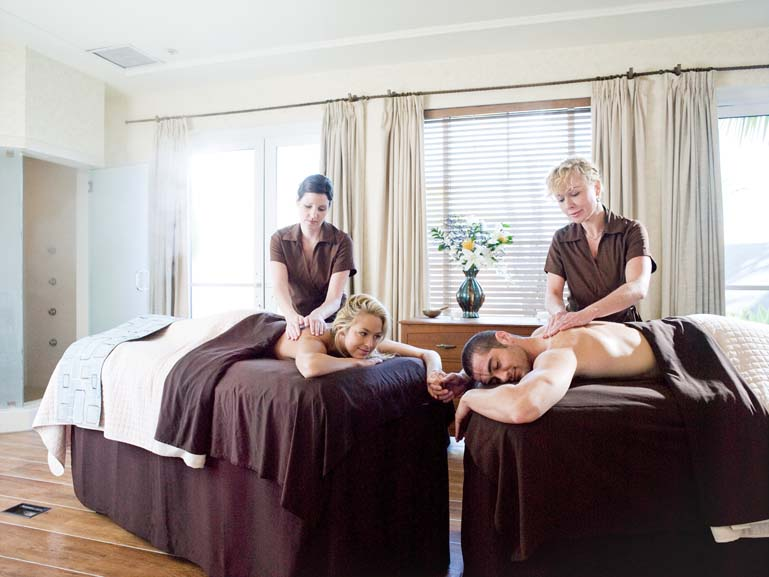 The therapists at Laguna Cliffs are outstanding (they have 20 therapists), and they listen to your individual requests to ensure a delightful personal body treatment, massage and overall spa experience. One special feature is the couples treatment rooms that make it possible for newly weds or life partners to share the spa menu packages together. Naturally, they have a great Jacuzzi, sauna and steam area as well as an outdoor sun and relaxing zone. I enjoyed lunch here and caught up on all the latest gossip and design trends in current fashion magazines.
This is a super spot to enjoy a Cliffs Couture manicure and pedicure, where you find yourself surrounded with young women preparing for a wedding who are exuding a contagious energy of pure joy and excitement over a glass of bubbly. The spa has hair designers who create amazing 'flash from the past' up-do's that are reminiscent of Grace Kelly or Bridgette Bardot, proving that 'everything old get's new again.'
The hotel pool is always a fabulous place to crash following 'a day at the spa' experience.

Laguna Cliffs has two pools, one for adults only and one that is a Disney delight for kids. The adult pool is where you can rest up for an entertaining evening at the lounge listening to live music and enjoying the beautiful ocean view from the open air patio over a delicious fresh fruit smoothie. 
All in all, this is a magnificently managed spa that offers everything you could desire to make a weekend at the Laguna Cliffs Resort perfect and memorable. This is also a destination to hurry back to when you need a blissful escape from the maddening crowd.  For additional spa information visit: Lagunacliffs.com.
Laguna Cliffs Marriott Resort & Spa
25135 Park Lattern
Dana Point, CA 92629
949-661-5000
---
The Spa at Trump® nOW OFFERS SPECIAL TREATMENTS AT FOUR LOCATIONS  
S
pa-goers across the country can now enjoy special spa offers at
 four of its locations:
Chicago, Las Vegas, Waikiki or New York's SoHo
.
To learn more or to book your appointment, please visit: http://www.TheSpaAtTrump.com.
Founded on the commitment to customize each guest's experience according to a Personal Intention, The Spa at Trump provides unique treatment choices, including the use of gemstone-infused oils, and the unsurpassed personalized attention of a Trump® Spa Attaché. The spa brand features an exclusive arrangement with celebrity skin health expert Kate Somerville, as well as signature products by Shiffa, Tara and other leading names. 
About TRUMP HOTEL COLLECTION™
Launched in October 2007, TRUMP HOTEL COLLECTION™ is the next generation of luxury hospitality – one that is raising the bar in the top-tier travel experience with a level of customized service unrivaled in the market today. Presided over by internationally renowned developer Donald J. Trump and his three grown children – Donald Jr., Ivanka and Eric – the prestigious portfolio includes the highly acclaimed Trump International Hotel & Tower® New York, Trump International Hotel & Tower® Chicago, Trump International Hotel™ Las Vegas, Trump International Hotel™ Waikiki Beach Walk®, Trump SoHo New York® and the newly opened Trump Ocean Club International Hotel & Tower® Panama. Joining TRUMP HOTEL COLLECTION late 2011 is Trump International Hotel & Tower Toronto®. TRUMP HOTEL COLLECTION is headquartered at Trump Tower, 725 Fifth Avenue, New York, NY 10022.
---
---