SPA MYSTIQUE
A Sanctuary Inspired by the East Awaits You
by Bonnie Carroll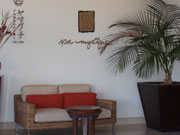 The Spa Mystique, 10220 Constellation Avenue, is located behind the Hyatt Regency Century Plaza at 2025 Avenue of the Stars in Los Angeles, in the heart of busy Century City, where traffic, shoppers and tourist converge to get to work, to the Mall or the historic hotel property that recently celebrated its fortieth birthday.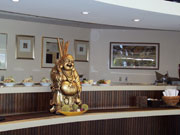 I arrived at the spa early in the morning, and was greeted in the clean and chic looking entry by an attendant who gave me a beautiful robe, slippers, and a locker key, before she walked me into the private reception area that leads to the dressing rooms, sauna, Jacuzzi and rest area to prepare for my hour long treatment. The spa property is one of the largest and tranquil I've visited. It is done in relaxing warm color tones and has touches of frosted glass throughout. The waiting room upstairs is roomy, overlooks Avenue of the Stars through a shear curtain, and offers a service bar area where guests enjoy Elixir teas and cucumber water before they are escorted to their private treatment room.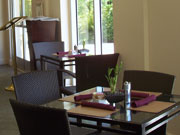 The therapy rooms are large and contain personal showers for use after scrubs and specialty body treatments. I was given a grapefruit-salt scrub, that was followed by an excellent massage treatment with a grapefruit-citrus oil. Every effort was made by the talented therapist to take the kinks out of my badly treated neck, and it worked! Sitting at a computer too long can play havoc on anybody's neck, but within twenty minutes of my treatment it was feeling so much better.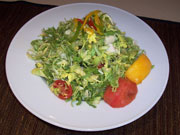 Following my treatment, I spent time in a wonderful hot shower, dried and curled my hair, and prepared to try lunch at the Spa Cafe that adjoins the Spa Mystique. The cafe menu is filled with delicious, healthy and imaginative salads, sandwiches, entrees, soups and desserts that do not look like they are spa food, nor do they taste like spa food. My salad was extremely light and delicious. Fine tea, both iced and hot are on the menu, as well as the usual luncheon beverages. My chopped salad with lemon citrus dressing was the perfect choice following my treatment. The Cafe and the outdoor patio were all filled to capacity while I was enjoying my lunch. Prices here are reasonable, and the service is wonderful.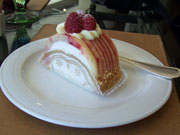 The Spa Mystique can be entered from the hotel main entrance, with a short walk behind the hotel and trough the Spa Cafe, or from the Constellation Boulevard main entrance to the Spa. Valet parking is available at both locations. Services at the spa include anything a spa baby could want, and prices are competitive. A fitness center and Yamaguchi Salon are also available to visitors. A visit here is a truly blissful experience. For reservations or information visit: www.spamystique.com.