SPA by LA PRAIRIE

The Beverly Hills Hotel Spa by La Prairie is located on the Promenade level of the hotel, just down the hall from the hotel's famous coffee shop. La Prairie has been in the forefront of the anti-aging revolution for the past half century. La Prairie's unique cellular facials, therapeutic massages, and impeccable attention to elegance have made is a 'must visit' venue for special women. The Beverly Hills Hotel Spa by La Prairie is a luxurious, restorative oasis designed to help you de-stress, rejuvenate, and pamper yourself with age-defying science and skincare expertise.
Special treatments include Jet Lag Therapy; After Shopping Paradise; Caviar Firming Facial or Eye Treatment; Intensive De-Aging Facial, as well as a collection of treatments that were designed to make every part of you feel and look divine.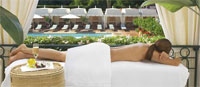 The 1916-square-foot spa has six treatment rooms including one couples' suite, private cabanas on the upper level above the pool, separate steam rooms and saunas for men and women, and state-of-the-art innovations, including a hydrotherapy tub with seven hydro-massage zones to fully customize each session, and light therapy that enhances relaxation.
Open seven days a week from 7:00 am to 10:00 pm, the spa offers a treatment menu with more than 40 different remedies, including signature services that allow clients to experience La Prairie's one-of-a-kind body therapies. For off-the-chart pampering and tranquillity, the spa provides both in-room and poolside services. Open: 7:00 am to 10:00 pm (seven days a week)
The Beverly Hills Hotel Spa by La Prairie
9641 Sunset Boulevard, Beverly Hills, CA 90210
Tel: +1 310 887 2505
www.beverlyhillshotel.com

---
SIVORY, THE NEWEST LUXURY RESORT ON PUNTA CANA'S SECLUDED COAST ANNOUNCES THE OPENING OF ITS DELUXE AQUAREA SPA
State of the art Spa & Wellness Center Opens in the Dominican Republic
PUNTA CANA, DOMINICAN REPUBLIC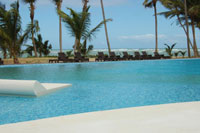 Sivory Punta Cana, the Dominican Republic's newest five-star luxury hotel opened its wonderfully appointed Aquarea Spa & Wellness Center in January 2006 as a welcome addition to this elegant boutique hotel. A destination of complete serenity, the Aquarea Spa & Wellness Center is situated at the new and elegant Sivory Punta Cana resort on the Dominican Republic's spectacular eastern coast. Tranquility and beauty are the ongoing gifts of this protected environment where dense tropical vegetation of the Uvero Alto countryside, creates an ultimate sense of privacy.
The spa reflects the Sivory designers' core belief that true serenity is derived from a oneness with nature and is the key to internal peace so elusive in modern times. At Sivory, as well as at the Aquarea Spa, a decidedly European flavor blends with the exotic moods of Polynesia while Caribbean cultural influences and art create an eclectic and soothing environment. Aquarea offers guests and visitors an invitation to relax and truly 'get away from it all.' This oasis features premium facilities and its services include four different hydrotherapy treatments, massage therapy, body and facial treatments, and the luxurious Vichy Shower that detoxifies the body and creates a deep spiritual environment for the mind. An alternative to the larger scale more tourist-oriented hotels nearby, Sivory Punta Cana places priority on impeccable guest services and amenities that can be adapted to meet individual needs—all designed to surpass the expectations of even the most sophisticated travellers. And this philosophy is carried forward no more so than at the Sivory Punta Cana Aquarea Spa & Wellness Center. The spa reflects the atmosphere and ambience of Sivory both in its structure and spirit. A beautifully integrated architectural entity, the Aquarea Spa & Wellness Center is a stylish embodiment of the resort's essence and the treatment rooms and mediation garden remove stress and promote total well being of mind, body and soul. Aquarea Spa is proud to offer some irresistible packages tailored to meet guests and visitors specific needs.
reservations@sivorypuntacana.com or privateentrancec@aol.com.