A SOOTHING RETREAT IN BEVERLY HILLS
Jurlique Wellness Day Spa Store
by Bonnie Carroll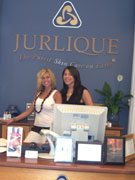 Jurlique, world leader in organic skin care, now has a private hide-a-way on Beverly Drive in Beverly Hills, where patrons can experience all the privacy, quiet, and relaxation found at the best hotel spas in the city. Known for their pure Australian grown herb based products, Jurlique offers answers to every woman' s skin care needs, and men as well. The soothing Calendula herb, which goes back to ancient Rome and Egypt is an ingredient contained in their age defying creams.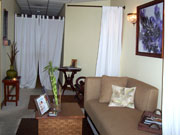 The day spa, located on a very busy street in Beverly Hills, was such a pleasurable surprise. I was taken through the beautiful store front to the spa lounge in the rear, where my feet were soaked in a lovely rose water. Then my therapist invited me into one of the treatment rooms, where I slipped into a spa wrap and perched myself comfortably on the treatment table. My hair was all pulled back, a terry band was placed around my forehead, and away we went. Following a refreshing cleansing with Jurlique Face Wash Cream, my face and neck were covered with Chamomile-Rose Aromatic Hydrating Concentrate. Then came the green purifying/hydrating mask, followed by a second cleansing and a blissful facial/hand massage. The Herbal Recovery Gel felt like silk on my skin, and was followed by Wrinkle Softener Beauty Cream, and the delightful ending was a mist of Herbal Recovery Spray.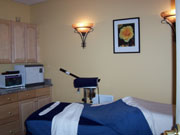 The ambiance in the treatment room was enhanced by wonderful meditative music from the Australian aborigines, and the entire process was so relaxing that I forgot I was smack dab in the middle of the busiest section of Beverly Hills. Following my treatment I was given a cold glass of water, and dressed leisurely before meeting with my therapist, who was a master at her craft, to discuss the latest products Jurlique is offering. The company offers a complete line for sensitive skin, dry skin and products designed for anti-aging.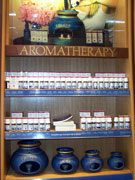 According to Ulrike Klein, horticulturist, botanist, teacher, mother, grandmother, artist, co-founder of Jurlique "while you sleep your body goes through a natural cleansing and regeneration cycle, but If you apply a heavy barrier of night cream on your skin, you interfere with this normal process. Jurlique is natural and allows the skin to breathe, The Recovery Gel and Wrinkle Softener Beauty cream let you rest with no oiliness or residue."
I left the Wellness Center feeling wonderful, and was reminded how great my skin could look and feel when I treat it to pure products and skilled skin care specialists. The company has Wellenss Spa Store locations throughout the U.S. and Europe. For information visit www.jurlique.com.