6TH ANNUAL SPA MAGAZINE SPRING REVIEW
The Zen of Ten
by Bonnie Carroll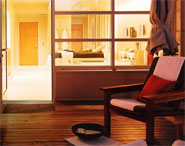 Spa Magazine celebrated their ten year anniversary with a brilliant presentation of the year's hottest new faces, places products and trends. Among the list of sponsors was: Aromatherapy Associates, Bare Escentuals, Bellagio Spa & Salon, B.Kamins, Chemist, The Breakers Palm Beach, Colorscience, Degam MedSpa, El Monte Sagrado, June Jacobs Spa Collection, Jurlique, Lake Austin Spa Resort, Las Ventanas al Pariaiso, Miravel Life in Balance, Ojai Valley Inn & Spa, Park Hyatt Los Angeles, Rancho La Puente Fitness Resort & Spa, Red Mountain Spa Revolutions, and Willow Stream The Spas At Fairmount.
Guests were treated to a bevy of pampering treatments, received a collection of new product samples, and tours of the beautiful Kara Spa. The rooftop cocktail reception was overflowing with delicious theme beverages, and hors d'oeuvre. The Kara Spa is simply beautiful, and offers outdoor morning yoga classes.
I especially enjoyed a 'hands-on' scarf making class with members of the Ojai Valley Inn staff, and an aromatherpy hand massage from a Kara therapist. This is a very beautiful spa venue that was designed for absolute relaxation.
SPA KARA - ROOFTOP PARK HYATT HOTEL, LOS ANGELES
Every aspect of a visit to Kara is personalised and designed to help you achieve optimum results. The Kara Concierge is delighted to suggest the perfect treatment path based on your individual needs.
Your treatment will take place in one of the exquisite spa villas, complete wth a private outdoor patio and garden. Each visit begins with a signature Kara Welcome Ritual, which consists of a cleansing footbath and a soothing foot treatment to help you release stress and prepare for your experience. At the completion of your spa expeience you will be given the luxury of an additional quarter hour of relaxation time. See www.parkhyattlosangeles.com for a visual tour and menu of services.
Hours of Operation
7 a.m. to 9 p.m., 7 days a week
Health Club 6 a.m. to 11 p.m., 7 days a week
SPA KARA
2151 Avenue of the Stars
Los Angeles, California
90067 USA
Resort Tel: 310 277 1234
Fax: 310 785 9240