Canada's Newest Destination Spa Hotel unveils Whole Body Wellness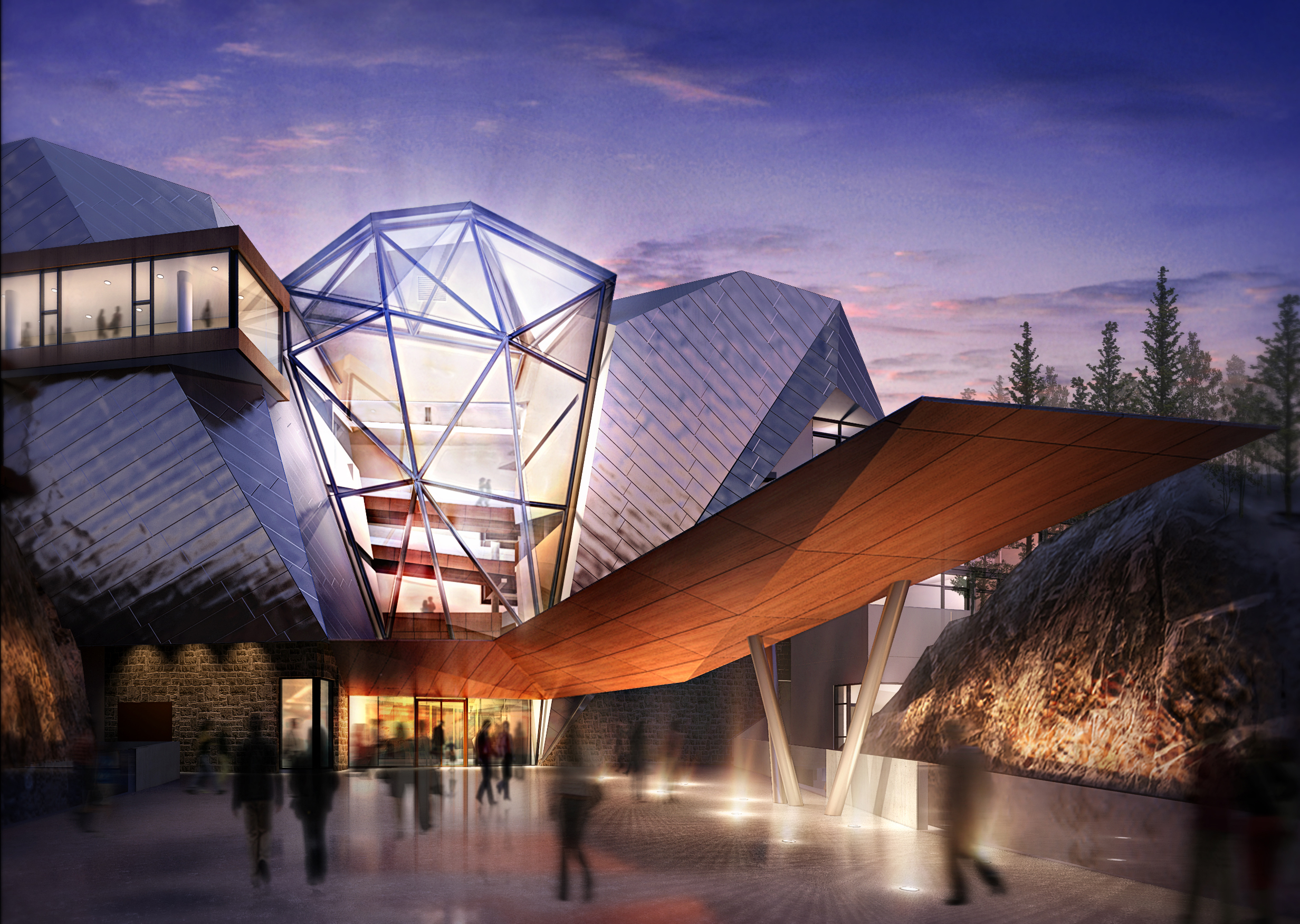 A celebration of life and living it well

Sparkling Hill Resort and Wellness Hotel near Vernon B.C. is still over six months shy of the grand opening in March of 2010, but it's already creating a buzz - not just as Canada's newest destination spa hotel but because of its philosophy of Whole Body Wellness. The resort is designed and dedicated from the ground up to help guests achieve and celebrate Whole Body Wellness.

The 152 room wellness hotel is part of the $100 million dollar Sparkling Hill Resort built on a pinnacle of rock overlooking Lake Okanagan. The philosophy or very essence of the resort is to find the balance and connection of mind, body and soul.

By letting the spectacular natural setting mingle with the architectural design, guests instantly feel the connection as they enter the sunlit building. The view of the shimmering lake and majestic tree clad mountains fill the expansive windows. Swarovski Crystal elements will be incorporated into the design offering   soothing, or enchanting, or playful reflections as the crystals interact with the light creating the perfect ambience for healing. Sparkling Hill is all about celebrating life and living it well - celebrating whole body wellness.

"Our philosophy at Sparkling Hill Resort is to focus on our guests and what they need to do to relax and rejuvenate. Each guest will be unique and have different goals. We are dedicated to helping them achieve their vision of whole body wellness- whether that means rehabilitation and revitalization, relaxation or adventure. It is your body, your choice," assures Hans-Peter Mayr, President and CEO of Sparkling Hill Resort.

The 35,000 sq ft. European-inspired spa facility will present over 100 treatments integral to Whole Body Wellness .Traditional spa treatments will be offered such as hot stone massage, moor mud wraps, reflexology, aromatherapy and a complete aesthetic program including facials and manicures. But Sparkling Hill is enthusiastic to introduce North Americans to new and unique treatments that will stimulate their wellbeing and go well beyond the norm of current industry offerings. . 

The resort will also offer consultations with physicians, nutritionists, physiotherapists as well as medical and spa practitioners to enhance each guests stay. Programs will be created for those interested in improving their wellbeing while many treatments are "al la carte".

Hans-Peter Mayr is reflective when he says, "Having worked in the wellness industry for many years in Europe I have seen the benefit of the treatments and therapies that we will offer at Sparkling Hill. I know our guests will embrace the concept and philosophy of all aspects of whole body wellness. Feeling good should not be a luxury, everyone should experience it."

Sparkling Hill will proudly offer the first cold sauna in North America with temperatures of minus -110 c. Even though Canadians say they regularly endure the coldest temperatures – this will definitely be the coldest they will ever experience with the most positive outcome! Researchers continue to prove that the using the cold chamber can be beneficial to sufferers of arthritis, joint pain, psoriasis, diabetes, severe burns and the list goes on.

Additionally there will be eight different sauna and steam rooms for guests to indulge in. Each with different temperatures ranging from hot to cold and offering a variety of scents, textures and stimulants to   promote rejuvenation, relaxation, energy, restoration, and  enjoyment. Choosing from the extensive list will be challenging, creating reasons to stay longer or to make the visit a regular routine.

A trio of therapeutic pools will complement the saunas while the regular swimming pools will be available for exercise. The indoor pool will be 14m x 8m with crystals embedded in the ceiling for a starry sky effect and a 17m x8 m outdoor infinity pool overlooking Lake Okanagan. Both pools will be saltwater treated.  To round out the physical fitness facility, state of the art techno gym cardiovascular and strength training equipment will be available. Additionally Pilates, yoga and aerobic studios will offer a variety of programming for guests to experience. Personal trainers are available upon request.

Bliss Zone is dedicated to tranquility, relaxation and mediation. The panoramic view overlooking lake and mountains is eye-candy for the soul. Guests can lay back and relax on specially designed lounges, sip herbal tea and forget the stresses of life.

Proper diet and nutrition are an integral part of Whole Body Wellness. The resort will practice the 100-mile diet philosophy with three distinctive restaurants. They will offer locally grown organic produce that is prepared fresh at the resort and complement the menu with the finest wines from the Okanagan Valley.

Sparkling Hill Resort and Wellness Hotel is a luxurious European inspired hotel specializing in whole body wellness. The resort is located in Vernon a city of approximately 35,000 residents in the Okanagan Valley of British Columbia and a scenic 25 minute drive north of the Kelowna International Airport. The valley is recognized for its majestic mountains, refreshing waters, lush vineyards, world-class golf and skiing and one of the warmest climates in Canada. Sparkling Hill Resort is the neighbour of the Predator Ridge Golf Resort permitting guests to indulge in wellness, relaxation and championship golf during their stay.
---
Spa Alert


New Spa at Cape May's Congress Hall
with Beach-Inspired Treatments
Congress Hall, the landmark seaside resort that has been housing visitors to Cape May since 1816, recently opened its brand-new spa facility, the Sea Spa. The Sea Spa's Director, Melanie Housel, previously served as head concierge of the renowned Spa Toccare at the Borgata in Atlantic City, and hand-selected all the massage and spa therapists for the new facility.

The sunshine-inspired treatments will begin with a glass of mint-infused lemonade from nearby Beach Plum Farm. The "Southern Comfort," a full-body massage featuring heated towels and cooling aloe, will help relax guests after a long day on the sunny beach. "Lavender Bliss" is a full-body massage that gives extra attention to the head, neck and scalp and utilizes an infusion of fresh lavender from Cape Resort's nearby farm. The "All-American" rejuvenating facial helps invigorate skin and replenish moisture that can be washed away by the sun and sea.

The Sea Spa's cabana-style treatment rooms echo the hotel's signature yellow-and-white striped décor, with A-line canvas ceilings that bring the feeling of the beach inside while preserving a peaceful and private atmosphere.

For more information, visit www.congresshall.com

---
Kapalua Kool
Hawaii's Newest Spa Retreat
Hawaii's second largest retreat of its kind, Maui's Kapalua Spa at Kapalua Resort, has just opened. The 30,000 square-feet property boasts ten outdoor hale (house) stone tubs, an infinity Olympic-sized saltwater pool, a sunning deck and a cold rainfall shower, with views of the spa's bamboo gardens as well as of Kapalua Bay and Molokai'i.
The healing continues indoors in nine treatment rooms, with therapies such as the 'Awa and Cacao Lomi Wrap. Other menu items include water therapy like Calming Ali'i Kula Lavender or body therapy like Banana-Ti Leaf and Turmeric Aloe Masque. Stop by the fitness center or the yoga studio, or visit the juice bar for a refreshing drink. Conclude your stay at the Kapalua Spa with a haircut from the beauty salon and top it off by purchasing a favorite spa product from the retail boutique.
For more information, visit www.kapalua.com

---
Scottish Style
Four Spas from Connoisseurs Scotland
Four prestigious estates from Connoisseurs Scotland are offering new spa packages for visitors. Masseuses of The Scotsman Hotel have collaborated with marine algae- and plant-based spa line, Thalgo, for the hotel's new spa, which is currently proposing a special overnight spa package to guests, including a Hydrate and Feel Good Facial, Salt Body Scrub and Indian Head Massage.

A new addition to Scotland's first and only destination spa, Stobo Castle Health Spa, features 40 spa treatment rooms, an Aromatic Steam Room, Crystal Steam Room, Laconium, Hydrospa, in addition to 80 treatments available.

Manicures, pedicures, reflexology, and hot stone full-body massages are a handful of in-room services being offered at mansion-type resort, Cringletie House Hotel. Children can also be pampered by spa therapists with makeup and glitter tattoos, as part of the Glitzy Nails treatment.

Boath House Hotel, a mansion-hotel emphasizing health and wellness, features eco-friendly Aveda Concept treatments used in the Health and Beauty Spa. Starting in October, guests can purchase the Beauty Breaks package for couples, with treatments such as a 30-minute sports massage or an Aveda pure focus facial.
---