Skin Deep Yoga
YogaWorks Leads Its Students in Classes to
Enhance Beauty, Body, and Mind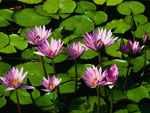 The secret to outer and inner beauty can be found with the help of a yoga mat! Studies show that yoga is beneficial to the skin, in addition to enhancing the body and psyche. YogaWorks' classes are designed to help skin reap the stress-reducing, mind enlightening, and physical benefits of yoga. Simple yoga moves and sequences can actually create a healthy glow by balancing hormones and boosting the flow of oxygen-rich blood to skin, while also toning neck and face muscles.
One of the main culprits of skin aging is stress, and yoga is a proven stress-reducer that can help revitalize tired and dull skin. Special breathing techniques will also reduce stress, and over time, studies show that increased relaxation and decreased stress leads to clearer and brighter skin. Moreover, when one exercises, the entire body and all of its muscles relax, including those in the face.
Julie Kleinman, YogaWorks' Director of Programming, suggests a few poses that will help reenergize the skin:
Upside down poses are purported to reverse the effects of aging and are great for bringing increased blood supply to the brain as well as the whole head area, including the skin on the face. When practiced regularly, it can help reduce the signs of aging, including sagging skin and fine lines.
"Restorative" poses, or relaxation moves, counter-act the negative effects of stress and promote health in all the systems of the body. A really simple restorative posture is supta badda konasana, or reclining bound angle pose. To do this, lie completely down and place a couple of folded blankets under the spine and head, while keeping the soles of the feet together. Place a few pillows under the knees to support the legs so that the whole abdominal area is pacified. This position will feel very soothing.

"YogaWorks attracts students from all stages in life, young and old, and many report that yoga has enhanced their body inside and out" says Phil Swain, President and CEO of YogaWorks. "Our programming is designed to enlighten and invigorate the mind and the entire body, which includes areas such as the face and the skin."
YogaWorks is the leading provider of progressive and quality yoga in the US, with locations in Los Angeles, Orange County and New York. Delivering innovative programming that promotes total physical and emotional well-being, YogaWorks caters to students of all levels and ages and is an International Teaching School, cultivating the richest yoga talent around the globe and setting the gold standard for teaching. For more beauty-enhancing yoga tips or YogaWorks, or to speak with Julie Kleinman, visit www.yogaworks.com.

---
ULTIMATE HEALTHY SPA EXPERIENCE:
WHAT IT MEANS TO BE A 'GREEN' SPA
There are a myriad of spas across the United States that boldly make the claim of being a 'green' spa, but the fact is, the vast majority aren't. The main reason that a great number of spas can make the claim is because at present, there aren't really any guidelines or specific definitions with regard to the use of the word 'natural.'
One spa however is trying to change the gray area of what it means to be 'green' by practicing what it calls "Greenistics" which they define as 'a comprehensive approach toward being environmentally proactive.' Absolute Nirvana Spa, located in Santa Fe New Mexico is one of the most comprehensively green spas in the country. As owner Carolyn Lee explains, ""Conservation and an eco-friendly mindset have always been very important to me as an individual, so it was natural to me to carry that same philosophy into the running of the spa. I became enamored with the Asian philosophy of using fruits, spices and plants for health and beauty and that became the foundation of Absolute Nirvana Spa. Because the skin is our largest organ, and whatever we put on our skin is going right into our bodies, it is crucial that we be very attentive to what we apply to the skin. Just as you would not want to drink or eat anything that was cancer causing, nor would you want to use products that include parabens and other toxic matter."
So what are some of the unique things Absolute Nirvana does greenistically? Here's just a few:
All spa ingredients and facial components are organic and/or natural. Facials are done with the Naturopathica skincare line or with avocado/honey/cucumber/yogurt/brown rice powder/yogurt. Spa treatments are done with high quality organic oils, spices, organic brown rice and brown sugar, papaya, seaweed, white clay, yogurt and honey.
The spa is cleaned using all natural cleaning agents. All are chemical-free and non-toxic.
80% of the electricity is from wind power.
The spa has its own water treatment system and they recycle all of their rose petal bath water.
All spa menus and stationary is printed on recycled paper with soy ink.
The circulating water from the tubs also serves to heat the spa in the winter.
All allowable glass, paper and plastic is recycled.
Light bulbs are compact fluorescent wherever possible.
Plants rather than cut flowers are used throughout the spa.
Cloth hand towels are used in place of paper towels.
Paper cups have been replaced with glass or plastic cups; bottled water has been replaced by filtered water.
The grounds are illuminated with a combination of solar and motion detector lights to eliminate the waste of all-night outdoor lighting, though path lights are still used for added safety.
All toilets have been replaced with low-flow toilets, and all faucets and showers have flow restrictors, allowing for a comfortable and water-efficient shower.
Shopping bags are made of recycled paper.
In an effort to eliminate the waste of small plastic amenity bottles, we have placed dispensers in each bathroom which are filled with all natural soaps, shower gels, lotions and shampoos.
The gardens are watered with a drip system to further reduce water consumption.
Only earth-friendly and non-toxic fertilizers are used in the gardens.
Carolyn explains, "The transition is easier than people might think, and our 'greenistic' philosophy has made a huge difference with our clients. They tell us "Not only do I feel great physically after my spa treatment, it is a great feeling to know that I am in such a 'green' spa!"
---
Bellezza Vita Day Spa & Salon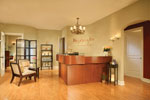 This charming little 'be blissful' spot in Summerland is just what the doctor ordered for all of you stressed out mom's or lady executives. Just a short drive from Santa Barbara or Montecito, the atmosphere is relaxing, and the services offered are on a par with anything you will find in Beverly Hills.
The treatment menu is extensive and covers a multitude
of skin, hair, body and nail issues.
Enjoy!
QUICK FACTS
address: 2410 Lillie Avenue
city: Summerland
state: CA
country: United States
phone: 805-969-7300
email: info@bellezzavita.com
website: http://www.bellezzavita.com